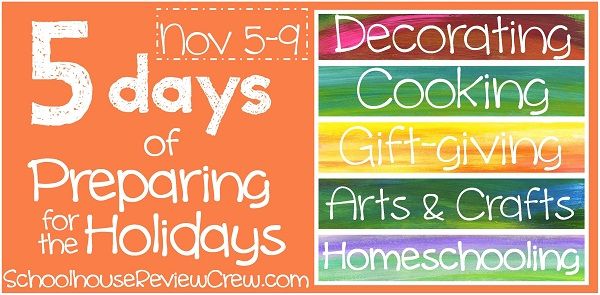 This is the second day of the "5 Days of Preparing for the Holidays" blog hop with the Schoolhouse Review Crew. I am participating in today's topic. Today's topic is about holiday baking and cooking which seems to be a very fitting topic for me. Many of you may not know, based on the homeschool content of my blog, that I
LOVE
to bake and cook. It is one of my biggest hobbies and all my friends and family know this tid bit of information.
Warning: You may want to eat cookies, organize a cookie swap, or you may even gain 10 pounds after reading this post!
Kenny's Double Delight Peanut Butter Sandwich Cookies
(from Nana Lois's Kitchen)
This recipe has been adapted over several years from an unknown Pillsbury recipe. This deliciously sweet recipe is the result of many trial and error recipes. Lois (Jeff's mother) finally created a recipe that was soft enough for this recipe. She even won a runner-up monetary prize of $500 when she entered this recipe, with healthier adaptations, in our local electric co-op magazine holiday contest. This is my
absolute favorite
cookies by far! I haven't found another recipe that tops this one ... it is a must-have holiday recipe! Please come back to comment here if you try this recipe. I would love to share your comments with Alyssa's grandmother. If you blog about this recipe be sure to link back to this page. I am sure that this recipe will become a family favorite to be handed down for generations to come. This ever so popular recipe is one that
everyone
in our family enjoys.
Peanut Butter Cookies
2 1/4 c. all purpose flour, divided
1/2 c. granulated white sugar
1/2 c. light brown sugar (Dark has more molasses in it if you prefer more of that flavor.)
1/2 tsp. baking soda
1/2 tsp. cinnamon *
1/2 tsp. table salt
1/4 tsp. nutmeg
1 c. shortening
1/2 c. creamy peanut butter (We used JIF Natural Peanut Butter.)
1/4 c.
unsweetened
applesauce
1/2 tsp. pure vanilla extract *
1 slightly beaten egg (We used extra large eggs.)
1 c.
old-fashioned
oats
* Denotes that extra can be added as seen below.
Optional Add-Ins
She also made a batch of these cookies using the following ingredients when she entered the above holiday contest.
1/4 c. wheat germ
1/2 tsp. of additional cinnamon *
1/2 tsp. extra vanilla *
1/2 c. chopped peanuts


Note: We ended up using the extra vanilla extract and cinnamon. I did not have any peanuts on hand and chose not to use wheat germ.
Directions:
Preheat the oven to 350 degrees. This recipe supposedly yields 60 cookies, however, it only made 30 cookies for me. I must make gigantic cookies!
Combine 1 cup flour, oats, and optional chopped peanuts in a bowl. Mix the ingredients together and set aside. These ingredients will be added to the bowl soon.
Combine the remaining ingredients in a separate bowl and mix well. Don't forget the rest of the flour (1 1/4 cup). Remember to lightly spoon and level off the flour into a measuring cup and lightly pack the brown sugar. I used an electric beater to mix my cookie ingredients. You can also mix it by hand. Do not mix in the icing ingredients as seen below; they will be mixed separately at a later time.
Stir in the oat mixture that was set aside.
Form cookie dough into walnut-sized balls and place on ungreased cookie sheet approximately 1 inch apart.
Use the bottom of a drinking glass dipped in granulated sugar to flatten the cookie balls.
Bake 11-14 minutes or until light brown around the edges. Time varies with each oven and depends on the thickness and size of the cookies. Remember not to constantly open the oven because your temperature will drop and you will lose heat.
Remove the cookies from the cookie sheet after sitting a minute or so on the cookie sheet. You may prefer to immediately remove them, but I always let my cookies set up a little before taking them off the sheet. Choose whatever method works best for you.
Place them on a rack until completely cooled. I love my Pampered Chef racks!
You can now start mixing the ingredients to make the filling. Do not frost cookies until completely cooled.
Cookie Filling
1/4 c soft butter (We use Land O' Lakes unsalted)
1/4 c. creamy peanut butter
1 tsp. vanilla extract
1 Tbsp. whole milk (You can easily use 2% - the amount can vary)
1 1/2 c powered sugar (Amount can vary)
Directions:
Beat ingredients until smooth and creamy. Add either more milk or powered sugar until you achieve a spreading consistency that you desire.
Note
: This icing is lathered between two cookies to make a sandwich. You may want to double, triple, or quadruple the filling recipe if you like and use a lot of filling. This was my first time making this recipe and we didn't have enough filling for the cookies.
Well, I froze many of the cookies we did not eat to use during the holidays. Here are a few photos of just a few of the finished treats!
Cheat Method
Do you want a quicker way to make the same type of cookies without having to start from scratch. Here are two recipes using refrigerated cookie dough. I have not tried either of these recipes because I prefer my mother in law's cookie recipe, but I do realize that the holidays are busy for us all. You can substitute any cookie recipe and use Nana's filling recipe or a filling from the recipes below. I bet this would taste great with any chocolate cookie recipe. Mmmmm ... peanut butter cup taste!
Cookie Swap Article Posts Online
These rich and tasty cookies can be used during any Christmas cookie swap. I have wanted to organize a cookie swap for years and never had time. Hopefully, next year I will be able to do my first cookie swap at Christmas time in our new home.
The idea of a cookie swap is to invite 8-12 friends to your house. Each person makes one type of cookie and brings several dozen cookies (enough so that each participate can take home 3-12 of each type of cookie with extras for snacking). The best cookie swaps include the cookie recipes as booklets or recipe cards. The guests discuss the cookie stories at the party while snacking on appetizers or a light dinner. The host can also purchase or make decorative cookie boxes for each participate to gather their treats before they depart. You can ask the guests to bring their own containers. Cookie swaps can be organized in so many different ways.
Be sure to check out these informative cookie swap articles for helpful tidbits.
Martha Stewart's post on the Eight Steps to hosting a Cookie Swap
Simple Mom Live Intentionally
Cooking Light
Cookie Exchange Robin's Web
GoodHousekeeping
Tip Junkie
Farmer's Daughter
(A variety of cookie recipes)
Cookie Swap Printables
I Heart Nap Time
Living Locurto
Anderruff
This blog hop is open to the public. Please link up any posts you have related to the topics listed in the blog button on their specific days. Do you have any
holiday recipes or menues
to share for today's topic? If so, please link up your post soon. The linky will be open through Saturday. I am hoping (crossing my fingers) that my dear friend Avis will post and link up her yummy bread recipe.
What's your favorite cookie recipe? Do you have a cookie recipe you would be willing to share with us all so that we could use it during a Christmas cookie swap or just as a treat for the holidays? Please leave a comment letting us know.
Check out my
Cookie Swap Pinterest Board
. I will be updating this board before Christmas. You can also follow my Pinterest boards
here
. Have you pinned this Double Delight Peanut Butter Sandwich Cookie recipe yet? Have you shared it with your friends on Facebook?
Thank you for visiting! Please feel free to comment.
Tracey