Beeyoutiful
is an online health and beauty product store that carries many items made with all-natural, organic ingredients. The company encourages others to take responsibility for their health. They are interested in finding natural remedies that improve health. Certified nutritionist, Stephanie Tallent, runs this natural wellness Christian company with her husband. Their product line includes essential oils, bath and beauty items, hair or skin products, supplements, nutritional supplements, books, baking supplies, and even appliances. The have many products available for men, women, and children. As a member of the Schoolhouse Review Crew, I was fortunate enough to review five of their products including Berry Well, Lip Balm, Ow!-Ease, Miracle Skin Salve, and the Beeyoutiful Views DVD.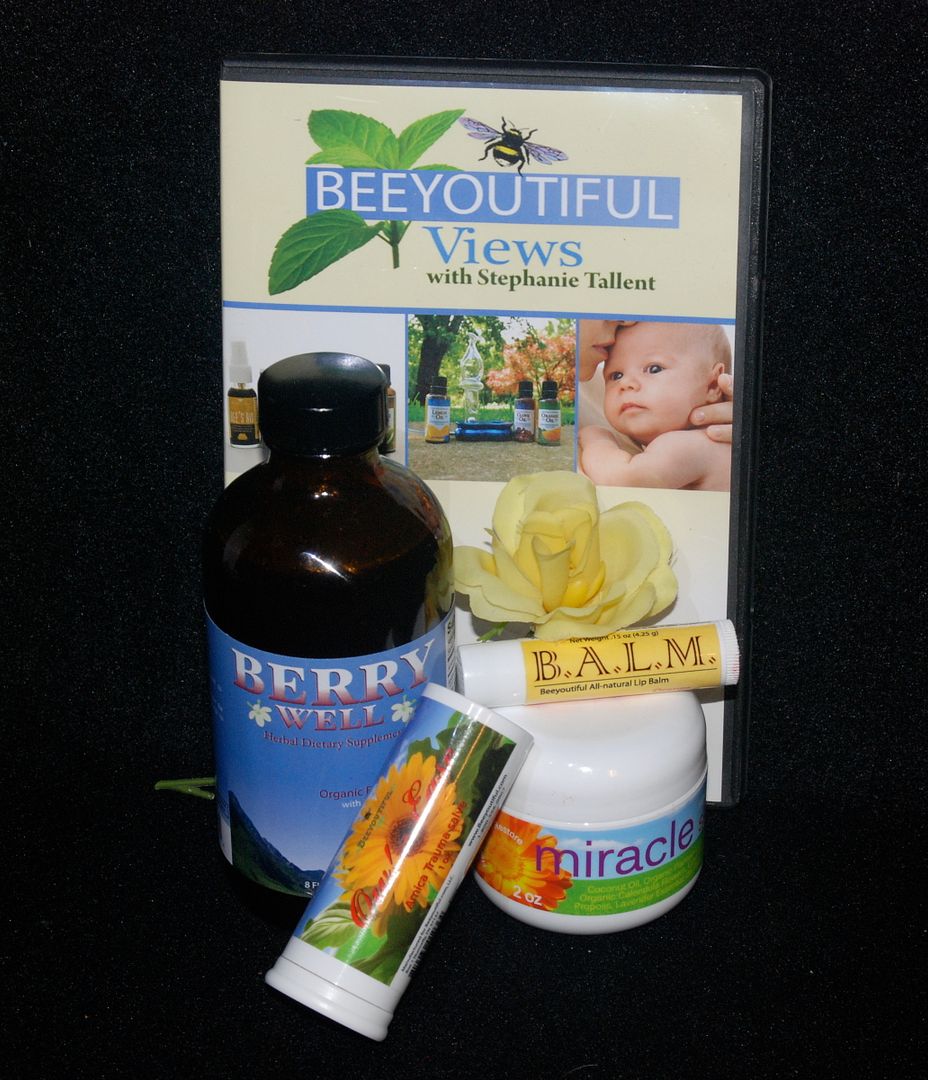 Berry Well
Berry Well
is an immune booster that attacks flu, cold, bacterial, and viral symptoms. It is a powerful concoction of all natural ingredients including purple elderberries, raw honey, raw apple cider vinegar, bee propolis, and Echinacea root extract. You are probably wondering what could something with all those ingredients tastes like? It is not as bad as you might be thinking; the taste is tolerable. My family rated the taste; we gave it a 7 out of 10. There is a strong apple cider vinegar taste with a slight sweetness. As compared to other medicines in my cabinet, the Berry Well is a little thinner and runnier than cough syrup consistency. One thing I wasn't sure about was whether or not it was supposed to be refrigerated. I could not find this information on the bottle, DVD, or website. I assumed it did not need to be refrigerated since I don't have other medicines or vinegars in a cool place. They recommend that you do not use this product if you have bee product allergies.
How We Used Berry Well
I noticed that during our recent move, I started to have cold-like symptoms ... most likely due to stress or allergies. I took Berry Well for a couple of days. I did not use it every three hours as recommended. My symptoms did not get worse and improved a little each day. We moved to an area surrounded by cedar and ragweed, so it is very possible that I may have developed unknown allergies. Occasionally as a preventative measure, I would take one dose (1 Tablespoon) to prevent any major illness from occurring since that was the last thing I wanted to happen during a move. I also gave a tablespoon of Berry Well to my father-in-law when he was ill. He said, "It tastes like sour boysenberries." Alyssa tried it on several occasions after complaining about a sore throat. She took a regular dose of one teaspoon each time. She didn't mind the taste at first, but she felt the aftertaste was bad. She said, "It tasted a little like honey and something else I've tasted before. It was sour and sweet too." Her sore throat didn't worsen or become a bigger problem. I used kitchen measuring spoons, because I wanted to make sure I gave exact dosages. My husband was curious so he also tasted the product. He didn't like it
at all
, but he would take it if I asked him too. He doesn't like apple cider vinegar - he couldn't get passed the smell and taste it even though it is not
that
bad. We are saving the rest of the bottle for the winter months when we all usually get sick. We may need to purchase another bottle since this one is getting low. We might take it as a preventative when the weather gets colder. Berry Well costs $19.75 for an 8 fl. oz. bottle containing 16 servings.
Lip Balm
We used Beeyoutiful's all natural peppermint flavored
Lip B.A.L.M
to moisturize my daughter's lips. The ingredients are grape seed oil, beeswax, shea butter, and essential oils. The nourishing lip balm smells decent, has a smooth application, and doesn't gob up or seem too sticky. There is not a nasty taste. In fact, it is more refreshing than many we have tried in the past (not that we are suppose to taste it). Alyssa's great grandmother told us to try Petroleum Jelly on her lips. It was thick, sticky, and Alyssa was not happy with me. We have seriously tried way too many lip balms in this family. I threw a tiny drawer away before the move. I won't be throwing this lip balm in the garbage. The regular-sized lip balm is available for only $3.00 per tube or you can receive a discount by buying this item in bulk. You can also purchase 3 for $2.70 each.
How We Used the Lip Balm
This product was mainly used as intended for dry, chapped lips on a daily basis several times throughout the day. Alyssa, my four year old daughter, was the main user of this product. I also applied a dab on my lips, using my fingertips, for several days as needed. I love peppermint lip balm products!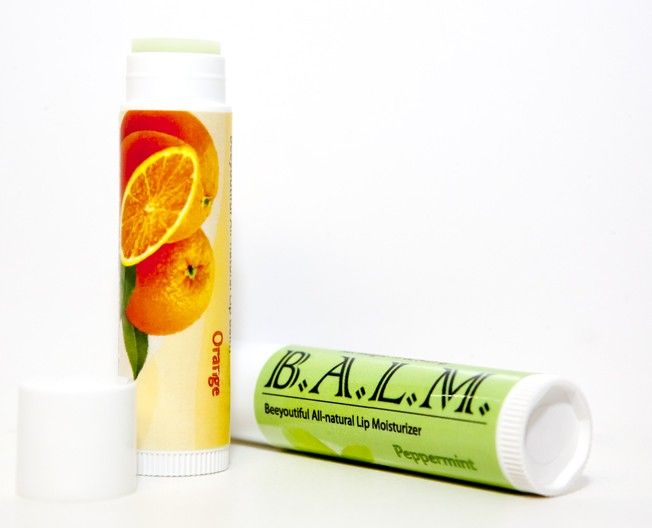 Miracle
I also received a 2 ounce container of
Miracle Skin Salve
which is a blend of organic herbs and oils. The product contains coconut oil, extra virgin olive oil, beeswax, bee propolis, organic plantain and comfrey root, organic calendula flowers and essential oils of rosemary and lavender scents. These ingredients combined provide moisturizing effects. It is light green in color and
really does
soothe your skin. This product can be used for a variety of conditions such as diaper rashes, psoriasis, eczema, dry skin, cuts, sunburns, burns, abrasions, stings or insect bites, chapped lips, cold sores,
and more
. This product is available in two sizes. The 2 ounce container of Miracle Salve can be purchased for $15.00 and the 4 ounce container can be purchased for $25.00. If you have a large family or believe that you will use this product often, then it may be more convenient and cost efficient to purchase the larger container. I may be purchasing this as a Christmas gift for family members. I hope they are not reading this
post.
How We Used Miracle Skin Salve
I have seen several dermatologists and tried concoction after concoction for my dry, rough hands. They crack, bleed, swell, and hurt badly in the winter months making it hard to do many everyday activities easily. Years ago, a dermatologist wanted me to try a mixture of Jergen's lotion and Milk of Magnesia to help soothe the dryness and heal the cracks. He also recommended that I cover my hands at night. I applied the same principle when using this product. I used Miracle Skin Salve at night on my hands. I wore winter gloves to bed so that I didn't get the oils on the sheets and my pillow. I also have trouble with acne so I didn't want to get any on my face just in case. The gloves do not stay on throughout the night. I move around a lot when I sleep and they usually fall off sometime during the night. By that time, I am sure the product was already absorbed in my skin. I did notice that my hands weren't as dry and red. They also seemed softer and smoother. I hope to use this product more in the winter and I pray that it will work wonders - that will be the true test for me! If this product works I plan to notify my family because all the women experience the same bothersome skin issue. My husband's hands are also horribly dry and rough due to the work conditions. He used it for several weeks and experienced skin improvements. Thank goodness! Towards the end of this review, I noticed that Alyssa's hands were beginning to dry up like mine. I really hope she isn't have the same skin issue. It may be due to the fact that she doesn't rinse off all the soap when washing her hands and the soap is irritating them. I immediately started using the Miracle Salve and it is helping her situation. She didn't want me to put it all over her hands at bedtime because she didn't want to get it on her dolls while sleeping. I realized that I needed to use less and rub it in thoroughly several times before bedtime.

How We Used Miracle Skin Salve and Lip Balm Together
I used the lip balm on my daughter's lips several times throughout the day. As a bedtime regimen, I used a q-tip to spread the Miracle Salve across her lips for added protection while she slept. It looks like the two worked well together and I noticed a definite improvement in a short amount of time. Her lips weren't as dry and chapped. Her confidence level went up and she smiles more often. Beforehand, she was self-conscious about her lips which really concerned me. Now, if I can just get her to stop picking and biting at them. Below you will see before and after photos. These pictures were taken after several routine applications over a couple of weeks. However, I noticed the improvement within a few days of consistent use. The results were awesome! I highly recommend these two products especially when used together for extremely dry and chapped lips. The first photo was taken after using several products available at other stores for an extended time period.
Before
After
Ow!-Ease
The
Ow!-Ease
blend arrives in a large, portable stick applicator form which makes it extremely easy to apply. The arnica trauma salve is a proprietary mixture and infusion of organic arnica, beeswax, extra virgin olive and coconut oils, cayenne, lavender and rosemary essential oils, organic chamomile, organic wild crafted calendula, and organic St. John's wort. The product description on the website explains what arnica is and how it works. Ow!-Ease works well for blunt force injuries, bruises, bumps, contusions, sore muscles, joint pain, or sprains. It has also has a smooth, creamy texture and can be applied with ease. The one ounce Ow!-Ease applicator is available for $15.00 and discounts are offered for multiple applicator purchases.
Warning: This product is not safe for use on open wounds. Use on wounds where the skin has not been broken.
How We Used Ow!-Ease
My husband bruised his arm badly during the move. I applied Ow!-Ease to my husband's bruised arm. I couldn't believe how fast his arm healed! The bruise faded away quickly and the pain ceased. I honestly wish I had taken before and after photos. I guess deep down inside I didn't think it would work, but it actually did! I recently had a doctor's appointment and blood was taken from both of my arms. Afterwards, I had two huge bruises - I tried the Ow!-Ease on both bruises. The soreness was reduced, but I didn't have results as quick as my husband's. The bruise eventually went away, however, it took much longer for mine to disappear. I used this product on my friend's swollen ankle and it reduced the pain and swelling. She didn't complain as much about the piercing pain after applying this product to her ankle. I also used it on Jeff's knees for the joint pain he was experiencing. He was a marine and training tore his knees up pretty bad. Shortly after rubbing it around his kneecaps he said, "The pain was not as excruciating. Hey, this stuff might work! It really doesn't hurt like it did a few minutes ago." I hardly ever used it on Alyssa and when I did she said, "Thanks mom it feels better." I used it occasionally after hard workouts which wasn't that often due to time constraints with the move. It did eliminate muscle soreness. I will be keeping this item in my first aid kit in preparation for future emergencies.

Beeyoutiful Views DVD
The
Beeyoutiful Views DVD
contains informative and useful information about several products carried by the company. Stephanie Tallent explains how she uses the products in her household. I watched this DVD and had to start taking notes! I learned so much about taking a step closer to a healthier lifestyle. This DVD costs only $3.00.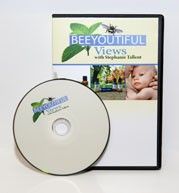 Other Products of Interest
I may have to try Beeyoutiful's
Tension Tamer
available for $11.00 to see if it will help eliminate my headaches or even lessen the pain related to my frequent migraines. The website states that it is the "ultimate de-stressor." I could DEFINITELY use this in my life right now. Recently, my doctor also told me that I need to take calcium and D3 (5,000 iu). There is a hereditary bone disease that runs in my family so I need to take supplements as a preventative measure. D3 can be very beneficial for individuals that do not get a lot of sun exposure. Beeyoutiful carries D3 in
liquid
($10.00) or
pill form
($9.00). I will need to compare their prices and products with the stores before considering this purchase. Other crew members are reviewing products that may be of interest to you including but not limited to their new make-up, the vanilla body butter, and hair shine as seen below. Make sure you head over to our
Schoolhouse blog
to read their reviews.
Recommendations and Results
Overall, I was pleased with the results we had from using Beeyoutiful's wonderful products. I was especially happy when my daughter's lips healed (this was a first for us). I love seeing her smile! I would recommend Beeyoutiful products to those of you that are health conscious and want to make an effort to take care of your body better. I
highly
recommend the Lip B.A.L.M and Miracle Skin Salve. I need more time experimenting with Berry Well in the winter time when we are most likely to get sick before HIGHLY recommending it. I do still recommend it because it seemed to work well for our symptoms. Ow!-Ease is also a good product that worked more for my husband than for myself. If Alyssa gets hurt, I will apply this product on her wound to see if she experiences the same positive results as my husband. Please keep in mind that I am not a doctor or a nurse; this was my experience with these products. Make sure you read the ingredients beforehand to eliminate any allergic reactions you or your family may experience. I know that individuals allergic to bees must heed caution since several product ingredients contain bee products.
Check out Beeyoutiful's line of beauty and health products, you can shop by
product
or
health concern
.
If you have any questions about Beeyoutiful Products and their ingredients, please contact the company
here
. They can also be reached at 1-877-6BEEYOU. Stay up to date on new products and more by signing up for their
newsletter
. You can also read previous newsletters on the website. Check out the
Beeyoutiful Forum
which is a place where you can ask questions and discuss health and beauty issues with Beeyoutiful staff and members. I read some pretty interesting stories at the forum. The company recently started a reward program in which "Bee Points" can be earned for placing orders, writing product reviews, etc. It may be worth looking into since those points can be used to reduce the amount you pay for your order. You can also follow their
Facebook
page. Would you like to view a few
Beeyoutiful Living Videos
? Click on the links to learn more about a variety of health topics.
Thank you Beeyoutiful Products and Schoolhouse Crew Leaders for giving us the chance to use these amazing, healing products!
Disclaimer: As a member of the Schoolhouse Review Crew, I received four products from Beeyoutiful Products and a DVD, at no cost to me, in exchange for an honest, professional review on my blog. All opinions expressed are my mine and were not influenced in any way by the product or company.