Do you want to teach language arts with an effective program that makes learning fun? You will definitely want to read the reviews about Primary Arts of Language published by Excellence in Writing. I have a lot to say about this curricula and many photographs to share. It was difficult limiting the number of photos for this post.

As part of the Schoolhouse Review Crew, I was chosen as one of the blessed recipients to receive Jill Pike's
Primary Arts of Language (PAL) program
published by a well-known reputable company known as the
Institute For Excellence in Writing
. This is by far the best language arts program I have
ever
tried ... seriously ... this tops them all! I have seen and tried many reading and writing curricula. I was super impressed with the thoroughness and organization of the program. The day it arrived I couldn't put the manual down - it was supposed to be family movie night and I must say that I was a bit distracted. After my family went to bed, I immediately watched both DVD's that night to prepare myself for the review and I listened to a few of the audio MP3 files in advance. Here is access to an
archived free webinar
about Primary Arts of Language (PAL) presented by author Jill Pike. She will explain how the program works and might possibly answer questions you have bouncing around in your head. Keep reading to hear about our amazing experiences with this curriculum. This K-2nd grade program is based on the research and practice of an highly acclaimed, experienced teacher named
Anna Ingham
who introduced her
Blended Sound-Sight Program
as an approach to teaching reading and writing. This solid educational approach combines or blends phonics instruction with sight word methodologies to teach language arts. Primary Arts of Language is a sequential language arts program that incrementally covers both reading and writing using the Blended Sound-Sight approach. The foundations stage and printing lessons can easily be used with children as young as 3 or 4 years old that are ready to learn how to read with minor adjustments. One adjustment I would suggest is to slow down the program pace and to incorporate as many hands-on handwriting activities as possible.
You are never going to believe what comes with the complete reading package. I was astonished! Let me fill you in on the descriptions and details. Be sure to click on the above link to see actual samples.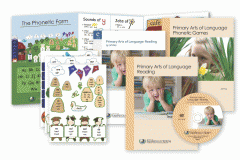 1.) Teacher's Manual
The spiral bound teacher's manual consists of detailed daily scripted lessons describing activities for poetry, activity and reader words, phonetic farm, agenda (work period), and end of the day closing activities. The lessons are not dated nor do they specify which days to complete the lessons which makes the curriculum more flexible and easier to adapt to your homeschool daily or weekly schedule. The step-by-step lessons are numbered from 1-80. There are 135 pages plus 30 discovery card pages in this manual. The discovery cards are printed and found on green cardstock in the teacher's manual towards the back of the book. The appendix contains a variety of useful and helpful charts and lists. The appendix consists of a five-page scope and sequence layout in chart form for both subjects, agenda pictures, jingles and lists, letter stories, a phonograms (helpers) list, the homophone list, discovery word card lists, leveled reader suggestions, and more.
2.) Reading DVD-ROM
Take the time to watch the instructional video before opening the manual or beginning the lessons. The DVD contains all four of the student readers, student work pages, reading practice pages, poems, charts, and the informative MP3 audio workshop seminars including:
Jill Pike's Instructional Video (Approximately 50 minutes)
"The Four Language Arts" by Andrew Pudewa
"Nurturing the Competent Communicators" by Andrew Pudewa
"Poetry as an Integrator" by Anna Ingham
"Introduction to the Blended Sound-Sight Program" by Anna Ingham
The two PAL reading student e-books (100 + pages each) and four readers are on the DVD-ROM. They are also available in
hardcopy format
separately online for $39.00.
3.) Phonetic Farm Folder with Permanent Stickers
This colorful tri-fold folder opens to reveal a phonetic farm-based theme that would appeal to any child's interest with animal characters representing different phonetic sounds or helpers. The sounds presented are reviewed several times on a daily basis. The folder helps children organized the sounds and their thinking. For example, the barn sil
o
contains the /oa/ as in
boat
and /ow/ as in
yellow
phonograms.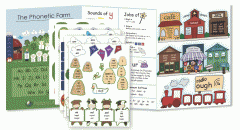 4.) Phonetic Games Book
This 194 page spiral bound teacher resource book contains the black and white reproducibles for thirty-five games to be assembled using standard-sized manila file folders. The game pieces are printed on manila cardstock and can be found towards the back of the book. The games are introduced slowly and game usage is modeled the first month or so in the foundations stage depending on the rate your child graduates through the lessons. Eventually the child will play the games with a partner or independently during activity time. The games reinforce the concepts learned in the reading curricula. They can be made in advance or with your child as you work through the lessons. I preferred to make the first 15 file folder games ahead of time and then I made the rest the night before we used them. The lessons seemed smoother when the games were prepared ahead of time. We chose not to color most of the games, because Alyssa hasn't been as interested in coloring lately. The game boards and game pieces are intended to be torn out of the book, but I have a difficult time tearing books apart that can be used in the future. I made copies of the games so that I could have a master copy should anything ever happen to the file folder games. I will always have the book to make a new file folder game. I also did not laminate the games or the pieces. I do highly recommend laminating the game boards and pieces.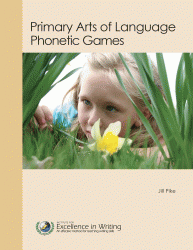 The Four-Stage Reading Breakdown
The Reading curriculum is divided into four stages. Let me briefly describe each stage. The teacher manual provides further details necessary to use this program.
I. Foundations
This stage is teacher-intensive and can last approximately one month or longer depending on your child's reading background. The teacher is very involved in the lessons and this stage is important for laying a strong basic foundation for future lessons. A weekly poem will be enjoyed and used in a variety of ways to teach phonics, sight words, comprehension, appreciation, and vocabulary. Letter sounds, phonograms (helpers), and sight word are discussed during each lesson. The parent creates and models a variety of reading games that reinforce the phonetic concepts and helpers taught during reading time. The card game is introduced as a way to teach sight words and to discuss the phonograms found in sight words. Diacritic markings are gently introduced as part of the card game. The card game requires blank index cards and a Sharpie marker. The responsibility of marking the cards shifts from parent to child to prepare them for the discovery card stage. We did assemble one of the student reader books but it took Alyssa forever to color because there were a lot of pages. I doubt that I will print the other three student reader books in the future. I can see how the experience will benefit emergent readers so please consider printing them for your child. The parent also helps the child manage their time and assists the child with setting reasonable goals.
The following work pages from this stage were assigned during agenda time. In the first photo you can also see one of the activities we completed at the beginning of the program. I cut sentence strips and hid them around the house so that Alyssa could practice reading them. A sentence strip was still on her desk when I shot this photo. Although this lesson was extremely easy for my daughter she still enjoyed actively participating. Simple rebus sentences are used in a predictable manner making it easier for the child to read. The second photos contains three work pages. She was required to mark all vowels and helpers. She was asked to follow directions and color the pictures as indicated on the first sheet. The first two work pages engage the child in a cut and paste sorting activity. The last work page asks the child yes/no questions relating to the farm animal locations. She learned how to respond to questions using a cut and paste activity.
Work Pages Click to Enlarge
II. Activity Time
The child will spend thirty minutes playing the phonetic games of their choice previously learned in the foundations stage. The child can play the games independently or with a partner. I homeschool one child so I usually partner with my child for several of the chosen games. There is a checklist to track games completed. Activity time starts on lesson 19 and may take a child 2-4 months to complete before mastering the game concepts. The games reinforce the skills taught and help the child develop good character traits related to game play. The parent will continue to play new games, teach phonogram helpers, and sight words while the child practices the previously taught skills.
Action Charades: She's actually swimming like CRAZY?
III. Discovery
This stage may take approximately 2-4 weeks to complete if not more depending on the child. There are 30 discovery card packs and each set contains 10 cards. The discovery cards can be found at the back of the teacher's manual. They can be cut out and given to the child one set at a time. The child attempts to decode each unencountered word independently for thirty minutes using the phonograms previously learned. The words are not used in context which means that the child must think at a higher level. Then, the child is tested to see if they can in fact read and decode the words correctly. If they cannot decode a word correctly, then they are shown the proper way and must continue to study the word. Progress is monitored on the discovery progress chart. I will
most definitely
laminate the word cards so that she can indicate the diacritical markings over and over gain if necessary using a dry erase marker.
IV. Library (Individualized Reading)
Once the child masters ALL of the discovery card packs, they advance to the next stage. The child is now offered a wide variety of real library books or literature to read aloud for approximately thirty minutes a day from a suggested leveled book list. The books are differentiated by level as easy, medium, and hard. The easier books appear to be at a primer level containing only 1-2 sentences with one or two syllable words in large font. The medium level books are similar to
Harper Collin's I Can Read book series
level 2 or 3. The most difficult leveled books are easy chapter books having few illustrations with smaller fonts. These books seem appropriate for children working at about a second grade level. The child chooses which books to read aloud and records the title in a spiral logbook. It is suggested that the parent gently encourage the child to read more difficult leveled books as they gain confidence, build fluency, and their abilities increase. I will most likely skip the easy readers with Alyssa. My plan is to gather and organize different books from our collection into three colored book baskets or tubs based on reading levels. I will most likely place the easy readers in a green basket, medium readers in a yellow basket, and hard readers in a blue basket. I will also add reading response activities to Alyssa's Agenda time.
The complete reading component costs $69.00 unless you would rather purchase the items separately for $98. It is more economical in the long run to purchase both the complete reading and writing curricula as a one time package.
1.) Writing Teacher's Manual
This manual is scripted to help the parent know exactly what must be said and done. Be careful not to read directly from either of the manuals - this may bore your child. It is better to read in advance and take a light hearted approach while engaging more with your child. It is important to use the manual as a
guide
. The manual consists of 130 pages plus 72 appendix pages. The appendix contains the writing scope and sequence, reminder signs or posters, recipes, the story sequence chart, list of categorized lowercase letters by strokes, a letter story chart, four-point check, punctuation signs, and so much more. The numbered lessons are divided into three sections. Part one contains 31 lessons, part two has 40 lessons, and there are 16 lessons in part three. The three-phase writing breakdown that follows will describe each component of the writing program in more detail.
2.) Writing DVD-ROM
Wow! This detailed instructional DVD teaches YOU how to use this program appropriately complete with explanations modeled by Jill Pike. You will want to watch and use this DVD first! In fact, you will want to watch both DVD-ROMS first. You can even watch the writing DVD in sections starting with the printing component. You can later go back when addressing the copywork lessons with your child. I watched it all at once and then again when we began copywork lessons. The DVD also contains the student books (Parts 1-3) in PDF file format, video instructional guidance, and six helpful MP3 audio workshop seminars including:
Jill Pike's Instructional Video (1 hour 40 minutes long)
"The Four Language Arts" by Andrew Pudewa
"Reading Comprehension from Seuss to Socrates" by Adam Andrews
"Dictations, Narration, and Public Speaking" by Andrew Pudewa
"Preparing the K-2 Writing Environment" by Richelle Palmer,
"Units 1-2 in the Primary Classroom" by Shirley George
"Unit 3 in the Primary Classroom" by Shirley George
The three PAL writing student e-books can be found on the DVD-ROM, however, they are also available in
hardcopy format
(274 double-sided pages divided into three sections)
separately online for $29.00.
3.) All About Spelling Basic Interactive Kit
This consists of color-coded letter tiles, magnets, laminated tabbed dividers, and a phonogram CD-ROM. The CD-ROM is not very exciting. It is best used as a resource for the parent enabling that person to review the letter sounds. In the past, Alyssa would occasionally use it but didn't find it very interesting. I wish there was an interactive phonogram CD created by this company specifically for children to use as a review ... maybe even with a few spelling computer games.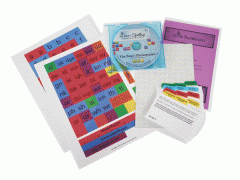 4.) All About Spelling Level 1 created by Marie Rippel
You will receive the teacher's manual and complete student materials packet for Level 1 containing phonograms cards, word cards, sound cards, certificates, and progress charts. The archived All About Spelling free webinar presented by Jill Pike is available
here
.

All About Spelling Experiences
All About Spelling is implemented and used in conjunction with the second phase of the PAL writing lessons. We started it towards the end of the first phase as a review since she has already completed the first level with mastery. My plan is to review the concepts covered in the first level quickly and begin Level 2 with my daughter in the next couple weeks. We will review Lessons 19 and 20 later this week. Alyssa zipped through AAS Level 1 with ease last year. As I have said before in previous posts, this is MY ABSOLUTE favorite spelling program! Please keep in mind that
some children may spend a week or more on one lesson
. Take your time and go at the correct pace for
your
child. The program uses a hands-on, multi-sensory approach with consistent review built into the program. Alyssa was eager to work on spelling and requested it every day. The color-coded letter tiles help the child build and study new words in a kinesthetic, tactile way. They can easily see which letters are vowels and which are consonants based on the color of the letter tile. Vowels are red and consonants are blue. The phonetically-based lessons are scripted for the parent with clear directions. All of the materials are reusable so you can use the program for years with multiple children. In the beginning, prep work is very time-consuming. The parent must prepare the letter tiles by adhering magnets to the back of each letter. The cards are perforated and must be torn apart before using the program. Afterwards, preparation is limited and the program is not teacher-intensive at all. Here are a few shots I took during our review sessions. We did not take any spelling tests this round because she reached mastery level last year. I recapped the focus for the lesson, reviewed the cards if needed, and practiced spelling with the colored tiles. She is looking forward to All About Spelling Level 2!
Step 13: Segmenting Words With Initial and Final Blends
Segment Hop Game
Step 16: She said, "Well, an i follows the letter c so it says /s/ it must be the letter k - kit."
The Three-Phase Writing Breakdown
The PAL writing curriculum is broken down into three sections or phases printing, copy work and style, and composition with style. I would like to describe each one so that you can see the progression of the lessons over time.
I. Printing and Story Summaries
In this foundational level, the child learns their letter sounds while learning how to form all of the letters. Children that can write properly can skip this section. I chose to review all letter formations with Alyssa using the methods presented in PAL writing even though her handwriting is better than mine (don't tell her that). I paid close attention to her starting strokes and pencil grip and constantly assessed her knowledge. The letter formations are not taught alphabetically; the letters are taught based on how the stroke begins. The program begins teaching the lowercase letters in letter boxes focusing on left to right progression. Then, it progresses towards learning capital letters in letter boxes. The program takes it up a notch by exposing the child to writing letters on lines with correct spacing. The next step is for the child to learn how to write words on lines with correct spacing. The child will learn neat letter stories in the first phase to accompany the lowercase letters which helps children write correct letter shapes while saying the sounds. Alyssa adores the letter stories! This complete handwriting program incorporates hands-on, tactile activities such as air writing, chalkboard or whiteboard writing, carpet writing, shaving cream, finger painting,
pl
aydough letters, letters in the sand, and so forth. We found that PAL's hands-on writing suggested activities were interchangeable with our current handwriting program activities.
The printing lessons take about 15 minutes to complete. I observed Alyssa during handwriting lessons to prevent bad habits from forming. She really enjoyed learning letter formations using their house approach which names the spaces on the lines as main floor, attic, and basement. This method enabled her to teach other children in a easily understood format and helped her practice using the line locations as reminders. The writing lesson manual discusses pencil grip, posture, writing utensils, printing styles, mastery learning, and several other writing topics. Class journal, printing or copy work, and story summaries should take approximately 40-45 minutes of your scheduled day. I posted a schedule of daily activities to help me stay on track knowing that I can add to or eliminate activities from the schedule.
Capital Letters in Letter Boxes
Lowercase Letters with Lines and Spaces
Story Summaries Using Story Sequence Chart
Every lesson is accompanied by a story in which the child engages in a conversation about the story elements. These lively discussions reveal your child's level of comprehension and attentiveness to the meaning of the story. A new story or chapter is read from a book. The story elements and questions are emphasized and summarized using the story sequence chart. Once this activity is mastered the child works toward retelling short stories accurately with just enough detail to entice the reader. This is also known as narration. The chart can be found in the appendix of the teacher manual or on the DVD. The first eight stories are provided as examples for the parent to help guide them through the process. Afterwards, the the parent is given the responsibility to choose age appropriate stories or chapter books to summarize with their children. The story sequence chart covers several literary devices including characters, setting, plot (problems, surprise elements), climax, and solutions (resolution). Additionally, the child will learn how to form a closing sentence that tells the theme, main idea, or lesson of the story.
II. Copy Work and Style
Your child will now practice letter formations and writing words in the context of a sentence. Printing will become more automatic throughout this component allowing the child to focus more on style in the future. The child will practice copying sentences from the student book pages, from books read, poetry, and so forth. We are currently working through this section which contains 40 lessons. In the beginning, the sentences are simple and they progress in difficulty. There are activities that enable the child to fill in a word and others that allow the child to write a new word of their own.
The class journal adds in more activities involved with calendar time such as reciting the days of the week and months of the year. The child may offer more sentences for you to write or they may want to write their own sentences in the journal. We used this opportunity to incorporate calendar time songs into our day. The child will also discuss seasons and monthly holidays.
The child will work through and continue Level 1 of
All About Spelling
lessons mastering each step at his or her own pace. Be sure to have the child color each step mastered on their progress chart. Last year, I turned the step and letter progress charts into stickers so that she could work on and develop her pincer grasp. She removed the step or letter sticker and added it to her chart as she progressed.
The style enrichment activities address and expose children to punctuation marks, capitalization, parts of speech, and other strategies for adding style to writing. The lessons occur only four days a week now and they encourage you to take two days per lesson (if needed). We currently complete copy work lessons four days a week and cover one lesson per day. Handwriting or copy work lasts about 15 minutes. Who and Which projects are eventually added to the lessons enabling the child to work on writing independently with illustrations to accompany the project. Diacritic marks are explained in the manual as they were in the first phase. We decided to keep the writing posters for this phase on a tri-fold display board as suggested in the manual. Those not needed will be stored in her reading and writing binder.
Part II Copy Work Lesson 1:
This was on a day she wasn't feeling well.
Teaching Tip Suggestion:
Study 10 card game words and take a test on them.
III. Composition with Style
I can't wait to reach this component! I feel that Alyssa might be ready to begin this section with adaptations or modifications, but I want to make sure any gaps are filled and take it slow before jumping ahead. I want to make sure she is comfortable with narrations using the story sequence chart. I may need to provide additional copy work practice after completing part two to allow more time to practice handwriting and sentence formation. Alyssa already frequently writes friendly letters and stories so once she completes the copy work lessons and when she shows readiness we will move forward S L O W L Y. This portion teaches the child how to write paragraphs and stories with style focusing on the story elements taught in the first component. I want to use the copy work lessons as a foundation to prep her for the work to come. The manual states that each lesson lasts at least a week or more with the focus being on composition for at least four days in a week. Spelling lessons should take 15 minutes and writing depending on the age of the child is no longer than 30-60 minutes. The student will graduate through 16 lessons that cover four units including note-taking, summarizing notes, story sequencing, and creative writing. The story sequence chart is used as a guide to form an outline for stories. Here is the timeline for the final writing stage:
Day 1: Read the Story. Create an Outline Using the Story Sequence Chart
Day 2: Write the First Paragraph (Characters and Setting)
Day 3:Write the Second Paragraph (Plot or Problem)
Day 4: Write the Third and Final Paragraph (Climax and Resolution) with Story Illustrations
This program is best if used simultaneously with PAL reading curriculum. If you already have a child that reads fluently you may want to only purchase the writing curriculum unless you would like to fill in the gaps as I have done and use the two curricula concurrently. This component costs $89.00 if the writing curriculum items were purchased separately it would cost $113.

Materials Needed (Both Curricula)
Composition Notebook (hard or spiral bound)
Wide-Ruled Paper (loose-leaf or spiral bound)
Two 3x5 Index Card Box (card game and AAS)
Magnetic Whiteboard (optional) - I highly recommend getting one!
Teacher Mailbox (A place where the student turns in completed work.)
Thirty-Five Standard Size Manila File Folders
File Folder Storage Container
Clipboard
3-Ring Binder with 5 Tabbed Dividers
Tri-Fold Poster Display or Wall Space
Pencil box with crayons, pencils, erasers, colored pencils, markers, scissors, and glue stick. I also kept a pencil pouch with my supplies including glue stick, black Sharpie marker, scissors, pens, highlighters, post-its, and index cards.
The PAL program replaced both our reading and writing curricula. I wanted to try something different with my daughter who turns five this month ... something besides our current worksheet-based reading curricula. I noticed that she began to dawdle using the previous curricula. I wasn't even sure my daughter was applying the concepts and skills learned when actually reading. I chose to organize the lessons into six daily folders labeled Monday through Saturday. We used the lessons on a daily basis at least five days a week and used Saturday as a make-up day if for some reason a lesson was not done during the weekdays. In the beginning, we completed only one lesson per day. Most lessons took us a minimum of 2 hours to complete, but in that structured time period we covered reading, writing, handwriting, grammar, spelling, poetry, calendar time, and other extensions I added to the curricula. This sounds like a lot of time to cover language arts, however when I worked as a classroom teacher we were required to spend a minimum of 90 minutes to cover language arts skills at my school. This allotted amount of time seemed reasonable for me. We worked in segments allowing for necessary breaks. Breaks were great times to integrate exercises, elective courses, activity game bags, pretend play, and more. We also used the time to switch subjects using different parts of the brain so that we wouldn't exhaust one area of the brain. I have always read that it is better to change subjects or types of activities to ones that use different parts of the brain every 15-30 minutes. On several occasions, I would do a quick math lesson and assign related worksheets as part of her Agenda time.

In the beginning we followed the lesson plans as formatted, however, after familiarizing myself with the structure of the program I felt it was imperative that we work at a faster pace for Alyssa's sake. The reading and writing portions were too easy. After looking through the entire phonetic game book, I realized the reading portion would basically be a review for Alyssa. I do not recommend speeding up the pace with new or beginning readers. The pace will most likely be too fast for beginning readers. I actually suggest slowing the pace down for new readers. Alyssa already knew how to form her letters and she already knew all of the letter sounds for each letter ... thanks to All About Spelling! Needless to say, I still questioned whether or not I taught Alyssa all the skills she needed to become a fluent reader armed with word attack and comprehension strategies. I wanted to review the beginning stages as a way to reinforce her learning and to fill in any gaps from previous reading curricula. I also wanted to know what the curriculum entailed ... to experience the curricula first hand so that I could better inform my readers. We started doing two writing lessons per day once single words on lines using spaces were introduced. We are currently on Lesson 34 in the reading curricula and we just started Part 2 of the writing curricula (Lesson 3). We went back to one lesson per day since it was a new component. We will adjust the schedule later if necessary. We completed All About Spelling Level 1 almost a year ago so we are doing a very QUICK review of each lesson as a refresher course. Most likely, we will begin All About Spelling Level 2 in a couple weeks.
A Day in a Life Using PAL
Reading Lesson 33, Part II Copy Work and Style Lesson 2
Here's a sneak peek into part of our homeschool day. I will discuss a day that we recently completed.
We began the day focusing on a short poem titled "Celery" which Alyssa memorized, recited, and acted out. We discussed types of food that were crunchy, like celery, in raw form yet soft after being stewed or cooked. (Note: Later that day we made stone soup and applesauce). She learned that
ore
says /or/ at the end of words. Then, she rambled off a list of rhyming
ore
words so I decided to write them on the whiteboard. She underlined the helpers. She also counted out syllables for several poem words (was supposed to be just the word
quietly
) and reviewed the sound that
y
makes at the end of word with two or more syllables. That aspect of the curriculum lasted about 5-10 minutes.
We move quickly to the 5-10 minute family journal activity which
usually
lasts longer than expected due to number of additional enrichment activities that I include. Alyssa helps verbally form sentences and reviews capitalization and punctuation marks as I write the entry in friendly letter format. I usually sign with my actual name instead of mommy so that she learns that all names are capitalized. We complete any surprise activities I have added into the lesson. Then, she reads several past journal entries (believe me she has some favorites) and a few pages from her reading practice clipboard.
The next 15 minute time period is designated to All About Spelling. We leave off on whatever lesson we last completed. Remember we are reviewing
several lessons in one sitting
since she completed this level before this review began. If you follow the curriculum then your child will most likely be working through Step 1. If your child mastered all of the letter sounds in Step 1, then you will begin Step 2 which is a lesson on segmenting words (beginning, middle, and end). The phonogram cards are reviewed if necessary.
QUICK EXERCISE BREAK
We will now have a short lesson on style using punctuation (end marks). Alyssa made punctuation signs from paper plates. I read aloud several sentences with correct intonation and she decided which type of punctuation mark would be needed by holding up the proper sign. Then, Little Miss decided that she wanted to test me. She tried sooo hard to trick me.
It's time to start our copy work lessons. Keep in mind that we just started this section of writing. I read aloud the sentence and Alyssa repeated it with expression. We discussed end marks and capitalization rules. She also quickly identified which diacritical markings would be written for particular sounds or phonograms. I reminded her, before beginning copy work, to think about the word as she writes it. I set the timer and she worked for 15 minutes copying the sentences. She finished both sentences in the allotted time.
We quickly moved on to the story summary. We usually read one or two short stories. On this day, we reread "Red Riding-Hood" in the teacher's manual from the foundations stage. She attempted to verbalize a summary using the story sequence chart while discussing the story elements. This prepares the child for future retellings or narrations. I noticed immediately that, if attentive, Alyssa's narrations were long containing a lot of details. The story sequence chart has been quite helpful in providing her the support she needs. I also guide her through the process. This concluded the writing portion of the lessons. I immediately flip to my reading manual to complete those lessons.
JUMPING JACK BREAK
Alyssa chose several games to play during activity time and the timer was set for thirty minutes. I usually play several games with her and require her to pick a few independent activities. After the timer goes off, I introduced a new game. I cover the answers at the bottom with an envelope since Alyssa can read. She quickly completes the game without errors. Next, we create a few cards for the card game. The words added were
are
,
kittens
, and
kitten
. She marked the words using diacritical markings. We discussed the plural form and odd job - e. She didn't want to play "Lightening" because she wanted to play the "Feed the Creature" game. We reviewed all the areas on the phonetic farm instead of just a few locations. We did stop by the
ore
Core sticker first.
Independent Activity Time Game
We usually eat lunch before she sits down to do her Agenda work. She turns her work in the teacher's mailbox and checks her Agenda for additional activities. We revisit the phonetic farm before I give her an informal spelling test. I don't always do the spelling test and I don't always revisit the phonetic farm because she has mastered the sounds. I do have her read from her reading practice sheet with expression.
Informal Spelling Test
THAT'S ALL FOLKS - CLASS IS OVER!
I feel like we accomplish a lot in one day. Our days seem more productive and structured after completing our PAL Reading and Writing lessons! This was exactly what WE needed after our recent move.
What We Liked
Let me just start by saying I wish I had found or bought this program years ago when Alyssa was first curious about letters and their sounds. It would have been extremely helpful and convenient. It would have been a perfect fit for us. It would have eliminated hours of internet searching and pieces together my own curriculum.
We used the PAL reading and writing concurrently from the very beginning as a review of previously learned concepts. I am also using both subjects as a way to fill in any learning gaps. I was afraid that the lessons were going to bore Alyssa, but she enjoyed reviewing the letters and sounds all over again. It proved to be a great review!
Her favorite aspect is of course the file folder games. The file folder games were an added bonus to our reading environment. She can't get enough of the Match-It game! She looks forward to the actions and movements in Action Charades. Additionally, she enjoys playing the Preposition Game and what child wouldn't love the adorable Mugs game. Just between you and me ... shhhh ... it's a secret, but I

REALLY liked the Match It game. This is Alyssa's all time favorite game too! I think she likes it because of the candy treats. We usually played with candy corn or hot tamales.

It incorporates math skills, matching, and language arts concepts.

If Alyssa flipped over a card and there was a match on the board, then she received the amount of candies indicated by the number on the game board under the most recent card flipped. I counted out the candies and she kept a running total which meant she was working on her addition skills too. She checked her work by counting the candies. The manual directions state that the child can count the candies. We added in the addition work and she decides who has the greatest number of candies. The individual with more candy won the game and was allowed to eat two pieces of candy. The other participant ate only one piece. I love it when two subjects can be integrated in an educational game! There are 19 Match It sets with 16 cards in each set. They cover several skills including sight words, opposites, prepositions, action words or verbs, picture-word match, and singular/plural form. This will last us a long time!

The cards are numbered which makes it easy to figure out where they belong if there is a mix up. We store each set in a labeled envelope with an index card. All cards are stored as sets in a small container. You can

also

create your own sets to reinforce whatever skills you want to target. I am thinking about creating a few sets for future lessons. I will have to post about that on another day.
Our Favorite Game: Match It
Flip over a match to earn points (candies)
Match It: Running total (working on addition facts and fluency) We kept one index card inside the envelope. This was the start of a new game. The top row was the last game on a different day.
Mugs: One of the Phonetic Games
She's feeding letter sounds to Mugs which is propped against a mini art easel.
Alyssa couldn't wait to break out the games during Activity Time. Activity time taught her that she could play games and have fun with others or independently. She also learned some great social and character traits that will help her play well with others during social events and play dates. However, many of the sorting and early learning games were only played a few times during activity time. The games were repetitively modeled on several different occasions. Alyssa mastered the concepts rather quickly and didn't choose to independently play those games as often.
Sorting Vowels and Consonant Sounds
The "Feed Me Creature" activity was suggested

as one of the teaching tips and reproducibles are provided in the book. Throughout the manual, you will notice boxes that contain teaching tips. Make sure you read the ideas presented. This activity actually reminded me of a project I used to do with Alyssa when she was much younger. I chose not to copy or use their "Feed Me Creature" form from the manual.

I wanted something more colorful and didn't want something that would fall apart or be too flimsy. We made a goofy Monster Muncher using a mini garbage can I found at Dollar Tree. We also used several craft materials available at home. If you think creatively you'll find ways to use a variety of materials in your house such as pom poms, pipe cleaners, foam, felt, letter stickers, google eyes, bottle caps, birthday ribbon, and so forth. They suggest using the "Feed Me Creature" with your card game words. The great thing about this activity is that you can use it to reinforce letters, sounds, sight words, unit or thematic words, vocabulary words, numbers, addition and subtraction facts, shapes, colors, and more. We set aside a day to create our "Feed Me Creature" and now he will sit on the shelf patiently awaiting Alyssa's arrival. Here is a photo of our feed me creature. You can google letter sound muncher for more creative ideas online.
Our Version of "Feed the Creature"
I tried to remove the awkward black tooth but it didn't work. Time to visit the Dentist!
Card Game Words: She's feeding the word draw and saying /aw/.
I love the integration of poetry into any language arts curricula. PAL integrates poetry appreciation on a daily basis. The same poem may be covered and discussed for several days up to two weeks with quick phonogram lesson extensions to enrich the child's learning. The poetry component incorporates different lessons and activities on phonograms, identifying colors, context clues, visualization, rhyme, vocabulary development, drama (acting out the poem), and more. I would often find that my daughter and I would spend too much time on this activity, because we enjoyed the activities presented. The program encourages memorization or recitation of poetry. My daughter enjoyed acting out and memorizing each poem. She memorized the first poem in one day. In fact, she memorized all of the poems so far except for "The Funny Man" and she's so close (one more line with few words missing). She eagerly went back to the poem to memorize it even though it is not our current poem. She has a good memory and I was simply overjoyed that she loved the poems enough to learn them by heart. Her favorite poem lesson was "Ooey Gooey". We used props to reenact the poem and she illustrated it. She also wrote her own poem using the writing format and completed it with an illustration. You can see her poem in the third photo below. Check out a few ways that we integrated poetry into our day with this program. Isn't it wonderful?

Visualizing the 'September" poem

Reciting the poem "September" while holding her illustration

Alyssa's Poem "Ooey Gooey"
Click to enlarge.

I used to write out a morning message for Alyssa every school day on chart paper or the whiteboard. I also wrote morning messages and placed them in her mailbox to read and respond to before school. She would bring her responses to me. She was jumping for joy when I told her that we were going to begin a family journal during PAL time. The family journal was another highlight for the day so much so that Alyssa created a journal for her daddy. She explained the purpose to him and told him what to write in it each day making sure he understood that he needed to date his entries. She is captivated by the family journal lessons. I almost always do more than what is expected in the manual and we do spend a little more time with this aspect of the program. I used the family journal interactively by asking questions in my letter having Alyssa write a response at the end of the page. She looks forward to the questions because she has the opportunity to write. I also have her assist me with writing parts of the letter. I eliminate certain letters and she fills them in using correct capitalization. She always explains her reasoning for capitalization.

Please ignore my messy handwriting. I rushed through this entry. This is one way I adapted the family journal to meet her needs. I wrote the sentences as Alyssa watched. She kept saying, "You made a mistake mommy." I purposely left out letters. Her job was to fix the entry and explain

her corrections.

She is completing the journal entry by adding missing letters with correct capitalization.




Her response to my question with her corrections. Did you notice that she added a diacritical marking?




This was her response when I asked, "What was the poem Ooey Gooey about?

Did you like it it? Why or Why not?




Even though my daughter could already write all of her letters, the letter stories brought handwriting instruction to life. On several occasions, I witnessed my daughter teaching other children how to form their letters using the letters stories and strokes mentioned in the manual. She really applied what was taught. My husband was shocked! I enjoyed listening to her teach her cousin in the back seat. They were using glow sticks to air write the letters. She was very animated during her lessons.
The phonetic farm was theme-based and organized by sounds. My daughter could open the folder and see all the long o (on the silo), long a (on haystacks), and long e (written on beehives) sounds categorized in one specific area of the farm. This really helped her organize her thoughts.

Phonetic Farm: The word yell

ow

/ow/

on the silo

I appreciate the completeness of the program. For once, I did not have to jump from curriculum to curriculum to cover all subjects due to lack of thoroughness or dislike for a particular program. This program wasn't missing any pieces. The program is well structured and is laid out perfectly especially for any individual needing guidance on how to teach reading and writing.
I was happy to see that All About Spelling was used in conjunction with their reading and writing curriculum. This spelling program outshines the rest! The hands-on, multi-sensory approach can benefit many learners while teaching spelling rules.
The teacher or parent training on the DVD's is a wonderful asset for any parent or teacher! I actually felt like I was attending teacher training at a school workshop ... except that it was video-based. The DVD's were informative and necessary for every person that considers using this program. I highly recommend that those interested in this program view the DVD's first before opening the manual as tempting as it may be upon package arrival day. I think it would be beneficial for the parent to receive the videos as e-mails or online as soon as the order is placed so that the manual won't be as overwhelming. After viewing the DVD's and thoroughly reading through the manual - the program made sense. It was actually what I had envisioned it to be.
I like the fact that in the beginning there is a lot of teacher involvement but them it dwindles allowing the child to become a more independent learner and thinker. This scaffolding also helps the parent and child set up a consistent routine while taking the time to teach the file folder game directions and expectations. This is imperative with young children. This time is also used to correct any misunderstandings beforehand. It also allows the parent to observe the child's strengths and weaknesses as they progress through the lessons. I was grateful for Agenda Time which ties in well with her workboxes. I would just place a card on her agenda noting which workbox to complete. She has several choices for the music card. She can work on keyboard lessons or participate in a few music curricula lessons. She can listen to other music CD's we own including classical, handwriting, geography, grammar, math, spanish, history, and so forth. The reading card indicates that she must spend at least 15 minutes reading books of her choice aloud or silently. I may also add reading response sheets or projects in the future. Many of the work pages are cut and paste so I added the garbage can to remind her to clean up her mess. She told me that it also means that she must empty her mini garbage can by her desk into the larger classroom garbage container. I think it is important that children have a certain amount of time to work independently in preparation for the future.
The Primary Arts of Language program utilizes a hands-on approach to learning. I was tired of the worksheet approach and I was pretty sure my daughter was sick of it too. This program was a breath of fresh air. I know now that she is learning because I see her apply the skills and concepts taught to her everyday life whereas before it just seemed like endless worksheets without any application. Please understand that this program does include a fair share of worksheets to complete but they involve cutting, pasting, sorting, adding diacritical markings, and so forth. Alyssa enjoyed this type of worksheets more than those completed in the past.
The lessons are flexible and can be modified easily for any child. You can speed up or slow down the pace. Your can extend the concepts or limit what is taught in one day. You can scaffold as much or as little as needed. You can teach cursive instead of print. You can add extensions if desired to any lesson or eliminate lessons that are not needed.
I was thankful that there was a suggestion to create the teacher's mailbox in the manual. The teacher mailbox was as a place for Alyssa to turn in her completed work to be marked. In the past, she would hand me her work and at times this was very disorganized and distracting. I used a plastic paper organizer and her work was turned in on the bottom shelf. My daily file folders with work pages were also stored on the shelf. The top shelf holds papers to be filed in her binder. This system was not in place until PAL came along. It helps keep me more organized.
Possible Cons and Improvements
I would love to see the phonetic farm enlarged to poster size using reusable stickers or Velcro pieces. The spacing was pretty close together in some spots. It wasn't easy for Alyssa to neatly match the overlapping stickers and it bothered her when it wasn't placed properly. At times, I needed to place the stickers on the folder. The phonetic farm would make a wonderful hands-on bulletin board. One of my fellow crew colleagues used Velcro. I wish I had seen it before using the stickers. The Velcro enables the parent to reuse the stickers for future lessons or with multiple children. The Velcro file folder can later be added to activity time or the agenda as a review activity. I asked my daughter what she didn't like about the curriculum and she made it a point to tell me that she did not like that the stickers were permanent.
I must warn you that this is a teacher-intensive program in the beginning. The parent has a lot of prep work. For me, the prep work is soooo worth it if my daughter is getting a good education using an outstanding curricuThe lessons become less and less teacher-intensive over time and become easier as the child progresses through the program.
I wish there were more agenda pictures for any non-readers or even more agenda suggestions for fluent readers. I ended up cutting index cards in half to write her agenda tasks and posted them on a mini pocket chart I found at Target. I think having more agenda pictures will help the non-readers and parents who are unable to draw well. It will also give the parent more tasks or ideas to choose from until they are comfortable with creating their own.
Our Overall Experiences and Results
I believe wholeheartedly in IEW's approach to reading and writing. This high quality program changed the way we do reading and writing in a positive, uplifting way. It suits our learning and teaching styles much better than those used in the past. We had magnificent results! My daughter is having fun while learning how to read and write. There is no more dawdling on her part and it is something we
both
look forward to
every single
day.
We are bonding more than ever using this program. The program scaffolds learning and builds independent learners over time.
She definitely applies the learning to other subjects and everyday life. During her independent reading time, she has run to me on several occasions sharing words she felt belonged in the silent library or jail. We were eating breakfast one morning and Alyssa identified several contractions on the cereal box and told me what they meant. She mentions phonograms seen in different places throughout the day. This never happened with our previous curricula.
We made our JAIL out of an unused bird suet feeder. It hangs on our AAS magnetic board. She writes the words on index cards cut in half and also writes them on her jail poster.
We will definitely continue using this program until we have completed it. I may add in more extensions or adapt the learning to meet Alyssa's needs a bit more now that I am more familiar with the structure. We recently started the second phase of the writing component which is where I should have started with my daughter (Copy Work with Style). We will now work through four lessons per week completing one per day until I become more familiar with the structure of this portion. We also completed the first component of the reading curriculum and I am ecstatic about future lessons and activities. She has been completely engaged in activity time. So far, everything has been a review for Alyssa yet I know we are filling in a few gaps along the way. I hope to reach a new level of learning that will challenge her in either the second or third stage of the writing component. I will try to update her progress in the future.
Recommendations
I would, without a doubt and without hesitations,
HIGHLY ... HIGHLY
recommend this solid comprehensive reading and writing program to
ANY
homeschool family or school for that matter. Primary Arts of Language may appeal to those using a Montessori, Classical, or Charlotte Mason approach to learning. This is a great early elementary language arts program for children in grades K-2. This program could also be used with struggling or advanced young readers. If you decide to use this program with children as young as 3 or 4 please consider slowing down the pace.
Is your current reading or writing program working for your child? Do you find your current curricula engaging and fun? Visit IEW for more information about the products they have available. You definitely need to consider looking into the
Primary Arts of Language (PAL) program
!!!!! They have a 100% unconditional full refund money back guarantee with no time limit ... as long as you purchase the curriculum through the company. You can't beat that! Most companies do
not
offer this type of guarantee.
Other Products of Interest To Me
Linguistic Development Through Poetry Memorization
(Book and CD) $65.00 Want this so bad!
Teaching the Classics
(Levels A-C) $29.00
Teaching Writing Student Writing Intensive Combo Pack Level A
$249.00
All Things Fun and Fascinating
Student Book $29.00
Teacher Book
$15.00
The Blended Sound-Sight Program of Learning
$80.00
Phonetic Zoo Spelling Starter Set A
$99.00
If you have any questions about IEW's PAL program, please
contact the company here
. They can also be reached at 800-856-5815. Don't forget to read through the company's
FAQ section
to read frequently asked questions about the program. Be sure to join the supportive
IEW Yahoo Group
to ask detailed questions about any product, share ideas, and hear about modifications. There are excellent
articles
available relevant to reading and writing instruction on their website.
Are you ready to purchase this curriculum and take a step forward with your child's reading and writing? It is important that you read their
shipping policy
and how to make a
return
before ordering your complete set.

I can't even begin to show or express how grateful I am for having the opportunity to review this COMPREHENSIVE language arts program. Thank you so, so much IEW and to the Schoolhouse Crew Leaders!!! This curricula helped structure our homeschool day, filled in learning gaps, and brought joy to our previously dry reading lessons.
Please visit the
Schoolhouse Review Crew Blog here
to read many other reviews and varying experiences using Excellence in Writing's Primary Arts of Language program.
Disclaimer:
As a member of the Schoolhouse Review Crew, I received Excellence in Writing's Primary Arts of Language program, at no cost to me, in exchange for an honest and professional review on my blog. All opinions expressed are my mine and were not influenced in any way by the product or company.