As part of the Schoolhouse Review Crew, I had the pleasure of reviewing several products created by Mystie Winckler from
Simplified Pantry
. You can also find her blogging at Simply Convivial. I was given access to three instant downloadable e-books in PDF format including
Simplified Dinners
,
Paperless Home Organization
, and
Simplified Dinners Gluten Free/Dairy Free
. I will focus on Simplified Dinners for the majority of this review.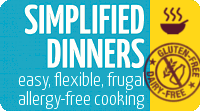 What do you want for dinner? I don't know . . . what do
YOU
want? Does that conversation sound familiar to you? It seriously drove me crazy. We were stuck in a rut and we were constantly asking each other this question. I love cooking but I wanted to cook something my husband wanted to eat. He wanted me to plan the meals without asking him first. We ended up eating the same boring meals and we didn't look forward to dinner time. We started eating out way too often. We were spending a fortune on unhealthy restaurant food. Simplified Pantry pops into my life and literally saves the day. My husband and I already made a decision to eat out less, meal plan, and eat healthier. We just didn't know where to start or when we would actually start. This review product jump started our actions and helped us meet several of our family goals.
Simplified Dinners
by
Simplified Pantry
is a 30-page cookbook available in e-book PDF format containing 16 different meal types or groups. Each group provides the user with the cooking "process" which contains step-by-step instructions for making that particular meal type. Many recipes offer a slow-cooker or stovetop process. Furthermore, many groups provide 3-9 dinner choice variations which means you won't be eating the same meals over and over again. The meals included in this cookbook consist of roasts (beef or pork), fish, chicken, pasta, eggs, bean pots, pizzas, soups, starchy sides, vegetable sides, main dish salads, side salads, and more. Twelve marinades, six pan sauces, five salad dressings, three pizza sauces, and five stir fry sauce recipes are also included in the book. A master pantry shopping list of basic staples categorized by common foods or grocery store aisles is provided at the beginning enabling you to stockpile grocery items so that you can cook
ANYTHING
in the book. Stockpiling helps save you money in the long run. This is especially helpful when you forget to defrost meat ahead of time (like me) or make last minute decisions about dinner plans. The e-book begins with an explanation about why you should simplify and gives you an introduction to the primary purpose of this minimalist approach or system. Basically, you choose the meal type and variation, then add a couple sides and you have a dinner plan!
Types of Meals
How I Used Simplified Dinners
I used this product
at least
four times a week often using more than one recipe for each meal. First, I chose a main dish or type of protein and then I added two sides to the meal. The sides were usually green veggies or salads. I added a bread once or twice a week. We didn't get to try all of the recipes yet, but we made several of our favorites
repeatedly
during the review period. I viewed several recipes on my computer and printed others as I used them. The printed recipes were stored in a report cover with the master pantry list as the first page.
I didn't stock my pantry ahead of time, because I jumped the gun and started using recipes as soon as I received the product via e-mail. My daughter and I started to make grocery lists consisting of ingredients that we needed for one or two weeks at a time. We even started to stockpile ingredients for the more popular recipes. We shopped only when we needed ingredients to keep the pantry stocked. We are learning more about what to buy and what not to buy which saves us a nice bundle of money.
I placed the menu planner in a sheet protector and posted it on the fridge the first week. Eventually, multiple weekly meal plans were printed in calendar format. I was planning two weeks at a time by the end of the review. My hope is to create monthly menu plans and to eventually have the pantry stocked with all the ingredients needed for this book. This newfound goal of menu planning pleased my husband. The last thing he wanted to do after a long day at the fire station or working on our house was to choose what we'd eat for dinner or stop by the grocery store on his way home.
Would you like to see a few delicious meals and sides we made during this review?
Pasta Dishes
The first recipe we tried was a pasta dish. I love Italian food! We will eventually replace the noodles with whole wheat noodles.
Italian Sausage Zucchini Penne
This was one of our favorite meals!
Angel Hair with Ground Beef and Zucchini
(Quick and Easy Spaghetti with noodle substitute)
Breads
I have to tell you Jeff was a bit jealous when I made the biscuits from the cookbook. He loves cooking and baking just as much as I do. He tried several recipes in the past and none were as perfect as the scrumptiously soft and flaky biscuits I made from Simplified Dinners. It was my first time making homemade biscuits. I rolled them a little too thin, but we scarfed them down lacking manners of any sort.
Biscuits
The BEST biscuits in the world!
Thicker Biscuits Second Time Around
Beer Bread
Whole Wheat Dinner Rolls
The muffin pan made the process easier and the roll more uniform.
Slow-Cooker Roasts
Rich Savory Beef Roast
I accidentally combined ingredients for two recipes.
I also added in the potatoes and carrots. It tasted GREAT!
The cranberry wine roast was my hubby's favorite roast recipe.
Golden Glow Pork Roast
We don't eat a lot of pork but we were willing to try a few recipes.
Slow-Cooker Chicken Meals
Orange Honey Chicken
Roasted Broccoli and Cilantro Brown Rice
Overcooked chicken - husband got home later than expected
Fruited Chicken with Peaches
Roasted Zucchini and Broccoli
Salads and Dressings
Popeye Spinach Salad with Toasted Pecans
and Berry Vinaigrette Dressing
Taco Bar Salad
We used ground turkey instead of ground beef.
Oops . . . we couldn't resist adding Fritos and ranch. BAD habits are hard to break!
Foil-Packed Fish Dish
Lemon Parmesan Tilapia with Vegetables
(Zucchini, Squash, and Mushrooms)
Our favorite meal was the Garlic Butter Fish Packets!
Egg-Based Meal
Flexible Frittata
(Bacon, eggs, spinach, mixed cheeses, and mushrooms)
This was my first time making a frittata!
YUMMY! We'll make this one again for sure!
Vegetable Sides
Note: More vegetable dishes can be found in other photos. We made a lot of broccoli and zucchini!
Balsamic Vinegar Tomatoes
We added cheese cubes and rosemary.
Starchy Sides
I had a tendency to choose the bread and higher white starch
carb
recipes. During the review period, we were eating more
carbs
than we have in the past. My husband and I are trying to cut down our
carb
intake, but our lack of willpower kept us from saying "no" to the many delicious bread and white potato recipes like the one below.
What I Like
The flexibility in recipes and meal planning. I loved the idea of variations or alternative recipes. We all enjoyed trying the new meals and having a plan. I had the freedom to alter or change recipes to my family's liking. The author encourages you to be creative when cooking. You can freely adjust the seasoning amounts, meats, and veggies adding more or less to your desire.
My husband loved the fact that I started menu planning and is encouraging me to stick with the idea.
The simplicity of the idea caught my attention. The basic recipes were extremely user-friendly. The structure and organization of the cookbook was easily read and pleasing to the eye.
This gave our family a chance to try new or forgotten meals. I was also surprised to find out that most of the recipes really tasted good. The table of contents revealing appealing meals teased our taste buds.
We were eating fresher and healthier whole "real" foods as opposed to restaurant foods. I also noticed a decrease in the frequency or number of migraines I had each week.
We saved time and money. We became more frugal and started buying in bulk at Sam's Club. Meals were more affordable, because we were eating out less and making fewer trips to the grocery store. We were eating more homemade meals and using more items found in our pantry. Thankfully, there was also less stress around dinner time. We were wasting less food. Grandma's poor cows weren't being fed expired fruits and vegetables by us as often.
The half-page weekly menu planner and sample winter menu plan provided me with the materials necessary and gave me a starting point for menu planning. The process was uncomplicated.
A master pantry shopping list was provided to note which basic staples or ingredients to keep on hand.
The slow-cooker meals were the best! Simplified Dinners reminded me of how much time I can save cooking this way. Although, I have to get over my fear of leaving a slow-cooker on while I am gone.
Possible Cons
The author purposely eliminated many measurements or quantities so that the cook can enjoy the freedom of using whatever amounts suit the family needs. She wanted to encourage the user to be more creative when cooking. You may need to decide how much liquid is needed for slow-cooker meals, how much meat will feed your family, and the number of vegetables you'll need to prepare for many meals.
Some directions mentioned in the "process" and variations may be too vague for inexperienced cooks. This wasn't an issue for me, but I have been cooking for years.
My family wasn't fond of the peach fruited pork roasts or chicken meals. This is a personal preference so you and your family may LOVE the taste of the meals. As with all recipes, it'll be a trial and error session of sampling meals to find what works with your family.
Possible Vendor Suggestions
I would consider setting up the table of contents with clickable links so that it can be interactive eliminating the need to scroll down to a particular recipe section. Users could click on the meal type of interest and be taken there immediately saving time in the end. E-book cookbooks I have used in the past with this format are more user-friendly. This isn't a huge deal because the e-book is short, but I am sure that the feature would be greatly appreciated.
Is there anyway to add checkoff boxes titled "have" and "need" to the master pantry list?
We eat a lot of fish and shrimp. I would love to see additional recipes and variations added providing more cooking options for these meal types.
Please extend this e-book series. You can create e-books with recipes for breakfast and lunch meals. I realize that several of the dinner recipes can be used for breakfast or lunch. However, it would be fun to see your options for these meals. I have a hard time varying lunches. Even a dessert cookbook for those of us that have an unbearable sweet tooth yet still want to eat somewhat healthy could be offered. Furthermore, I would consider publishing a low-carb e-book as well.
I wanted to print out the e-book in its entirety, but our color ink is expensive and my printer is an ink hog. You may want to possibly offer a black-and-white version of the e-books for individuals having the same issues or limit the use of color on the pages. I tried to find gray scale on my new printer and it is not available. This isn't a huge deal because the e-book is short.
Could you please enlarge the menu plan page to fit a whole sheet of paper and possibly provide a few different formats or choices including a calendar format?
You may want to add directions to the side dish salad category for toasted nuts. Inexperienced cooks will find this information more accessible and are more likely to try it if they don't have to research it online. Although, a toasted nut recipe can be easily googled.
What's This Going to Cost Me?
Simplified Dinners
sells for the reasonable price of $12.99 at the Simplified Pantry website. Hold up! There's more . . . Mystie contacted the crew offering our readers
30% off
any or
ALL
of her products or e-books. This discount runs from
May 20th through June 3rd
so act quickly if you are interested. You
must
enter the code
TOS2013
at checkout. I love it when vendors bless families with discounts!
Are you on a special restricted or allergy-free diet?
Simplified Dinners is also available as the
Simplified Dinners Gluten Free and Dairy Free
(GFDF) version for only $12.99. We have friends that are on restricted diets and plan to utilize this resource more often in the future. I already printed a few of the gluten and dairy free recipes as substitute recipes. I saw a peanut butter cookie recipe that was similar to my hubby's recipe. This cookbook also contains a few light dessert recipes and extra starchy side recipes that can provide even more variety to meal planning.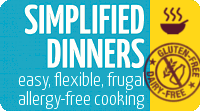 Our Overall Thoughts
My review pretty much sums up my opinion. This was an
absolute life saver
for us as we packed for an upcoming move. We enjoyed many of the meals and will
definitely without a doubt
continue using this e-book. My family has noted their favorite recipes and requested that they stay on future menu plans. I also found several helpful posts written by Mystie on her blogs including
31 Days to Simplified Menu Planning
,
Menu Plan Calendar System
, and
Pre-Prepared Beans
that I utilized often during this review. I look forward to hearing about any future e-books that Mystie publishes in the future.
Recommendations
I
HIGHLY
recommend Simplified Dinners to any person looking to provide a variety of affordable meals to their family with flexible meal planning options. More experienced cooks will love that the recipes don't always list quantities so they can add their own flair and make it their own. Inexperienced cooks will appreciate the simplicity of the system. This book made menu planning easy!
Other Products Available
I also began the Paperless Home Organization, but will utilize this resource more
after
our upcoming move.
Paperless Home Organization
is a guide that helps you create a digital homemaking binder which syncs with free web-based apps and programs that work on your computer or other readers. Wow! This is exactly what I need! It won't take up any space on my computer and everything is in one place eliminating scattered paperwork piles. I
might
be able to get rid of all my paper homemaking binders once and for all. I already created several free accounts to help organize my digital homemaking binder. I read over the information in order to gain an idea of "the big picture." This an extremely reasonable price for an electronic organizing system. I can't wait to dig further into this project this summer!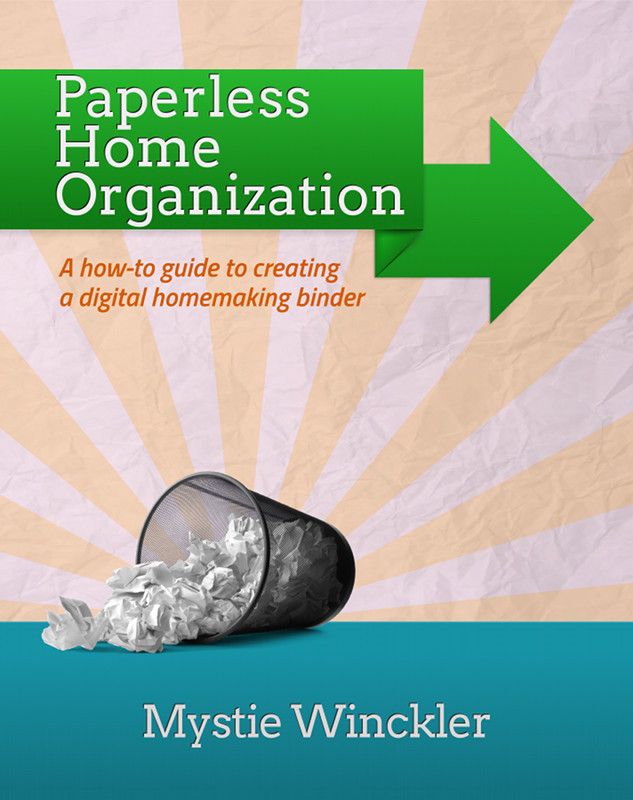 Please visit the
Schoolhouse Review Crew
for more
Simplified Pantry
reviews. Several crew members will discuss their experiences with Mystie Winckler's products. I look forward to reading the reviews on the Paperless Home Organization.