I had a hard time choosing just one math curricula for my daughter with all the options available on the market.
After trying several different programs simultaneously, I chose the curriculum that Alyssa enjoyed most. It wasn't long before I realized that she
was intrigued by "big girl" worksheets and
liked the worksheet-based approach.
Math-U-See stood out from the rest mainly because of its simplicity
and the fact that it required
very little prep
on my part.
As soon as I made the decision to use
Math-U-See
, my daughter's math abilities soared. We started our journey with P
rimer and used it off and on at around age three.
She quickly advanced to Alpha and completed it with enthusiasm much sooner than expected.
Thankfully, we were given the opportunity to review
Math U See
as part of the Schoolhouse Review Crew. We received the instruction pack and student materials for the
2012 edition of Math-U-See Beta
. The company was very gracious and also sent us two complete sets of block manipulatives.
We were sent the beta version of the books (white covers). If you purchase this set, you will receive the colorful covered books as seen on the website.
She loves Math-U-See!
What Do I Need In Order To Use the Math-U-See 2012 Beta Edition?
Student Materials
Student Workbook
The consumable softcover student workbook contains 432 black-and-white worksheet pages written by Miriam Homer. There are approximately 6-20 questions per lesson. Each chapter consists of six front and back sheets and one "application and enrichment" activity sheet. The first three worksheets are meant to help a child practice the lesson concept. The three other pages are systematic or cumulative review which reiterate previously learned concepts. All pages are
three-hole punched and perforated for easy use.
The chapter enrichment activity sheets consist of activities such as color-by-number, real-life word problems, skip counting dot-to-dots pages, patterned designs, crossword puzzles, matching, math boxes (addition squares), drawing, graphing, and more. No answers are provided for these activities. My daughter loved the color by number sheets and addition squares the most! She struggled at first with word problems, but once she gained familiarity with types of problems and noticed clue words they became easier for her over time. There are two appendix lessons titled A1 and B1. The lessons cover equal shares using the fraction terms halves, fourths, and thirds. Shape attributes and operations using number lines are also taught. A certificate and block clock printables are found at the back the book.
Tests
The consumable softcover test book contains one chapter test per lesson which means you'll have access to 30 three-hole punched perforated chapter tests.
There are approximately 10-20 questions per chapter test with an average of 15-18 questions.
There are four unit tests. Unit tests appear every 7-8 lessons and contain a range of 20-30 questions. One twenty-five question final test is given upon completion of all lessons. All test pages are printed in black-and white on the front and back side of the paper.
Instruction Pack
DVD Video Lessons
The DVD contains 30 video lessons varying in length. The video segment lasts approximately 5-7 minutes each and are presented by the author Steve Demme. He appears to be teaching a classroom of children in front of a whiteboard.
We heard the audience give both correct and incorrect responses. Mr. Demme immediately guides the individual with the incorrect answer towards the correct response by utilizing questioning techniques.
The DVD lessons are meant to provide teaching models for the parent. He shows the parent how to teach the concepts with blocks using step-by-step directions.
Instruction Manual
The hardcover instruction manual consists of 200 black-and-white printed pages written by Steve Demme. The manual begins with a "How to Use" the curricula section and an introduction to their 4-step methodology or approach. I feel that these introductions are imperative to the success and teaching of the Math-U-See curricula. Every user should definitely read this section before implementing the program. The lesson explanations are clearly stated and useful teaching tips are scattered throughout the book. Student solutions are provided for all lesson and test questions. There are no solutions for the "application and enrichment" sheets. A list of symbols and tables, a glossary, a master index for topics covered in Primer through Zeta, and a topic index for Beta appear at the back of the manual.
Beta focuses on multiple-digit addition and subtraction. The company targets a particular topic for each level yet still introduces a wide variety of other math concepts.
Topics Covered in Beta (in no order)
Simple Addition and Subtraction

Addition with Regrouping

Multiple Addition

Column Addition

Multiple-Digit Column Addition

Multiple-Digit Subtraction

Subtraction with Regrouping (Borrowing)

Subtraction with Three-Digit and Four-Digit Numbers

Subtraction Multiple-Digit Numbers

Perimeter

Word Problems

Mental Math

Estimation (Rounding) to Nearest 10's, 100's, 1000's

Skip Counting by 2's, 5's, 10's, 100's

Measurement (Estimating Inches and Centimeters)

Place Value to the Nearest Thousands

Inequalities (Comparing Number as Greater Than or Less Than)

Reading Thermometers and Gauges

Expanded or Place-Value Notation

Money (Skip Counting, Decimal Point and Dollars, Adding, Subtraction)

Telling Time (Hours and Minutes)

Ordinal Numbers

Tally Marks

Bar and Line Graphs

Number Lines (+, -)

Shape Identification and Characteristics

Fractional Parts (Equal Shares)
*Please see the curriculum sequence or table of contents for more specific details. You may also be interested in reading the most recent curricula updates
for Beta.
A note taken from the website with regards to grade level expectations:
How We Used Math-U-See Beta
Step 1: Prepare for the Lesson
I will normally skim through the instructor manual quickly before watching the teaching video lesson with Alyssa
on the computer or the DVD player. She uses the blocks during the video lesson. I didn't allow her to view Lesson 1 where he suggests new names for the teen numbers such as "onety-one (11), onety-two (12)" and so forth.
I didn't want to confuse her, because s
he already has a solid understanding of this concept. Would you like to take a peek at a lesson? Watch Steve Demme teach Lesson 11 on Multiple-Digit Addition.
I taught a lesson from the teacher manual using the examples provided. I modeled the concepts using the "Build, Write, Say" method. If I felt that she understood the lesson well, then I would
give her the problem verbally from the teacher manual to complete
. The examples in the manual are the same exact problems from the DVD. Additional examples can be created using different numbers. Check out what she's been learning!
Step 3: Student Practice for Mastery
After mastering the concept using block manipulatives, she completed the lesson practice worksheets independently. My daughter's task was to finish at least 3 worksheets a day depending on the concept being introduced.
T
here were less than 20 problems per chapter lesson which is a
reasonable amount of work for Alyssa. N
ot all worksheets must be completed if you feel your child has mastered the concepts.
Step 4: Student Progresses After Mastery
Alyssa is a very eager student and on most days wants to complete ALL the lesson worksheets in one day including the three systematic review worksheets. I allow her to do this provided that she doesn't get frustrated and doesn't dawdle.
If it were a fairly new or more difficult concept, then she would complete only the three lesson practice pages that day to reduce the chance of becoming
overwhelmed. On these days, the three systematic review pages are done the next day. If she completes all six practice pages including the enrichment sheet, then the chapter test is given the next day to determine whether or not she will advance forward with the lessons. Here are a couple examples of the "Application and Enrichment" sheets.
The record or log sheet is located
at the front of the student workbook or
on their website. This resource enables the parent to see their child's overall performance and track their progress at a particular level. I store a copy of this form in her math assessment binder.
What We Liked
The program is based on conceptual understanding rather than just rote memorization. Alyssa knows "why" she solves certain problems a particular way and when to use one approach or method over another.

This curriculum is

great for many learning modalities including visual, tactile, and auditory.

Children that need to "see" the concept visually and work using a hands-on approach (tactile) will benefit greatly from using this curricula series.

Continuous or systematic review is built into each lesson. Additionally, each level builds on previously learned topics or skills.

Alyssa is now a very confident math problem solver. Her grandfather was impressed with her mathematical abilities. She asked him to give her a big addition problem to solve and she successfully solved it. She said, "That problem was easy because you only asked me to regroup once and I learned how to add multiple numbers in a column with Math-U-See."

Years ago, I wasn't sure how felt about mastery-based curricula and was hesitant to even consider a curricula based on this approach. I have grown accustomed to the way it works and prefer this type of curricula now. I like knowing that she has mastered the concepts and skills taught which will prepare her for advanced mathematical concepts in the future. I can easily supplement lessons for other concepts that I would like to cover in the year. Although, at this point, I haven't felt the need to supplement the Beta curriculum. I feel all math concepts are thoroughly covered.

This math curriculum was impressive and exceeded my expectations with the inclusion of more word problems, mental math, and concept coverage. I couldn't believe she was rounding number to the nearest ten thousands and adding multiple-digit numbers.

I was very pleased with the number of word problems in the student workbook and the mental math activities included in instruction manual. I haven't seen older editions of Beta, but I have noticed an increase in these types of problems from Alpha to Beta.
Examples of Word Problems
Possible Cons or Suggestions
I was disappointed that the Beta curriculum didn't include very many games to help reinforce the concepts in a hands-on way. I would also suggest activities or games that require movement for kinesthetic learners.

Several problems have limited work space and seem somewhat crowded on the page. This is easily fixed by providing your child scrap paper or a mini whiteboard to show work. However, I am not fond of tracking down scrap papers and prefer all work to be shown on the same page. The lack of space was most noticeable when solving word problems. Alyssa was forced to squeeze her tables, drawings, and calculations into a small area.

I was hoping the new edition would have included different examples in the manual from those on the DVD especially for individuals that choose to watch the lessons with

their children. Parents would have more lesson examples, leaving the workbook pages for the child to complete independently instead of using those problems as extra examples.

I wish that the lesson tests and unit tests were incorporated into the student workbook. There were a couple times that I actually forgot about the tests. We divided them over several days treating them more like extra worksheets.

My only thought is that once you start using this type of curricula, you must continue to use all the levels to reach its full potential and benefits. Skipping levels or changing curricula may have an impact on the results you want in the end. Furthermore, not all concepts taught using a mastery-based approach will match the concepts taught to their public school peers.

The worksheet-based approach may not suit your child's learning style. There are a lot of worksheets included in this curriculum. A parent can adapt the lesson by limiting the number of worksheets necessary for a child to complete or by assessing their mastery level verbally with the manipulatives.
Cost
Math-U-See Beta is available at the company store website. The hardcover instruction manual and DVD can be purchased for $43 and the student materials including the tests and workbook retail for $30. All student materials are three-hole punched with perforated pages. That's $73.00 for printed materials! The manipulative blocks used in all levels except Epsilon are purchased separately for $38 per set. Two sets are recommended for larger number problems.
Shipping and handling will vary depending on your location. Here's the shipping and returns policy. Current retail prices are listed at the time of this review. I suggest that you give your child a placement test to determine the appropriate level before making a purchase especially since the program is NOT based on grade levels
.
Other Products
Please visit the company website to view the curriculum sequence and prices for all other levels.
Primer $53.00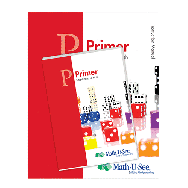 Alpha $73.00
Gamma $74.
00
Skip Counting CD $11.00
Overall, I believe that Math-U-See Beta
is a user-friendly math curricula that is easily implemented. This curriculum teaches Alyssa at an instructional level. We've finally found a curriculum that somewhat challenges her thinking.
She listens attentively and enthusiastically participates in all the lessons. Alyssa likes to watch the videos of Mr. Demme teaching and
demonstrating mathematical concepts.
I also have noticed that the mastery approach has benefited her math studies; she learns the concept well before moving on to the next topic.
Alyssa's recent writing assignment was to write me a friendly letter telling me her opinion about Math-U-See Beta. I photographed her assignment so that you can read her thoughts. She already completed both of the lessons she referred to in her letter. I
will definitely continue using the Math-U-See curricula with Alyssa. Gamma is already at the top of our wish list. I believe she will begin this level in the summer if not sooner especially if she continues to work diligently through Beta.
Recommendations
I

highly

recommend Math-U-See to ALL homeschool families with lower elementary aged children regardless of their teaching approach wanting a unique mastery-based
math curricula. This is a magnificent curricula for tutors, after school programs, small group co-op settings, and private schools. I would definitely recommend this curricula to special education instructors in public schools teaching children who are at risk, in title programs, or for students with learning disabilities.
Do you have any questions about this product? Please read the FAQ section
for additional information. You can contact the company via e-mail at sales@MathUSee.com or call them at 888-854-6284 (MATH). Visit and follow the social pages of Math-U-See on Facebook and Twitter. If you are interested in viewing additional You Tube videos, then click on the provided link. They even have a newsletter if you would like to receive updates and tips.