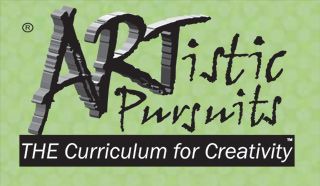 This is not my first time using an art curriculum book offered by ARTistic Pursuits. I reviewed the older edition of the preschool book titled, The Way They See It: A Book for Every Parent About the Art Children Make for ARTistic Pursuits last year. You can read my review here. I was overjoyed when I found out that the Schoolhouse Review Crew was going to review the newer editions of their art curriculum. I knew how badly I wanted one particular book and I really wanted to make the list of reviewers.

Before obtaining a copy of this curriculum book, I was only doing simple arts and crafts projects with my daughter. We were not consistently doing art and I knew that my daughter was missing out. I wanted to begin an artist study with a focus on art history and appreciation. I am not artistically inclined at all so I wasn't quite sure where or how to start this unit study.

I knew that this book would be a

helpful resource that would compliment the study well. Several of the artists that I wanted to focus on this year are actually presented within this curriculum.

I finally had my chance and was able to choose the book I wanted to review. I was recently blessed and honored with the opportunity to review the newly released, expanded, and revised third edition of the book titled, Early Elementary (K-3) Book Two: Stories of Artists and Their Art

published by

ARTistic Pursuits

. This visual arts curriculum is suitable for children age 5 and up. I believe children above the K-3 intended grade level would still enjoy participating in the art lessons.
ARTistic Pursuits is an award winning curriculum that offers art books for children in preschool through high school. Brenda Ellis and her husband did a wonderful job developing a comprehensive art curricula that sparks the child's creativity and improves their observational skills. The curricula contains art lessons that incorporate art history, cover art appreciation, and include interesting art projects all in one resource. There are ten books in this art series and most books are written directly to the student. The books available at their website are grouped according to the child's age and grade range. They have curricula for children in preschool (Ages 3-5), Early Elementary (K-3rd), Elementary (4th-6th), Jr. High (7th-8th), High School (9th-12th). You can visit the ARTistic Pursuits website to view samples of each grade level. You can also read their philosophy and approach about teaching art during your website visit. This approach is very effective!
Can you tell she was excited about using ARTistic Pursuits again?
Stories of Artists and Their Art contains 36 hands-on, well thought out art projects for the child or family to complete throughout the year. Each of the thirty-six lessons is approximately 2-3 pages long. The lessons are printed on the front side of the page only. This means that you do not have text and graphics on the back side of the page that might interfere with your readings or observations. There are 82 pages and 175 illustrations in this non-consumable comb-bound book. The plastic comb-binding made it easier to lay the book open flat for easy viewing during lessons. You can view detailed sample pages for the thorough curriculum on their website by clicking on the link provided. I definitely recommend viewing the samples so that you can have a better idea of what the curriculum looks and feels like. A bibliography is found at the back of the book referencing several resources used to create the curriculum. If you visit your local library and have access to a free interlibrary loan system, the bibliography can be a great way to extend learning and find more material about artists and their works.
Systematic Approach for Lessons
The Story of the Artist
I love how they introduce the artist with a fictional story that contains interesting factoids about the artist's childhood and life.

Each lesson begins by telling the child a short fictional narrative about the life of an artist. The story captures the child's attention while enabling them to visualize how life was during a specific historical or art period. The stories are written in a way in which children can relate to and make connections to the lives of the artists. Let me tell you about a few of her connections after Alyssa read about how wealthy families built tall towers for protection in Florence, Italy and after she heard about the guild system. She immediately made a text-to-text connection to a story in the Bible, "Tower of Babel." She also said that she liked to draw and paint like Cimabue so she would fit in good with the Craftsman's Guild. The important points about the artist are summarized at the end of the story in bold print. My daughter was always intrigued by the lives of the artists and looked forward to analyzing their art works. Reading the story aloud may take you 3-10 minutes to complete.
Picture Study and Discussion Questions
I appreciate that the curriculum includes discussion questions that guide and encourage the child to look closely at the details when observing art works.

A major art work created by the artist being studied is discussed and children are taught to appreciate their work. The child learns to pay attention to details by utilizing their keen observational skills during the picture study session. The provided discussion questions lead to insightful conversations between the parent and child about the artists and their major art works. It may take you approximately 5-10 minutes for this part of the lesson depending on how curious and interested your child may be in the art work. My daughter was very attentive and is detail-oriented so we had long conversations about the masterpiece studied.
Engaging Projects
The age appropriate projects are related to or similar to the artist's style, technique, the elements of art, or type of materials. The child learns to apply the skill and knowledge learned into personal masterpieces using a variety of formats. I was impressed with the illustrated instructions and step-by-step descriptions. This is the bulk of the lesson and time to complete each project will vary for each family. You may want to carve out a minimum of 30 minutes to an hour if not more for this section of the lesson.
Art Materials
You will want to gather art supplies in advance so that you can start immediately when your book arrives in the mail. I was impressed with how quickly we received our package. The website and curriculum book gives you a list of supplies that are most likely available at your local craft store. ARTistic Pursuits has art supply packs available through their website too. The art materials are organized in color-coded numerical groupings (red, maroon, and orange). Each grouping number shows you which materials are necessary for a particular lesson. I stored our materials in three color-coded containers so that we could pull down only those necessary for the project. This curriculum utilized different media types including:
Watercolors

Oil Pastels

Printmaking Ink

Mixed Media (Construction Paper, Tissue Paper, and more)

Some Tempera or Acrylic Paint
The projects and techniques covered include but are not limited to scratch art projects, resist technique, printmaking, oil pastels, tissue paper relief, collages, fresco paintings, sketches, color mixing, watercolor paintings (variety of formats and techniques), block outs, collagraph print, contrasting, drawing, papier-mache projects, and rubbings.
Artists and Art Work Picture Study
The book targets 16 major artists from the late 13th century late Gothic Period through the Realist Period of the 18th century (1200's - 1800's). To be honest with you, there were a few artists that were new to me so I learned alongside my daughter.
Giovanni Cimabue (Madonna Enthroned with Saints and Angels)

Giotto di Bondone (Lamentation of Christ)

Limbourg Brothers (October: The Tres Riches Heures of Jean, Duke of Berry)

Jan Van Eyck (Jean Arnolfini and His Wife)

Leonardo Da Vinci (Mona Lisa)

Michelangelo Buonarroti (Delphic Sibyl)

Raphael - Raffaello Sanzio (St. George and the Dragon)

Sofonisba Anguissola (Self-Portrait)

Albrecht Durer (The Flight Into Egypt)

Pieter Bruegel the Elder (Hunters in the Snow)

Girolamo Francesco Maria Parmigianino (The Conversation of Paul)

Rembrandt Van Rijn (Abraham Speaking to Isaac)

Johannes Vermeer (Girl with a Pearl Earring)

Jean-Honore Fragonard (A Young Girl Reading)

Joseph Mallord William Turner (The Fighting Temeraire)

Jean-Francois Millet (The Gleaners)
How We Used Book Two: Stories of Artist and their Art
I used this art curriculum with my five-year-old daughter (Alyssa) who works at K-2nd grade level.

We used this book in conjunction with notebooking and with timeline extensions. The notebooking pages and timeline photos are not part of the curriculum. ARTistic Pursuits was used 1-3 times per week as our main art curriculum for approximately 1- 1 1/2 hours. My daughter took her time during the project aspect of the lesson. Even though this book is a continuation of the first book in the K-3 series, we used it independently as a stand alone artist study.

We purchased the recommended brands listed in the curriculum so that our daughter could use better quality art supplies on her projects. I noticed a huge difference in the color of her pictures when we used better quality materials.
We would read the story about the artist and start a notebooking page on the first day. On the second day, I would have Alyssa narrate what she learned about the artist and add the artist to our timeline. We would also read the boxed techniques or vocabulary words and she would begin working on a project. Another art session may include the picture study discussion questions and a project on a different day. At this time, my daughter would add the particular art work studied to her notebooking page. Alyssa is on the younger side of the age range, so I broke up the reading material. I wanted her to remember what we read and discussed; breaking up the reading sessions helped her retain the information better and gave us the chance to do art lessons more often throughout the week. ARTistic Pursuits includes the artist story and short technique readings in one lesson which is definitely feasible. I knew that my daughter would spend a lot of time on her projects, so I found a way to include our extensions while keeping the lessons within an appropriate time range without compromising the curriculum's intent.
We were able to study several artists during the review period and she completed a handful of projects. Would you like to take a peek at several of her masterpieces?
Alyssa's Art Work Gallery
First, she studied Cimabue's art work and found out that he was a craftsman. She learned the definition of a craftsman. The book does a great job explaining new vocabulary terms to children. She learned that craftsman would apply "gold leaf" to panel paintings. The labeled diagrams were relevant to the new vocabulary term being studied and helped Alyssa understand the panel painting process better.
She created her own watercolor painting. She practiced using only the tip of the brush, rinsing the brush clean, and removing excess water by dragging the brush across edge of the container before applying a new color to the picture. We went on a neighborhood walk in search for subjects to paint. However, the homes in our area are spaced out so she chose an item in Papa's backyard to paint.
She wanted to paint the colorful swing set in the yard.
She really liked Cimabue's Madonna Enthroned with Saints and Angels. She thought Madonna was beautiful. She also felt like the picture was not painted in a natural setting, because they should have been painted by the nativity and not on the throne. She said that Jesus did not look like a baby in the picture. My daughter was obsessed with pointing out every single tilted head she saw in picture book illustrations after reading that Cimabue painted his figures more realistically with emotion by tilting their heads. The idea of stamping gold in order to give art work a textured effect was intriguing to me. I immediately thought . . . as soon as we move in the new house I am unpacking my Cuttlebug machine so that we can do this project again. The Cuttlebug allows us to emboss or stamp texture into any kind of paper. I am definitely picking up some thin sparkly gold paper for her to use in her next picture. Alyssa used the "gold leaf" technique to make the crown belonging to the princess and to create the sun in her painting as the craftsmen did when they stamped markings and indentations into gold surfaces.

She titled this masterpiece "Princess and the Frog."
The next artist that she learned about was Giotto. She learned that when Giotto threw rocks against boulder targets he discovered scratches that looked like designs. He had fun creating pictures while watching the sheep. Alyssa had the chance to create her own scratch art project using oil pastels and a scratch tool. I caught Alyssa using rocks to scratch art works on other rocks and the surface of the concrete outside. She was trying to mimic the story she heard about Giotto's childhood.
We couldn't find a scratch tool at the store so we used a nail from the construction site.
She tried very hard to show what Giotto saw when tending to his sheep.
She scratched the hills, trees, clouds, sun, and sheep in her art work.
It is difficult to see. I am not sure if she had too much white paper space.
I can't tell you how many times I heard about how Giotto painted "emotion" in his pictures this month. She found out that Giotto became a master fresco painter. The curriculum provided an explanatory description for the term fresco painting. She was not fooled by the fly on the page, but she thought the story about Giotto painting a fly on Cimabue's figure was hilarious. I had so much fun watching Alyssa create her fresco painting because this was our first time doing a project of this nature. She spread a smooth layer across the board. We allowed the spackling paste to dry overnight and she gently sanded it with sandpaper the next day to create a smoother surface. Afterwards, she attempted to lightly draw her picture. She used a ruler for the Emerald City and for other straight lines.
She wanted to use a toothpick to add details to the flower. I thought it was a brilliant idea!
Note: She asked if she could add glitter to the shoes and Emerald City.
She titled her fresco painting "Somewhere Under the Rainbow."
This picture depicts the things seen at her 4th birthday party.
She said, "Her and her friend Rylee were both full of emotion . . . or happiness."
Project 5: Color Mixing
She practiced mixing colors next to one another.
Then, she painted mini pictures on scrap paper with the mixed colors.
She learned the definition for the term "Book of Hours." She couldn't believe how long it took the Limbourg brothers to paint the Duke's belongings and life in the Book of Hours. She thought that one of the brothers (Paul) had a smart idea to crush blue stone into a powder so that he could make a new wonderful paint for the Book of Hours. The Duke of Berry wanted the colors to be bright like jewels. I have been doing calendar time with Alyssa for years. She was thrilled to find out that she was going to create her own watercolor calendar page for February. She knew exactly what she wanted to paint and got to work. She did ask me if we could crush blue gems and turn them into paint. I wasn't sure where those blue gems were going to come from so the idea was set aside.
She used a ruler to draw the calendar lines.
She titled her February Book of Hours or calendar page "Surprise!"
We weren't always able to sit outside in nature due to the weather or other circumstances. Some projects were put on hold due to the rainy weather. There are

a lot of stickers outside where we are currently living. We would often explore the outdoors first and then come inside so that she could paint what she saw. The curriculum discusses the importance of the child finding their own subjects and painting in nature. We did the best that we could do. In this project, she turned a sketch into a watercolor painting. She lightly drew what she saw by the bird feeding station. Then, she painted the objects in the area and filled in the spaces in between making sure she painted all the way to the edge of the paper.
This set-up worked best for what she wanted to paint.
She really liked learning about how to create different shades of color or hues in a picture. She saw a black capped chickadee outside by the bird feeder so she decided that it would be her main subject to paint in her watercolor wash project. She enjoys creating masterpieces that show the true beauty of nature.
Finish the Watercolor Wash Technique
She drew an outline of the bird and began painting in the details.
She learned about Van Eyck and how he liked to hide objects in his painting. We played the game I Spy outside. Alyssa decided to paint a picture of the hot sun that was beating down on us as we played the game that day. She also learned that he created solid lines with defined edges. She allowed parts of the painting to dry before painting another nearby color so that the watercolor edges would be more pronounced. The focus for Project 9 was to create watercolor edges.
Just think about how much fun your child or children could have using this curriculum. Are you wondering what this book will cost you? I'll let you know in just a bit, but first please read what we liked about the curriculum.
The book is written to the child. The step-by-step illustrated instructions and materials are written in a way that is understandable to both the parent and the child.

This makes it easy for a person that is not creative or artistic, like myself, to teach children how to create amazing projects easily.

The curriculum is very user-friendly. Everything is organized and ready for you to begin lessons. I do feel that even though the book is written to the student, that parental involvement is necessary especially with younger children. Many younger children will need help setting up and handling art materials, reading the artist stories aloud, and they will need a partner to discuss the details in the great art works. I also feel that the child would benefit from having an adult actually model the techniques taught in lessons before attempting them on their own.

Prep time is limited to purchasing and setting up art supplies for a lesson.

The parent needs absolutely no background in art. You do not have to be an art major or instructor to teach with this curriculum. The detailed notes and instruction are a wonderful asset to any non-artistic person.

The parent is encouraged to get their child out in nature. Children will figure out what subjects interest them the most and they will create from their heart while being surrounded by God's greatest creation. They work directly in the natural environment which allows the child to choose from an assortment of subjects available in the nearby location. I have noticed since using this curriculum that my daughter has a preference for painting animals (birds) and flowers. I think that it is important that the child is allowed the freedom to choose subjects as stated in the curriculum. Children are given the opportunity to create and develop their own style which exhibits their personality.

The curriculum introduces and allows the child time to explore several different mediums and techniques. Art appreciation and art history are integrated to create a comprehensive art curriculum that engages and enlightens the learner.

I appreciated the fact that each artist's name had a pronunciation guide in parentheses. I know that without this feature, I would have mispronounced several of their names.

Full-color illustrations and art works were included in the book. This means that the parent doesn't have to waste time researching artists and their works on the Internet for the right masterpiece for each lesson.

Cost is comparatively priced or lower than most art curricula on the market. I would consider this an affordable curriculum for most families (of course this obviously depends on your personal homeschool budget). It would cost less than paying for art classes especially if you have several children enrolled.

The student gallery art work examples are "real" projects created by children within the same age range. They are non-intimidating to the novice artist. The child doesn't feel like they have to replicate a famous artist or adult's painting to succeed. They can feel successful with each and every project they attempt.

If you completed only one lesson per week, then you will have a complete school year of projects. Good luck with that concept . . . my daughter loves art and would do it every day if we had the time in our schedule. Keep in mind that the art lesson can be completed consistently in a short amount of time. Lessons could last 45 minutes to an hour depending on your child.

Any parent can easily extend the lessons within this curriculum for a more focused picture study session if desired. Notebooking and an art timeline can be easily incorporated into the study. Extensions aren't necessary just an added bonus for individuals that enjoy those activities. Remember that there are no notebooking or timeline activities included in this curriculum so you will have to make or find them on your own.

The artists are studied chronologically in history. You can still complete the lessons in any order because there is no specific schedule. However, the artists are organized chronologically in time which will give the child a bigger picture of how art changed over time. This is especially beneficial for those adding on timeline work.

The stories were thought-provoking and pulled the reader into the time period with the use of descriptive language. My daughter was able to visualize the scene and feelings evoked in a story.

My daughter's art vocabulary has developed and increased since the time we started using this curriculum. I hear her using the terminology taught during lessons to describe her surroundings and things that appeal to her interest.

I appreciate the fact that there was very little nudity (if any) in the chosen art prints. The company choose art work that the child will still enjoy but doesn't reveal any inappropriate features. There's plenty of time for our daughter to view art works with nudity when she is much older. There was one picture that Alyssa pointed out to me recently in which the back side of a man was seen. I expected a huge reaction, but she was very mature about it and simply saw the photo as art.

The book does include art works that discuss Christian perspectives or viewpoints. This may be a possible con for some, but it belongs on our list of pros.

The art curriculum indicates a grade range on the cover. This aspect alone makes it super easy for a parent to implement lessons and projects with multiple children within the same age or grade range. Adaptations could be easily made for preschool children that are eager to participate.
Younger children may have a difficult time working with watercolor paints. Some children may get frustrated if they haven't had time to explore beforehand. Most of the projects found at the beginning of the book use watercolor paints as the primary art media. If the child has too much water on their brush or in the paint tray, then the water will make the paint blend and spread quickly. The painting will also not be as vibrant in the end. I recommend giving your child time to explore the watercolor paints on inexpensive paper before proceeding with "real" lessons on watercolor paper. Let them observe what happens when too much or too little water is added to the paint pigments. We found that the recommended 3-4 drops mentioned in the book lead to watery and diluted colors in her art works. My daughter preferred using 1-2 drops at a time. Your preference may differ from ours.

Several art lessons may take a couple days to complete due to the fact that certain art media needs time to dry. For example, we needed to wait several hours for Alyssa's spackling paste to dry before beginning her paint project. We chose to wait overnight. She was a little disappointed that she couldn't begin immediately. I recommend looking and planning ahead. She had a grand time exploring the spackling paste and tried very hard to make it as smooth as possible. Her father brought her some sandpaper home so that she could make it smoother before drawing her picture.

Art lessons may last longer than the time period you scheduled for art class. Alyssa is a very detail oriented child and she tends to be a bit of a perfectionist. She worked at a much slower yet more focused pace than I expected. I wanted to make sure that she complete all her academic school work for the day, so there were days when art was the last subject we tackled. This gave her more time to explore the materials at her own pace. I didn't want to rush the process which means a lot more to me.

Art materials can be quite expensive especially if you are purchasing materials of better quality which is highly recommend. It does make a difference in the outcome and with regards to your child's experience. I recommend having your child practice with and explore cheaper materials first. Then, use the more expensive materials for the actual project if possible.

I was hoping that the curriculum would contain larger prints for the picture study making it easier for children to see the details much better. Many prints included were small (less than half the page). I would have preferred full-size (full page) images to be used in the book. Smaller print sizes do not limit the use of the curriculum as this is only one component of the whole curriculum.

The pencil lead from planned drawings was evident under the paint and smeared in watercolor paintings. I wonder if there is a special pencil available for painters. I encouraged her to lightly draw and to lessen the pressure when drawing her subject. This is may be very hard for young children to do.

My daughter followed the directions found in the manual for the scratch art work. She was not impressed with this technique or project. She felt like the project didn't turn out and compared the results to those in the book. We both had a difficult time seeing her drawings. This was her least favorite project. There are several more scratch art projects found in the book so I hope her experience is different next time. This was our experience with this project and may not be the case for your family.
I hope that Brenda and Dan will consider writing a series of books about specific artists and their works as a continuation from this book. I know several home educators that focus on particular artists as their main art curriculum. They tend to utilize programs that lean more towards picture studies.

I would have preferred using a variety of media from the very beginning and not just throughout the entire curriculum. Most of the projects we completed during the review used mainly watercolor paints. I was very tempted to skip ahead so that we could try the mixed media and printmaking projects. We liked the chronological aspect of the program so I didn't want to go out of order.

I would love to see notebooking pages and timeline photos for the artist added to the books or as free resources on the website. A small fee could also be charged for these add-ons. However, it would probably be better if they were included in the price of the book. Many families that homeschool enjoy extending art lessons or their picture study by adding these two components to enrich their child's study.
Cost
The ARTistic Pursuit K-3 Book Two: Stories and Their Works costs the reasonable price of $47.95. The book is non-consumable so you use it over and over again with multiple children within the grade range which makes the curriculum even more affordable. ARTistic Pursuits also sells art supply packs on their website for your convenience. You can view a list of art supplies needed for the lessons in this book or purchase the art supply pack for this particular book for $89.00 plus shipping and handling fees ($13.50). Art supplies can also be purchased at local craft stores.
Other Products
Click

here

to see the curriculum series available for purchase through ARTistic Pursuits. Here is the link to all the

art supplies packs

available on their website. I highly recommend the book I reviewed last year for preschool aged children titled,

The Way They See It: A Book for Every Parent About the Art Children Make which is also available for $47.95. I have not seen the newer edition but I am sure that the improvements only make it better.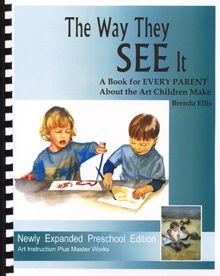 Our Thoughts
We absolutely love how this curriculum teaches art! I was afraid to teach art until I found out about ARTistic Pursuits. The company makes the process so easy. I am and will always be a huge fan of ARTistic Pursuits! I am learning to forget about the mess (to a certain degree) and focus on the fact that my daughter can create and express her art freely and with confidence. I love seeing my daughter's creations because it opens my eyes to a new world. She sees a beautiful colorful world. It's as easy as opening the book to the lesson you want to do, reading a story aloud, discuss an art work, and engaging your child in a meaningful art project where they have the opportunity to explore technique and develop their own style. The number of artist studied in this book is the perfect amount for our school year. It gives the parent time to incorporate some notebooking or timeline activities if desired. It was a delightful experience using ARTistic Pursuits! This curriculum was of great help in getting me back on track. I was also looking for a curriculum that was more than just a drawing class or arts and crafts session. My daughter is now fascinated with artists and their art works. Whenever she saw the art book come out she would ask me, "Who are we going to learn about today." She is eager to read their stories and try new techniques. This curriculum was a wonderful addition to our day!
I appreciated the fact that the curriculum included utilized a variety of techniques, media, and art projects. To my surprise, Alyssa actually enjoyed reading about the different artists and their childhood experiences. I wasn't sure if she would shy away from the story, but she was very attentive and the stories drew her in and captured her imagination. She started asking me questions about the artists and their lives. She began paying more attention to the illustrations in her picture books and using new art vocabulary terms. One time she told me, "Mom this illustrator tilted the head like Cimabue did in his art work with Baby Jesus." Another time she said, "I like how the illustrator used emotion in his drawing like Giotto." Her grandparents were impressed with the knowledge and information she attained when rattling off tid bits of information while showing them her masterpieces. Her artistic uncle was super proud of her creations and asked for copies to hang in his house. Her interest in the artists and motivation to create her own masterpieces has inspired me to continue teaching art using ARTistic Pursuits. I definitely plan on purchasing another book in the K-3 series after we complete all the projects from Book Two. I can't wait to use either Book One or Book Three for next year's study!
Alyssa's Thoughts
Alyssa asked to do art every single day, but of course there was no way we could meet that expectation with our crazy busy schedule. This is what she had to say about ARTistic Pursuits:

"I love art! We have so much fun painting. I am learning about many new artists.

My favorite artists were the Limbourg brothers because they did different things to make paint. I didn't know that anyone could crush hard rock like that to make paint. They also painted a lot of animals. I like to paint animals too . . . I really like painting birds. I like to focus on the details of the bird.

My favorite project was the fresco painting because it was something new. I change my mind . . . my favorite project was painting the bird.

I didn't like the scratch art project. I couldn't see my picture and it made my hand tired."
Recommendation
ARTistic Pursuits is a winning art curriculum for me! I give it ten out of ten stars. I

highly

recommend that ALL homeschooling families try ARTistic Pursuits if they haven't done so in the past. This well-rounded art curriculum has changed and simplified my life when it comes to teaching art. My fear and worries have diminished. I know now that my daughter will receive the best art instruction that encourages personal style and creativity. This is definitely not an arts and crafts book nor is it a drawing course. It is a complete, comprehensive art curriculum intended for homeschool families, co-op groups, and for classroom use. I feel that individuals teaching with a Classical or Charlotte Mason approach will most likely appreciate this curriculum and want to get their hands on it as soon as possible! Oh . . . and believe me based on personal experience this art curriculum is perfect for the homeschool parent that has absolutely no art background yet has a child with a strong interest in art. True art lessons sat on the back burner for the longest time until Book Two: Stories of Artists and Their Art arrived on our doorsteps. It motivated me to teach art and I regret not continuing with the curriculum once the last book we reviewed was completed. I will not make that mistake a second time. I plan to continue using this superb curriculum for as long as we possibly can because I believe in this product that much.
Do you have any questions or concerns about this curriculum? Please visit the informative FAQ section on the ARTistic Pursuits website for additional information. You can also contact the company at alltheanswers@artisticpursuits.com if you have any questions or are having difficulties with their new website. Be sure to follow ARTistic Pursuits social media pages.
Please visit the Schoolhouse Review Crew Blog to read more reviews written by my fellow crew members. There will be reviews for the different grade level curricula books that are available through ARTistic Pursuits.