Do you have a child interested in learning how to play the piano or keyboard? Are private teacher lessons or driving to classes NOT an option for you? I am going to tell you about my new secret weapon. Kinderbach - It's that simple!
One of our goals this year was to offer Alyssa piano lessons, but we couldn't find anyone in the past that would teach her because she was considered "too young." They insisted that she needed to be able to read. They didn't believe us when we told them that she could read and
was in fact ready
for lessons. We started searching for an instructor over a year ago and it was very discouraging. I came across Kinderbach on the internet and immediately signed up for the free sample lessons. I have been drooling over this curriculum for the longest time and it has been on my wish list for years. I had the privilege and honor of reviewing the systematic
Kinderbach Online
piano program as part of the Schoolhouse Review Crew.
Karri Gregor
, the founder and creator of
Kinderbach
, has a great personality that appeals to children. Her enthusiasm and passion for teaching piano shines through the lessons. She even motivated and encouraged me to learn along with my daughter. She made learning the keyboard a joyful experience. I am not musically inclined nor do I have any kind of musical background ... that was obviously evident when I tried playing the tenor saxophone in middle school. Alyssa is musically inclined and intrigued by the piano so I want to encourage this endeavor as much as possible. Not to mention, we all know that music is relevant to every child's development and academic achievements. I was also impressed with recent research on music development especially with regards to preschoolers who have taken piano lessons. You can read about the research and its impact on the 3 R's
here
,
here
, and
here
. Kinderbach and the Schoolhouse leaders blessed us with the opportunity to give Alyssa the piano lessons that she always wanted.
We were given a 6-month subscription or membership to Kinderbach's online interactive piano curriculum geared towards children ages 3-7 years old. The creative introductory curriculum is thorough and step-by-step containing lively music, engaging videos, and instrumental play. It is very unique and different from other traditional programs I have seen or read about in the past. Kinderbach is divided into six curriculum levels (level 7 is in the works) each with a detailed
scope and sequence.
I was able to preview Level 7 and the lessons look outstanding! Each of the six levels are organized into ten weeks worth of lessons. There are four lessons per week. The weekly lessons are short and it is definitely possible to do all four sessions in one sitting or even one lesson four times a week depending on the pace of your child. The lessons are extremely short which is imperative at Alyssa's age and her attention span. Kinderbach is compatible with her learning style and it would be easy to implement breaks in between sessions if needed. Each instructional video lasted 1-7 minutes. This program addresses several learning modalities. The concepts are introduced by
Kinderbach's Piano Pals
who are cartoon characters including Dodi the Donkey, Edward the Eagle, Frisco the Boy, Carla the Caterpillar, and so forth. The concepts taught include note reading, rhythm, pitch, beat value, ear training, fingering, time signature, singing, and composition. The video instruction is well-organized with well-planned exercises. There is a printer icon on the screen indicating that a correlating printable is necessary for the lesson. The corresponding activity books are available as PDF files. The introductory video lesson for each week verbally lists the supplies necessary for the lesson. This feature was convenient and very helpful to us. In the photo below, you can see how the curriculum is organized into four lessons represented by the numbers 1-4 for week 19. You can also see the printer icon telling you to print out the accompanying worksheet, color page, game, puzzle, or activity. There are green arrows allowing the user to go a lesson forward or backwards. You can also see the six levels at the bottom of the screenshot. Karri, the energetic instructor, is presenting the lessons in the screenshot below.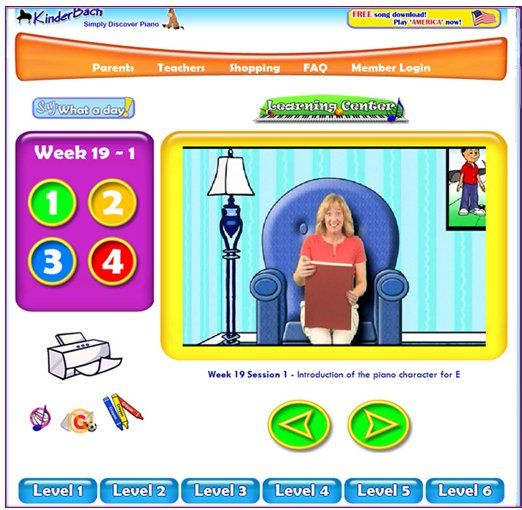 Doesn't it sound superb? Click here to
watch a video
about Kinderbach.
Required Items
Computer with High Speed Internet Connection or DVD Player
Inexpensive Keyboard or Piano (Keyboard details can be found under FAQ)
Rhythm Instruments
Printer and Ink
Craft Supplies such as scissors, crayons, markers, stickers, etc.
Rhythm Instruments
CD Player (if purchased CD-ROM's)
Features Included
Access to 240 lessons and 22 hours of video instruction lead by instructor Karri Gregor.
Accompanying PDF Activity Books
How We Used It
Alyssa, my almost five year old daughter, completed Kinderbach's online lessons 2-3 times per week during music class. In most cases, she worked through a complete week's worth of lessons at a time which is equivalent to 4 sessions per class. This enabled us to dig deeper and further into the curriculum levels. I have to admit ... I was learning right along with Alyssa. During the review period, Alyssa was able to work through many Level 2 lessons. We didn't get as far as we would have liked since we were reviewing this product in the middle of our move. We printed out every single worksheet, game, puzzle, or coloring sheet that complemented the lessons. The sheets were stored in a report cover binder for her to review frequently especially when lessons were repeated. We used this basic piano program in conjunction with other music resources, instruments, and curriculum. On several occasions, I had Alyssa repeat lessons on the third day as a way to reinforce her learning and review. We used a Casio keyboard CTK-2100 that we earned using reward points and it worked well with the curriculum. I did ask Alyssa not to use the other keyboard features until after she completed the lessons. You do not need an expensive keyboard to use this program. I always printed out the corresponding activity pages before the lesson. I have Alyssa listen to the introductory lesson in order to gather the necessary supplies.
Our Experiences
Alyssa found this program to be a joyful experience. Her favorite character was obviously Dodi! She loved that she had the chance to explore rhythm and integrate instrumental play throughout the lessons. I am thrilled that we have several more months to take advantage of this program. We will definitely work at completing the lessons at a reasonable pace for Alyssa as long as her interest is maintained. Alyssa's father and I enjoyed observing her progress during this review. We noticed that she was retaining the information and piano skills taught. Her father was especially happy that we were able to review a product that matched her interests. We were both impressed with the concepts taught at such an early age. In the beginning, she learned how to read half and quarter notes and that the symbol P means quiet or quietly. The concepts only advanced from that point. She performed the songs on the keyboard on many, many occasions. We also heard her constantly singing the songs in the tub, car, while independently working, etc. This is a delightful program!
The next section of this review will contain pictures of my daughter using Kinderbach. Click on the photos to enlarge. The first pair of photos shows her learning about high and low sounds. I love how movement and active participation is incorporated into the lessons. Can you tell that she
REALLY
likes it?
She is now learning about finger numbers and completed a corresponding color page.
Alyssa learned where Dodi, the donkey, lived on the keyboard (two black keys) and completed the worksheet relating to the lesson. She also placed Dodi's house cards in front of each pair of black keys on the keyboard. Additionally, she also placed Frisco's train station cards behind the three black keys during a lesson later in the curriculum.
Alyssa quickly colored the game pieces so that she could play the matching finger number game as seen below.
Pricing
Kinderbach Online
costs $95.88 (60% savings) for a yearly online subscription. It is also available for $19.99 billed separately each month. What's great is that along with the affordable price you get a
No Hassle 30-Day Money Back Guarantee with a Life Replacement Warranty
. You also have the option of paying $5.95 for a Single Day Pass if you just want to see if your child likes the program and to explore all of the features.
PLEASE NOTE: I received an e-mail from Karri offering a promo code for ANY of her products. Please be sure to use the promo code TOS_crew2012 at checkout to receive 30% off ANY Kinderbach order. This promo code expires 12/31/2012. The Kinderbach App will also go ON SALE Friday, October 19th, 2012 (50% off). It will be available for only $12.99. Be sure to visit iTunes for this offer on that particular day - it is a one day sale event!
Other Products
Kinderbach is available in many other different formats with optional materials available for purchase:
Note: "A House for Dodi" helped Alyssa understand how best friends, Dodi and Frisco, met and how the two black keys became Dodi's house on the keyboard. The "Train Stations" coloring story book explains why the three black keys were called train stations. It was a pleasure reading and coloring these books with my daughter.
What I Like
I didn't have to leave home for private lessons which saved money, gas, and time by not having to pay for private teacher piano lessons. We didn't have to run out of the house to travel to yet another extracurricular class. As parents, we always want what is best for our children, I was able to figure out whether or not Alyssa is truly interested in piano lessons or if she was just going through a phase. This program will meet her needs until she is ready for serious piano lessons. However, after this review, I can already tell that she is definitely interested and wants to further this endeavor.
The pace was not too fast or slow - it was "Just right" as Goldilocks would say. I love that my daughter can work at her own pace. She can go through the lessons quicker or slow down if she wants. She can repeat lessons to obtain mastery level learning or to reiterate objectives from lessons.
The program contained age appropriate activities that required active participation and movement.
If I had multiple children within the same age range, then this would be the ideal curriculum for me because it would meet the needs of all the children in one sitting.
Furthermore, no musical background is required to use this curriculum. I wasn't sure what I was going to do with regards to music education because I can't play instruments and music terminology often confuses me. I knew Alyssa had a strong desire to learn how to play the piano hence the reason why this was such a blessing to our family.
Possible Cons and Improvements
My biggest issue with the program was that when the screen was enlarged, it became blurry and fuzzy no mater which browser I used. This didn't seem to cause any problems or bother Alyssa during lessons.
The child must be able to play the keyboard while watching the online videos. I noticed that my daughter watched Karri during video lessons to learn the beats and the notes first. Then, she read and practiced playing the notes during independent play.
This is not a formal, traditional piano program so if that's what you are looking for you need to look elsewhere. Kinderbach is more than the basic piano lessons for young children. If you are looking for a unique and effective approach to piano instruction check this curriculum out before venturing off and considering other options. It will be well worth your time and investment!
I would love to see more lessons added progressing in difficulty for children working at a faster rate and lessons that would also interest older children.
Recommendations
Kinderbach is a wonderful tool for preschool directors, music teachers, early childhood educators, co-op leaders of small groups, and homeschooling families with children between the ages of 3-7 years old. It may be more appropriate for toddlers, preschool, and kindergarten aged children. I
highly
recommend this foundational program for anyone wanting to teach basic piano concepts and skills to their children or students.
Overall
This was the perfect fit for us this year and it was an absolute blessing to review this product. Kinderbach is a complete and gentle piano introduction for beginners wanting to learn how to play the piano or keyboard. More experienced musical children may need more of a challenge. I personally would use this program in preschool or kindergarten. I am not sure how a first grade or second grade child will react to this program, but it will most likely depend greatly on their interests at that age. Alyssa enjoyed this program immensely and it captivated her attention every time we participated in the lessons. She would ask me on a daily basis, "Is it time for music class? Can I play you a song on the keyboard?" I hope we'll be able to complete all the lessons before our subscription ends. Alyssa repeatedly watched lessons and her interest increased over time. Alyssa has a ball using this marvelous educational program and it is effectively teaching her piano skills! Every year, I pray and hope that we will have the finances to purchase the complete Bonus Level 1-6 DVD package when Karri offers promotional codes at the beginning of the school year. The chance for Alyssa to learn how to play piano or keyboard without having to pay a fortune for lessons is of priority to us. I can't wait until Level 7 is available!
Are you interested? I know I was intrigued by the unique multi-sensory approach. Sign up for a free two week trial
here
.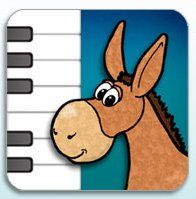 If you have any questions about Kinderbach, please contact the company
here
. They can also be reached at 1-563-332-0587. Be sure to read through
Kinderbach FAQ's
on the website to familiarize yourself with the program. You can follow Kinderbach on
Facebook
. Subscribe to their
KB News Feed
(far right) to receive a free coloring book. They also have sample pages and songs on their website ... so head on over to take a peek and check out the buzz.
Thank you Kinderbach and Schoolhouse Crew Leaders for the opportunity to review this fabulous keyboard program! I REALLY DO appreciate it.
Disclaimer:
As a member of the Schoolhouse Review Crew, I received a six-month subscription to
Kinderbach Online
and two optional coloring story books, at no cost to me, in exchange for an honest, professional review on my blog. All opinions expressed are my mine and were not influenced in any way by the product or company.