Do you or your children love penguins? What types of penguin species exists? Have you ever wondered how penguins care for their young? Do you know which penguins are endangered? If these questions are of interest to you or you don't know the answer then please read on.
I had the chance to review the
award-winning
DVD set titled
"Lots and Lots of Penguins and Their Happy Feet"
published by
Marshall Publishing and Promotions, Inc
as part of The Schoolhouse Review Crew. It is one of their many DVD's in their
As Seen on TV Series
. Please know that this DVD set is not yet available in stores. Marshall Publishing is a company that produces a variety of educational and entertaining family-oriented media and products including DVD's, audio CD's, and books. This DVD set states that it is appropriate for children and adults ages 3-93. I am not sure how teenagers would react to this product. They might not find it of interest or may think it is too childish; therefore this set may be more suitable for penguin loving adults and children ages 10 and younger. This set contains two DVD's chocked full of informative facts and trivia to help learners bring penguins to life. We were so excited when this product arrived! The award-winning family recording artist and musician,
James Coffey
, sings and plays his music on one of the DVD's. The catchy tunes immediately appealed to Alyssa's liking! Several of the songs we heard were "P-E-N-G-U-I-N," "10 Little Penguins," "A Penguin's Life," "Waddle Like a Penguin," and "Party Like a Penguin." I provided penguin props to be used for the 10 Little Penguin song. Her favorite songs were "Party Like a Penguin" and "Waddle Like a Penguin." She really did get down and boogie! I couldn't stop laughing when she waddled around the living room like a penguin making silly faces. The
penguin song lyrics
are available on their website.
What is Included in the "Lots and Lots of Penguins and Their Happy Feet" Set?
The DVD's can be purchased separately if needed. However, the combo pack below is the best value for your money. Click on the separate links below if you wish to buy the individual DVD's or click
here
for the set.
"Lots and Lots of Penguins and Their Toe Tappin' Happy Feet" - This 75 minute thorough DVD covers everything you ever wanted to know about penguins and the many species around the world. The DVD menu was divided into sections by penguin species making it easy to research a particular penguin. It also contained a bonus section featuring several animals living in cold environments. You'll also find out which penguins are on the endangered species list and hear many penguin calls. We loved learning about the physical features of each penguin species and how to tell them apart. Alyssa's favorites were the Rockhopper and Chinstrap penguins.
"Penguins in the Wild" - A personal 30 minute adventure introducing your child to the wondrous natural habitats of penguins. You'll see penguins live in action! This DVD does not have narration, music, or sound effects. You'll see outstanding footage of penguins playing, waddling, nesting, and feeding.
"Party Like a Penguin" - This animated music video is sure to get your family dancing. Alyssa could not resist the temptation! The song and video is also found on the first DVD. Alyssa and I had a ball goofing around dancing like penguins! I won't embarrass myself by posting pictures of my dance but here a few of Alyssa dancing in her pajamas to the "Party Like a Penguin" song.
The retail price for this set is usually $39.90. The Penguin DVD set is currently
on sale
for the affordable and reasonable price of $19.95. They usually ship items the next day, which means you should receive the product quickly. My blog readers can also save $7.95 using the FREE first class shipping promo code
TOS27
. Apply the code at checkout and update your cart to receive this discount. These items are also available as individual purchases. Click
here
to find out more information about Marshall Publishing products including
but not limited to
their As Seen On TV videos such as:
Pros
I love the fact that the company offers a 60-day money back 100% guarantee.
Marshall Publishing shipped this product out quickly.
This was an informative and educational DVD set containing real facts about the different penguins around the world while exposing children to the natural habitats and lifestyle of penguins. They offer high quality programming - there's no fluff or inappropriate content.
The music was upbeat, lively, and entertaining. The songs were very memorable. Be careful you may find yourself singing the songs at random moments throughout the day.
I was happy to see that authentic "real" photos and footage of penguins was used in addition to animated characters that grasp the child's attention. P.J. Penguin was the media host introducing the different penguin species while sharing trivia tidbits of information throughout the video.
Possible Cons and Improvements
The "Lots and Lots of Penguins in the Wild" DVD was not as captivating as the first one due to lack of narration, music, and sound effects. It was meant to be that way so that children and adults can experience the natural habitat as if you were present in the environment. However, active children may not sit still for this video unless they have a keen interest in penguins. Alyssa paid attention to most of the DVD, however, she was easily distracted during this video. I found that if I gave her several penguin related activities to complete during the viewing time ... she was more likely to remain engaged and maintained attention.
The company may want to consider adding penguin science experiments such as the blubber experiment as a bonus feature for future videos. I think parents and educators would love this addition.
I was also hoping that the company would have provided a printed study guide as an accompaniment to the DVD. They do have information posted here as possible study guide material when using the programs but I found the format and length difficult to read online.
How We Used It
I used this combo pack with my 4 1/2 year old daughter. We used the DVD's as a complementary resource in conjunction with our science curricula and as an extension to our bird unit study. We also started an in-depth penguin themed unit to enrich the learning process. We watched both of the DVD's during family movie night the same week they arrived. We completed penguin related activities for the duration of the review. We also planned two field trips to reinforce the learning. We wanted to go to Sea World to see the penguin exhibits, but we ran out of time due to the recent move. Alyssa was also allowed to watch the videos upon request as a ticket item during her free time. She watched the first DVD three times just in the first week (not including the Bonus section). She would occasionally ask to view a particular video in the bonus section. She liked the polar bear video, the penguin cartoon, and the wild bird videos in the bonus section the most.
Penguin Activities
KWL Graphic Organizer
We completed a free penguin KWL chart to access Alyssa's prior knowledge and help her make new connections. I asked my daughter what she knew about penguins before viewing the DVD's, what she wanted to learn, and what she learned about penguins after watching them. She answered the questions while I acted as a scribe writing her responses under the correct column. The DVD's sparked her curiosity even more and generated many more questions with regards to penguins. Her desire to know the answers to those questions motivated her to do some penguin research.
Penguin Research
We used a Penguin Webquest, encyclopedias, and non-fiction books to research more facts about specific penguins.
Penguin Writing
Alyssa jotted down factual penguin sentences on scrap paper during the showing of the first DVD. She wrote amazing sentences for being only 4 1/2 years old. I know ... I am biased because I am her mommy and I love her so much. She did this writing activity without prompting or assistance. She used the back of the DVD when spelling the penguin names and she changed cannot to can't. Later, she transferred her work onto penguin lined paper after editing and revising her sentences.
Penguin Drawing
She also decided that she was going to draw a picture of a penguin eating a fish while watching the DVD. I didn't even know she could draw a penguin! I think it is adorable!
Penguin Species ABC Order
I gave Alyssa penguin species trade cards from a free penguin unit online. She placed the cards in alphabetical order, wrote them on paper, and then read about several species from the video. We later placed them in a small photo album that she carries as we travel.
Penguin Lapbook
We found a free penguin lapbook online to extend the learning. We discussed the penguin life cycle, penguin anatomy, penguin food chain, and reviewed facts about many penguin species mentioned in the DVD's.
I'll stop there before I get too carried away. As you can see there are so many activities that can be done before, during, or after viewing the "Lots and Lots of Penguins and Their Happy Feet" set.
Our Experience
This DVD set was an absolute lifesaver for us this month! We are finally in the apartment and Alyssa thankfully asked to watch the DVD's, particularly the "Lots and Lots of Playful Penguins and their Toe Tappin' Feet" numerous times throughout the move. Alyssa liked them so much that she watched them multiple times without any complaints. She described each penguin call by comparing it to a familiar sound in her environment as we learned about 17 penguin species. She is definitely learning and retaining the information from the DVD's. She has been telling her family and friends about specific penguins and how they live. The DVD has sparked an undeniable interest that will be explored further with enrichment activities. The entire family enjoyed watching the DVD's together. The high quality programs offered by Marshall Publishing will be used as accompaniments in our home for future studies. Alyssa said, "I love it! This is my favorite DVD. Can I watch it now?" when I asked her what she thought about the product. I wonder how she'll feel about the product in a couple of weeks. I am already considering the purchase of the "Lots and Lots of Fire Trucks" set since my husband
is
a firefighter. Have you seen the videos that will be
coming soon
? I know one little girl who will for sure want the "Lots and Lots of Dancing Dolphins" when it becomes available.
Recommendations
I highly recommend this DVD combo pack!!! It would make a great birthday or Christmas gift for children or individuals that have a love for penguins. This set would be a great investment especially for visual and/or auditory learners. All classroom teachers and homeschooling families planning a penguin, bird, or possibly even a habitat thematic unit study will want this DVD set as a supplement to their studies.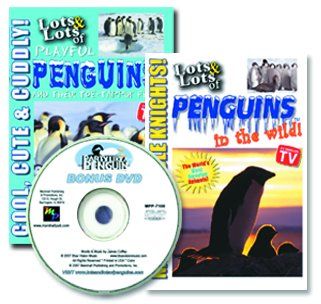 Disclaimer:
As a member of the Schoolhouse Review Crew, I received the "Lots and Lots of Penguins and Their Happy Feet" DVD set from Marshal Publishing, at no cost to me, in exchange for an honest, professional review on my blog. All opinions expressed are mine and have not been influenced by the company.