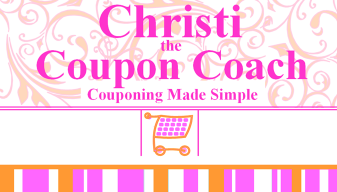 Are finances tight? Are you trying to save money this year? As part of the Schoolhouse Review Crew, I recently had the opportunity to review the informative book Couponing Made Simple written by the author Christi the Coupon Coach. Couponing Made Simple retails for $20.00, but it is currently on sale for $18 on Amazon. The Kindle edition is available or only $4.99.
My husband and I aren't fond of clipping coupons. We usually clipped items we didn't need or use, because the deals were extremely tempting. We spent hours clipping them only to store them in a disorganized gallon-sized Ziploc baggy that we often left in the car. Does that sound familiar to you? Things changed after having our daughter. Our time was limited due to homeschooling and other priorities. However, we have come to a point in our life where we need to be more frugal with our spending and adjusting our grocery budget has become a number one priority. I needed an efficient way to effectively reduce our grocery and household expenses since we are living on one income. Christi's organization system is helping us organize our couponing adventures and is giving us suggestions for strategic shopping.
Couponing Made Simple is a book the author describes as "real couponing for real people." The 132-page paperback book provides a step-by-step approach to couponing the frugal way. It is chocked full of tips and advice on how to get started. Couponing Made Simple contains numerous photographs and stories revealing fantastic deals the author and others have obtained using her methods. The author also teaches you the meaning of couponing lingo such as BOGO, blinkies, stacking, peelies, coupon kiosk, clipping services, and more. I appreciate that Christi included a chapter on couponing ethics. I have seen shoppers not playing fairly and it always disappoints me.
What's Covered?
Chapter 1: Success Stories
Chapter 2: A New Way to Shop
Chapter 3: The Language of Couponing
Chapter 4: Organization System
Chapter 5: Step-by-Step Process
Chapter 6: Tips and Tools
Chapter 7: Couponing Ethics
Chapter 8: Networking and Communicating
Chapter 9: Bonus Section
Chapter 10: Beyond Couponing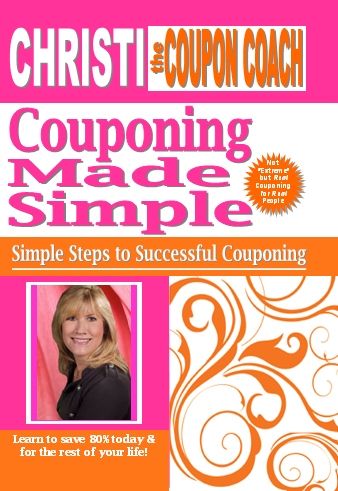 My favorite chapters covered the organization system (Chapter 4), the step-by-step process (Chapter 5), and the tips and tools (Chapter 6). In my opinion, these three chapters are the most important ones. Additionally, chapter 3 explaining the coupon lingo was of tremendous help to my family. Some terminology didn't make much sense to me until after I read this book. The explanations were clear and easily understood.
Pros
Her book is written with a positive and encouraging tone. She motivated us to take the necessary baby steps . . . maybe she can do the same thing for you if you are looking to save money.

You can save a lot of money depending on which products you are buying and the number of newspapers you purchase. This is especially true if you are not particular about which brands you buy.

The text was printed using an easy to read font and size. I am a slow reader with bad eyesight. I found this book to be pleasing on the eyes. It was a very quick read. I actually surprised myself with how quickly I read the book.

The comprehensive book was well-organized based on popular coupon-related topics.

Success stories that will capture you attention and interest were included in the first chapter to motivate and to show you that "real" savings can exist.

The organization system was explained thoroughly in a step-by-step manner in Chapter 4. This was the most helpful and most informative chapter for our family. No more Ziploc baggies for us!

Great tips are included in the book. Christi's advice gave me a new perspective with regards to couponing and things to think about when making purchases. One tip the author mentioned in the book was to check the amount of water in the product when purchasing canned goods or body wash. This was sound advice and something I never paid attention to in the past.

The author tells you what you can do with expired coupons which was another new tid bit of information I never knew about and was grateful to learn. I love that the author encourages her readers to utilize freebie coupons that won't be used in your household by giving back to society. I immediately started thinking ahead in hopes to save on items I planned to purchase for operation shoeboxes, operation Christmas child through Samaritan's Purse, blessing bags for the homeless, canned food drives, and pet centers.
Possible Cons
I was hoping for or expecting actual coupon websites to be included in the book. Christi does give you tips on how to do a meaningful Google search. The coupon matching websites are extremely easy to find if you do a quick search. However, the author does share a list of her favorite websites at Christi the Coupon Coach. Her reasoning for not including them in the book makes perfect sense. Internet websites change all the time and it is important that the information within the book is relevant and updated.

I did notice that a lot of the same information or familiar material was already available on the Internet. Please keep in mind that by purchasing the book, you'll have everything you need conveniently in one spot at your fingertips for immediate access.

It takes a reasonable amount of time and planning to get started and to be more organized especially if couponing is a fairly new adventure.

The author suggests purchasing one newspaper for each family member and then she recommends that you purchase newspapers in even numbers. We have three family members which means we would need to buy four papers. Our newspaper costs $2.50. If we purchased four based on the number of people in our family that ends up being $10 a week. We aren't sure yet if the savings surpass the cost of the papers. Not to mention, we have accumulated newspaper clutter which we didn't have previously.

I suggest that you take a few moments to familiarize yourself with the coupon policies for the stores you frequently shop in your area BEFORE your first organized shopping run. I would recommend that you create an excel spreadsheet summarizing the coupon policies for yourself. Then, bring the actual printed policies with you to the store just in case you need to show the cashier. When you have a question about the coupon policy, ask the store manager.
If you eat a clean diet or follow a whole food restricted diet, it may be harder to find grocery coupons that will work for your family. Instructions are included in the book on how to search for deals that fit your family's needs or diet restrictions.

You must be willing to try new stores and brands. I am a very brand-specific person.

We wasted money on four newspapers since we did not plan or organize a shopping trip before deals expired. We didn't remember that the flyers were only weekly savings. Most of the the coupon flyers were tossed out.
Our Experiences
Jeff purchased our newspapers at the closest gas station. I reminded him to check for the coupon inserts. Basically, we tried to follow the two main rules of buying what we use on sale and stacking coupons when possible. Christi's book contains a valuable chart on page 35 that explains the method of stacking.
Before our first shopping trip, we sorted all of our flyers on the counter. Our paper consisted of inserts from several well-known companies including Red Plum, Smart Source, CVS, Walgreens, Academy, Target, Walmart, Best Buy, Conn's, Michaels, and more.
We didn't have many coupon insert deals that extended for longer than a week's time span so I adapted Christi's hanging file box organization system to meet our criteria. Red Plum and Smart Source were the only coupons that needed to be stored for a longer duration. Instead of dating the files with the month and week such as 7/1 and 7/15. I labeled four manila files under each tabbed file as 1st, 2nd, 3rd, and 4th for these two stores as seen in the photo.
Before our first trip to the store, we searched the HEB flyer for products that we already use hoping they were on sale and used coupons when possible. We also didn't read the store's coupon policy beforehand and sadly we found out that stacking coupons was NOT allowed. We needed the groceries so we went ahead and purchased them all. However, we still managed to save approximately 20% on our receipt with very little effort. Can you imagine what the savings would have been if we were more prepared? The milk was FREE when we purchased the batteries we needed. The Pantene shampoo and conditioner was a BOGO free deal. We also stockpiled razors using BOGO deals. Two packages were free. The Simply Potatoes were FREE after purchasing Jimmy Dean Sausage. The cupcake wrappers were only 19 cents after using a coupon. Many of the items seen in the photo were purchased with coupons for varies amounts.
I realized that my daughter still needed summer clothes. I knew that children's clothing stores were offering lowered prices during their summer sales. I left one store spending only $43.65 for three adorable matching outfits. The manufactured suggested retail price (MSRP) for the bottoms were $24.00 each and the shirts cost $18.00 each which makes the total MSRP for these products $126.00. All of the brand new clothes were discounted 30% off in addition to already reduced clearance prices meaning each pair of skorts dropped from $13.71 to $9.60 and each shirt dropped from $10.29 to $7.20. Then, I handed the cashier a printable coupon for 20% off a purchase of $40 or more further reducing the cost of the skorts to $7.68 and the cost of the shirts were lowered to $5.76. In the end, the out-of-pocket expense ended up being only $43.65 with sales tax.
We shopped at Walgreens the next day. We purchased two Softsoap refills for $7.99 each (retailing for $15.98) and one tube of toothpaste retailing for $3.59. We received one refill FREE thanks to a BOGO coupon. We also used a manufacture coupon on the toothpaste which discounted $2 off the product which was also on sale for $2.99. We spend $19.57 and paid $8.98 which is approximately 54% in savings. The store also gave us back $1.30.
I managed to find a few good deals at CVS. Please ignore the Softsoap refills below. I accidentally grouped and photographed them with CVS items. We used the kiosk at the entrance, scanned our card multiple times, and received a $2 off coupon for the body wash. We bought two and only paid 99 cents each. I checked the prices at another store that same night and the items were almost $4. The PowerRaids were only 69 cents each. We had two Buy One Get One Free (BOGO) deals including Purex Liquid Laundry Soap and Omega Three Gummy Fish. We were willing to try the CVS brand of vitamins. I found several brands of lip balm on clearance. One brand was discounted $1.50. Each lip balm was purchased for under a dollar. My husband also found a large box of Swiffer Sweeper Mop refills and used a 25% off coupon when they were sold in bulk on sale. The rest of the items were purchased with regular coupons. We saved 20% on our receipt and received summer extra bucks for purchasing several specific store items. We are only a few dollars away from earning $10 on each ExtraCare card.
Our best luck was at Target, Walmart, or CVS. I prefer the customer service and ease of checking out at CVS. Most of our grocery store runs were disorganized, because we didn't utilize all of the guidelines for the system to its full potential. We walked in holding a handful of coupons and a list in which items with asterisks required a coupon. I admit that I jumped the gun and rushed out in hopes for big savings with very little preparation.
Overall Thoughts
We still have so much more to learn!!! In order for our family to save even more money, I need to reread the book and set-up the entire organization system. My husband and I really want to utilize the methods, but we are taking baby steps since he just had surgery and we recently moved. My husband finally told me to purchase an accordion file. I bought one with 12 tabs and 13 pockets. I also brought home a coupon box with blank dividers to help get organized.
Jeff was doing most of the grocery shopping on his way home from work to help save on gas and time. I realized that he had his own system. He kept saying, "I was already doing that." However, a few of her steps were very different from his method. We'll make the necessary changes so that hopefully we can save more money. I plan to carve time out of my schedule to go grocery shopping with my little girl. My husband wants to read the book so that we'll both be on the same page. He is willing to invest in at least two newspapers until we notice more savings and use the deals in a timely manner.
Furthermore, we will spend several weeks tracking the cost of certain items that we consistently purchase in order to know when the product is actually offered at a rock bottom price. This will be a key element for us in order to have a more successful shopping trip! We both agreed to try different brands of deodorants, toothpastes, toothbrushes, pain medicines, shampoo, conditioner, and razors after realizing that discounts and/or freebies are usually offered for these particular types of products. I recently downloaded a coupon bar which enabled me to print online coupons. We definitely plan to continue using Christi's ideas in order to save even more money after our organization system is completely set-up.
I recommend Couponing Made Simple for large families on a tight budget. In fact, ALL families wanting to save money will find the money-saving tips and simplified organization system useful and beneficial. This book would also be a great introduction for those beginning the task of couponing, families living on one income, or as gifts for college students living in their first apartment. The author saves 50-80% on her grocery bill. I believe it is possible that we can all save high percentages with the methods. The money saved could pay for other bills, paying off debt, family expenses, vacations, medications, extracurricular activities, or curriculum.
So now you must ask yourself . . . Do I like saving money?
Social Media
You can follow Christi The Coupon Coach on Facebook. Check out the You Tube video below where Christi discusses her book on the Daytime television show.
Head on over to the Schoolhouse Review Crew blog to read more reviews about Christi The Coupon Coach's book titled Couponing Made Simple. I am sure everyone will have different experiences with this product.