Are you looking for an effective music and piano curriculum?
Our previous music curriculum subscription expired which left us without a curriculum to enrich our homeschool day.

My daughter has a strong passion in learning how to play the keyboard (piano). I don't know about you but we can't afford private lessons. I have always heard that once a child learns how to play the piano, then they will have an easier time learning how to play other instruments. This will help later because she wants to learn how to play the guitar too. Additionally, music has a huge impact on the child's academic achievements. This informative article explains the developmental improvements and benefits that music has on reading, math, and science.

I don't have any experience or background knowledge to teach children music. With that in mind, I do want an

effective music curriculum that will guide Alyssa in the right direction should she desire to study piano further.

Let me tell you about a music curriculum called

Children's Music Journey that we started reviewing about a month and half ago. It was the answer to our family's need for a music curriculum!

I recently had the opportunity to review a remarkable multi-level music curriculum suitable for children ages 4-18 developed by Adventus called MusIQ Homeschool as part of the Schoolhouse Review Crew. We received ALL of their downloadable software program titles via e-mail which cover seven year's worth of lessons. Since I own a Mac computer, I could only review a portion of the titles. It was a blessing and honor to review the award-winning Children's Music Journey 3-Volume Series which is meant for children ages 4-10. This program systematically and logically teaches piano skills to children in pre-k through approximately fourth grade. Children's Music Journey contains three volumes with a total of 95 piano or keyboard lessons. Each volume has 25-35 lessons. The first volume consists of 20 sessions divided into two 10-week sessions (lessons 1-25). The second volume consists of 30 sessions organized in three 10-week sessions (lessons 26-60). The third volume also contains 30 sessions split up into three 10-week sessions (lessons 61-95). Each session group is represented by a letter (A-C). This unique curriculum integrates music appreciation, composer study, music history, music theory, music notation, ear training, composition, improvisation, and more. The program teaches children about pitch, notation, and rhythm. The lessons slowly progress in difficulty or complexity over time.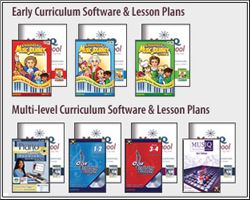 Beethoven

Bach

Joplin

Mendelssohn

Villa-Lobos

Satie

Dvorak

Mozart

Beach

Tchaikovsky

Handel

Chopin

Scarlatti

Haydn

Bartok

Chaminade

Debussy

Schumann
Here's a video describing the Children's Music Journey software.
Computer (Windows 2000/XP/Vista/Mac OS X)
MIDI Keyboard (M-Audio KeyRig 49 is recommended.)
Standard USB Cable or USB-MIDI Cable
*System requirements and details can be found here
.
How I Used Children's Music Journey?
Children's Music Journey was the core music curriculum used with my five-year-old daughter. We started at the beginning of the first volume in normal mode. The three learning modes are normal, free, and strict. The program was utilized 1-3 times per week for a minimum of 30-60 minutes a day. One lesson included a visit to each room. Alyssa was also allowed to practice the concepts presented in the weekly music lessons up to four times per week for 15-20 minutes a day. She practiced the concepts in the practice room, in the game room, at the library, or in the improvisation room. Children's Music Journey was utilized on my Mac OS X 10.5.8 computer with Safari as my browser. A USB cable connected our computer monitor to a general MIDI compatible Casio keyboard. We completed several of the supplemental activity sheets from the homeschool manual including coloring pages, word searches, mazes, and activity worksheets. These lesson plans are available as a separate purchase.
We used this program in conjunction with a timeline iPad app and composer notebooking pages to further enrich the study. We
found the composer information sheets particularly useful with notebooking extensions and when writing composer descriptions for her timeline.
Composer Word Search
Labeling Finger Numbers and Hands
Identifying Finger Numbers by Tracing Hand
Musical Alphabet
The MusIQ Library give parents access to a conglomeration of music study resources. We focused on the items categorized under the Children's Music Journey which was divided into three sections: Activity Sheets, Teacher Resources, and Assessments. You will also find the Children's Music Journey Software Overview which will give you a detailed overview of concepts learned as children progress through each level. The General tab contains resources such as the blank five line staff, blank grand staff, pizza (notes), two sizes of the blank keyboard cards, blank line staff, large musical alphabet flash cards, grand staff ladder board game, game cards and more. I can't wait to give an official certificate to my daughter after she successfully completes the first level.
A Typical Day Visiting the Five Learning Areas
Alyssa logs into the curriculum by clicking on her personal avatar. Progress is saved for each individual utilizing the program. A positive aspect of the program is that the pace can be individualized. The curriculum makes it possible for any child to work independently through the program at their own pace. I can adjust Alyssa's pace based on how successful she is with the components of each level.
Lesson Room
Alyssa begins her music journey in the Lesson Room.
The Lesson Room consists of 95 well-organized and developmentally age appropriate lessons throughout the entire series. This is where animated composer characters teach her about a specific musical concept or skill within a 5-10 minute time frame. The composer also narrates background information about their life and major works. The child's short lesson begins and ends with the chance to enjoy a musical composition created by that particular composer.
Children learn facts about each of the famous composers and music appreciation is emphasized early in the program.
I loved that the program was taught by different animated music composers! This aspect changes things up and provides variety which helps maintain a young child's attention. My daughter remained enthusiastic and focused during her lessons.
Alyssa interacted with the instructor and learned a variety of skills.
Topics that are covered in Children Music Journey Volume 1 are recognition of high and low notes, locating and playing middle c, rhythmic patterns, ascending and descending notes, directional note sequences, from and to middle c, double notes, holding notes, finger numbers, stepping notes, musical alphabet, keyboard letter names, music history, and music appreciation for great composers.
I was simply amazed and appreciated
how the program began with pictorial representations for notes a
nd graduated to reading stemmed music notation. My daughter was actually playing familiar simple songs with only a few sessions under her belt.
She remembered to use an ant tunnel to play musical arrangements and attempted to use both hands to play the keyboard.
Alyssa's favorite composer was Joplin, because his music made her want to dance. The screenshots below are from Lesson 16 with Franny.
Listening to an "Untitled" Composition
Alyssa titled the song "United."
Learning a New Finger Number Song:
Finger to Use is Highlighted Red
Notes are Highlighted Green as Played
(Check out the 4 Count Holding Notes)
Musical Alphabet Review
Letters Turn Blue with Thick Lines
Practice Room
Alyssa reviews the material with the stylish yet conservative Miss Melody. Each practice session reiterates the lesson concepts differently. She also has the child practice the new songs several times (2-3 times) depending on the number of mistakes. She provides immediate feedback and praise that encourages the child to practice. Incorrect responses are gently acknowledged. There are a total of 95 practice session in the three-volume series.
Song Titled, "On Wings of Song"
Practicing Finger Numbers:
Notes Highlighted as Played
Games Room
Thirty games are included in the entire series to help her practice the concepts and skills addressed in the lesson in an interactive and fun way. Ten games are available to play each time. However, all ten games do not stay open in the normal (recommended) mode. Only certain games related to the lesson can be accessed in one sitting. The games cover a variety of concepts such as but not limited to early note reading, pitch recognition, timing and holding notes, reading and playing notes, word rhythm practice, finger numbering, and musical alphabet notes. This room was very popular with Alyssa.
Available Games Highlighted Green
Type Missing Letter on Computer Keyboard:
Crane Adds the Block
Alyssa's favorite game is the Princess Storybook Game. The princess begins the session by telling a story. However, part of the story is missing. The dog barks rhythmic patterns aloud. She must play the rhythm correctly in order to choose one of three words to complete the story. Basically, she has three tries. An option is removed for each incorrect attempt. If incorrect, the princess might say, "Oh dear . . . that isn't quite right."
Words read aloud are highlighted red
She was overly excited when playing the "Catch the Note" game. Birds represent high notes in the sky and whales represent low notes in the deep ocean. She must play a high or low note depending on which type of animal passes between the two buoys.
Improvisation Room
Alyssa had the opportunity to explore the sounds of 16 different musical instruments and choose background music to create her own compositions. Each channel gave her access to different music genres including rock, waltz, samba, latin, march, jazz, classical, and more. My recommendation was for her to create at least one or two arrangements that utilize her newfound skills. Then, she had free time to explore the features so that she could express her personality while recording her own music arrangements. The compositions created are saved, dated, and sent to the Library Room for future listening sessions. She looks forward to the improvisation room every single day, because it was her time to perform. After several lessons of Children's Music Journey we have seen drastic improvement in her improvisation arrangements. Her compositions are pleasing to the ear and sound more like musical pieces. I also noticed an increase in her understanding of the concepts.
Creativity is fostered in the improvisation room. This is the only music program that I have come across that allows the child to create their own compositions in this manner.
The Library
The Library Room has several locations to visit which improve her understanding of music theory and concepts while gaining familiarity with compositions created by well-known composers. My daughter listens to famous compositions from several specific composers by clicking on the globe. She also listens to her own musical pieces by visiting the improvisation icon. Alyssa can review and practice previously learned lessons by clicking on the "Lessons and Practice Book." If she clicks on the computer, then she has the opportunity to hear and play new songs. The "Practice and Learn" area contains 150 pre-recorded songs.
Lesson and Practice Book
"Practice and Learn" Session
What Will Children's Music Journey Cost Me?
This software is available in two formats. It can be purchased as a software download or as a CD-ROM. You can purchase each volume for $69.95. The series is available with lesson plans for $89.95 per volume. Another option is to pay for a MusIQ Homeschool monthly subscription which will cost you $10.95 per month for unlimited full access to ALL of their software products in downloadable format via e-mail. This option seems best geared towards families that homeschool children at multiple levels. The lesson plans are not part of the monthly subscription. However, the homeschool lesson plans are available for $29.95 as a separate purchase. They offer a 30-Day Money-Back Guarantee when you purchase a product through their Adventus website store. There are a variety of bundle packages available so please explore their website to find out which one fits your budget and homeschool needs best.
What I Like
The supplemental homeschool lesson plans (separate purchase) provided me with additional teaching tips, games, and practice ideas as enrichments to the core software lessons. Not to mention, they provided me with the tools I needed to monitor and assess Alyssa's progress.

The program provided my daughter with the chance to learn how to play the keyboard (piano) at a higher level. It really does work! I never imagined that she would gain so much knowledge and skill in such a short amount of time. She was actually playing familiar songs by reading stemmed notes on the screen. I look forward to seeing her progress this year.

The program claims that it can help children compose their own music. Alyssa did gain the ability to read, understand, and COMPOSE her own music after participating in the lesson and practice sessions. This aspect of the program is what astonishes me the most!

The lessons take place in the convenient and quiet atmosphere of our home. We do not have to waste gas money or time driving to private lessons. The cost of the program is more affordable than weekly private piano lessons. The cost of traveling back and forth when living out-of-town must be accounted for as part of the expense which we cannot afford at this time.

The curriculum is user-friendly. It can be easily implemented and scheduled into a daily or weekly routine. Alyssa quickly learned the routine and was able to independently complete lessons while I supervised.
Possible Cons
This curriculum is a software download therefore it does take up space on your computer.

The directions for the Building Block game may need clarification. I read the user manual to figure out how to play the game. My daughter kept trying to play the musical alphabet note on her keyboard, but in actuality, she needed to type the correct letter on the computer keyboard.

The cost of the program may still be too high for some homeschooling families.
Possible Suggestions for the Vendor
I wish Alyssa had the ability to title her compositions from the Improvisation Room.

I would absolutely love to see this series expand further with additional composers yet remain Mac compatible.

Is there any way the company could create supplemental notebooking pages to use in conjunction with the program? Many homeschooling families utilize notebooking tools as extensions to their music curriculum program. This bonus resource would make your program even more appealing. I loved that the homeschool manual included historical composer timelines.

An online concentration (matching) game would be a neat way to explore composers and their music? The child can flip over two cards. One would have the composer's name and photo; the other would play a compositional piece. The child must decide whether the two cards are a pair or not.
Our Thoughts
I am extremely impressed with the results of this effective program that incorporates an efficient "teach, practice, apply" method to learning piano. Children's Music Journey is one of reasons why Alyssa has a positive attitude towards learning piano. The curriculum builds up my daughter's confidence level as she progresses through the levels of challenging yet fun lessons. The program lead to dramatic improvements in her understanding of music concepts and ability to play the keyboard. I believe that Children's Music Journey will provide children with a solid foundation in music. We will definitely continue using this curriculum for the rest of the year. At that point, we will reevaluate our curriculum options based on our budget and pray we can purchase the levels needed to continue.
Other Products
Adventus also offers a variety of music software program titles in their store for ages 10 and up including Piano Suite Premier, Ear Training Coach 1-4, MusIQ Challenger Game, and Children Music Journey Homeschool Lesson Plans (scroll down). Accessories such as keyboards and cables are sold.
Recommendation
Children's Music Journey is an outstanding comprehensive music curriculum for children between the ages of 4 and 10. I

definitely

recommend this complete program to ALL home and music educators. I also think that this fantastic curriculum can be implemented by any parent, after school facility, in any co-op group setting, and in all public or private schools.

You can contact the company and fill out the form with any questions you have about the curriculum. Adventus can also be reached at 1-888-999-MIDI (6434). Skim through the Children's Music Journey FAQ before contacting the company. You can follow Adventus on Facebook or Twitter. You can also sign-up for their newsletter to keep up-to-date with products or promotions. They do offer a Free 7-Day Trial if you would like to try their program.