The last month and a half, we've been reviewing a physical copy of Latina Christiana I Complete Set by Memoria Press. We received the third edition of the curriculum. Latina Christiana is part of the Classical Trivium Core Series. This Latin curriculum utilizes a traditional educational and learning approach. Grammar and vocabulary are systematically taught prior to reading Latin. The Latin pronunciation used in this program is known as Church, Ecclesiastical, Christian, or Italian.
Click on the link to find out a few reasons
Why we study Latin? Alyssa couldn't wait to open the package!
Product Description
The Latina Christiana I Complete Set includes the instructional DVDs, a set of flashcards, a CD, a student workbook, and a teacher manual. This curriculum is geared towards children in Grades 3 and up but can be used with all ages. Younger children can use it with guidance and supervision during lessons. No background knowledge in Latin is necessary in order to teach using this curriculum. There are 30 lessons to complete in one year.
What You'll Learn
200 Vocabulary Latin Words

25 Latin Sayings

Two Prayers

Three Latin Songs

Grammar: Parts of Speech

First, Second, Third Person (Tense, Number, Gender)

First and Second Verb Conjugations

Present, Imperfect, and Future Tenses

First and Second Noun and Adjective Declensions

Singular and Plural

Subject Verb Agreement

Noun Agreement

Five Latin Noun Cases

English Derivatives of Latin Origin

History and Geography of the Rome
Teacher Manual
The 158-page required teacher's manual written by Cheryl Lowe is a complete resource jam packed with helpful tools and information. The manual begins with a preface introduction, a pronunciation guide, and a table of contents followed by a two-page grammar overview, yearly student objectives or goals, general teaching guidelines or tips, suggested recitation and lesson schedule, reproducible vocabulary and grammar drill sheets, a teacher resource list, information about pronunciation, the history guide, and of course the detailed weekly lesson plans.
The entire lesson is NOT scripted for the educator, however, the grammar lessons are somewhat scripted.
The History Guide is meant to be used in conjunction with the first thirteen chapters of the book titled, "Famous Men of Rome."
You'll find a history background section, a Roman history overview, teaching guidelines, and a helpful reproducible history chart. Additionally, reproducible filled and blank maps are included to help integrate geography into the course and give the learner a visual for the area being studied. There are 86 drill discussion questions which are divided by chapters. A brief chapter summary is included in addition to an answer key.
"Famous Men of Rome"
is available for purchase in the Memoria Press website store.
The manual also contains the answer keys for the student workbook exercises, reproducible tests and test answer keys, 25 reproducible quizzes, and the appendices at the back of the book.
Appendices Include
Pater Noster: The Lord's Prayer

Table Blessing

Conversational Latin Phrases

Latin Sayings

Verb Forms

Noun and Pronoun Forms

Songs on CD such as Adeste Fideles (O Come All Ye FaithFul), Dona Nobis Pacem (Grant Us Peace), and Christus Vincit

Vocabulary Index by Grammar Forms (6 pages)

English to Latin References (3 pages)

Derivatives and their Definitions (4 pages)
I

HIGHLY

recommend reading the grammar overview and general teaching guidelines before teaching any lesson which is exactly what I did.
DVDs
There are FIVE i
nstructional DVDs which contain 18 hours of video lessons taught by Leigh Lowe. The video lessons are approximately 35-40 minutes long. V
ocabulary in both Latin and English are repeated at least two times each. She does a great job telling the student to pause when using the CD concurrently. The teacher has a southern accent, but it wasn't very noticeable and the Latin pronunciation was clearly understood. The lessons are thoroughly taught while tying in grammar and basic history. Easy to follow on-screen notes are seen on the DVD slides.
Student Workbook
The 88-page softcover student workbook consists of 25 lessons and 5 review lessons. A two-page lesson was completed each week. There were approximately 5-12 vocabulary words presented during the lesson in addition to grammar forms, declensions, and Latin sayings. Maps, history questions, prayers, songs, conversational phrases, and appendices are also included in the book.
Pronunciation CD
A pronunciation guide explaining the rules about the alphabet, vowels, digraphs, diphthongs, and consonants is provided. Additionally, conversational phrases, Latin songs, and prayers are heard on the CD. Individual lesson content and pronunciation is also presented for use during grammar and vocabulary drills.
Flashcards
These double-sided flashcards (3 1/2" x 2") are perforated and pre-printed on glossy, heavy cardstock paper.
The part of speech is indicated on each card. Vocabulary, cue words, noun declensions, conjugated verbs, and Latin sayings are included in the flashcard set.
Monday - Video, Take Notes, Flashcard Drill,
Song and Table Blessing Practice,
Recitation
Tuesday - Re-watch Video, Study Notes and Flashcards,
Song and Table Blessing Practice,
Recitation, Vocabulary and Grammar Drill Sheet, Game
Wednesday - Study Notes and Flashcards, Song and Table Blessing Practice,
Recitation,
Vocabulary and Grammar Drill Sheet
Thursday-
Study Notes and Flashcards,
Song and Table Blessing Practice,
Recitation,
Vocabulary and Grammar Drill Sheet, Workbook Exercises, Game
Friday-
Study Notes and Flashcards,
Song and Table Blessing Practice, Recitation,
Game,
Quiz or Test, History Story and Questions
Note: Re-watch video when needed.
How We Used It
I used Latina Christiana on a daily basis (
5 times per week). I learned Latin with
my daughter, Alyssa (Age 7 1/2) who is a strong, fluent reader. I have absolutely NO background knowledge in Latin. I was looking for a course that we could complete together, because we both

wanted to learn Latin. My intention was to use t
his curriculum to expose Alyssa to Latin words and derivatives rather than to obtain a mastery level so that we could enjoy the course more.
My plan was to cover the content over a two-year period emphasizing a stronger understanding (comprehension) of the material during the 2nd year. We may NOT need to cover the material twice because she is already retaining and mastering the content easily.
Each lesson is divided into 5 main parts: Opening, Latin Saying, Word Study, Derivatives, and Grammar. Daily lessons began with a Latin greeting followed by a recitation which consisted of a prayer, table blessing, grammar forms or declensions, and songs. Alyssa also learned Latin sayings, was introduced to new vocabulary, and was taught English derivatives and their meanings during her lessons. The history and geography of Rome was covered using a literature-based approach. We viewed the maps to locate places mentioned in the study.
The DVD video lesson was watched together on Mondays and Tuesdays on either a portable DVD player or on the television.
Mondays were our longest lesson days, because she paused the video to record notes
in her Latin notebook. On
Tuesdays, we watched the video without pausing.
She was a little animated when singing "Christus Vincit" as seen in the far right photo.
Alyssa
studied her notebook and flashcards several times throughout the week as part of her weekly lesson.
Vocabulary and grammar drill sheets were completed three times a week. The "hear, see, say, and write" method was utilized. I pronounced each vocabulary word and grammar form. However, you can use the CD for pronunciation. She looked at the word in her book, repeated it, and then wrote it on her drill sheet.
We took turns being the teacher while utilizing the flashcards to quiz each other. We also used the flashcards during family game time to make learning even more fun and enjoyable. This was our favorite part of the week! We played Latin Tic-Tac-Toe, Hangman, Candyland, and Chutes and Ladders. We were required to give the Latin vocabulary word, the English meaning, and a derivative word i
n order to move forward on the gameboard
. I hope to create a Jeopardy game after we complete several more lessons. We'll play Bingo, Pictionary, and Concentration this week.
The songs added a little extra fun to the lesson. My daughter enjoyed singing the songs on her portable CD player while reading the lyrics. It was a great way for her to learn the Latin table blessing too. On the first day, we listened to the information about the alphabet and pronunciation rules. For six weeks, we listened to tracks 4 and 9. We took the CD with us on errands in the car singing and practicing vocabulary on the way.
Alyssa completed the vocabulary and grammar translation written workbook exercises independently.
The derivative exercises were discussed and completed together after she attempted to answer several questions on her own. The exercises increased in difficulty and the derivative section proved to be somewhat more challenging. I loved the idea mentioned in the video to be "Derivative Detectives." We mentioned derivatives when seen or heard, but I hope to create a hands-on activity using this idea to further expand her vocabulary.
She took a written quiz once a week on Fridays after reviewing the material with a game.
The quizzes were identical replications of the lesson page covering the Latin saying, vocabulary, and grammar forms. Alyssa mastered and memorized the facts presented on each weekly quiz.
We read portions of the book titled, "Famous Men of Rome" occasionally on Fridays which explored the history and culture of Ancient Rome. I read an e-book copy of the book on my iPad and we didn't follow the suggested reading schedule in the teacher's manual. The suggested reading schedule covers 2-3 chapters per test. History questions on the tests are based on this schedule. If you use your own version of the book like we did, be sure to read ahead and decide if the stories are appropriate. Some content may not be appropriate for younger children.
A review lesson occurred after every five lessons. We spent one week reviewing previously learned material giving us a break from the regular routined lesson. I divided up the vocabulary words and verb conjugations over the week. Alyssa wrote 10-12 vocabulary words three times each using different colored pencils. She conjugated 2-3 verbs each day. She also completed a recitation which consisted of the prayer, table blessing, song, grammar forms, and Latin sayings. The review exercise page was filled out and discussed on Thursday. She studied her flashcards and notebook prior to taking the test. We played games to review vocabulary and grammar throughout the week in preparation for the test on Friday.
The DVD instructor, Leigh Lowe, encourages you NOT to rush through Latin and to aim for mastery.
A test was given after the review week. Each test covered material in five-lesson increments. The first test covered content from Lessons 1-5. Alyssa did very well on her first test. I didn't grade the History portion of the test, because we didn't use the correct Memoria Press "Famous Men of Rome" book and we followed our own reading schedule. Test questions consisted of translations, derivatives, fill-in-the-blank, and verb and noun form charts. Translations were given from Latin to English, English to Latin, Latin Sayings, and Verb Forms.
All of her notes, drill sheets, quizzes, and tests were stored in a tabbed Latin notebook binder for review purposes.
Lesson Adaptations for Parents
Focus on only five or six of the vocabulary words at a time for two days and then the rest for an additional two days during the week reviewing all vocabulary on Friday.

Split note-taking day into a two-day time period covering vocabulary one day and grammar the next. We started doing this during Lesson 6.

Verbally complete the workbook exercises and/or quizzes.
What We Loved
Grammar (parts of speech and grammar forms/conjugations) are integrated smoothly into the lessons.

The built-in, consistent review of terminology helped us retain previously learned material.

Clear pronunciation on the CD and DVD video lessons.

I appreciated the fact that prayers and songs are taught.

Vocabulary terms and their meanings are taught in addition to the derivatives and their meanings for each word which expanded Alyssa's vocabulary.

She improved her note-taking skills while viewing the lessons.

I thought the DVD video lessons were a reasonable length, but Alyssa said they were too long.

The instructor encouraged students to recognize details and improve their observation skills by finding similarities between words (detective work). I loved that she stated and discussed the similarities during the video.

Minimal prep is necessary for lessons.

Roman history was taught using a literature-based and discussion question approach.
My Overall Opinion and Results
Alyssa's vocabulary has improved and her understanding of material in other subjects has soared because she's studying Latin. The derivative study has sparked an interest in unfamiliar English words. She's finding derivatives everywhere! She recognizes them in other subjects such as History, Science, and Literature. These connections are helping her understand the content and words better.
Latina Christiana is a complete and easy-to-follow Latin curriculum which utilizes a memorize and drill approach. I was surprised by the effectiveness of this method and the recitation approach. I wasn't sure my daughter would like it but she did have fun. She also enjoyed reciting content in different voices. It is a suitable introductory curriculum that teaches Christian Latin to beginners. The directions are simple with straightforward lesson plans and clear explanations.
Alyssa memorized the Latin table prayer blessing the first week and then memorized the English meaning the next week.
If she can sing or chant it, then she's more likely to retain it better.
I was impressed with her eagerness to not only learn Latin but to MASTER it. Alyssa begged me to continue studying Latin together over the summer.
Alyssa Thoughts
"I liked learning songs and prayers in Latin. My favorite part was the review lesson even though reviewing everything was a challenge. I learned Latin sayings, a song, a prayer, verbs and nouns, and vowel sounds. I also learned that nouns end in "a" and verbs end in "o" for the "I" pronoun. The "c" makes a /ch/ sound like in the word "Caelum" which means "Heaven."
My least favorite part of the curriculum was that the DVD's were a little too long, but I liked taking notes while watching the video. The CD was too fast."
Possible Vendor Suggestions
I prefer flashcards that are packaged ready to go (pre-assembled and pre-cut). I had a difficult time separating the cards without tearing the paper due to the perforation style.

I wish the "Famous Men of Rome" and "Ludere Latine" books were included in the complete package.

Our biggest frustration with the curriculum components were that the accent marks didn't always match each other consistently across all the components. The manual stated that in the first year of Latin, it isn't as important to learn the accent marks but this inconsistency drove my daughter crazy.

Games were geared towards a classroom setting. I suggest adding modification ideas or more review games not requiring groups of children.

Grammar form and noun declension chart boxes should be larger for younger learners who write bigger.
Recommendations
Yes, I

definitely

recommend

Latina Christiana I as a foundational course to any family, Christian private school, or homeschooling family with children in second grade or higher wanting to learn Latin. The teacher directed curriculum is an
instruction course for elementary-aged children or students in the grammar stage. However, i
t can be used as a self-instruction course for parents or older children
studying for the SAT or ACT. It will help expand their vocabulary by familiarizing them with word origins and derivatives.
This structured Latin curriculum will appeal to those implementing a classical or traditional educational approach. I suggest using this solid curriculum with children who enjoy video-based (DVD) curricula learning options.
My Wish List
Price
The Latina Christian Complete Set - $98.90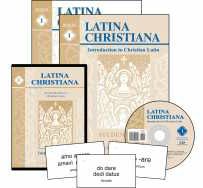 Note: You can buy the items separately.