FishFlix.com
sent me a physical copy of the
Little Boy
faith-based DVD to review as part of the The Old Schoolhouse Review Crew Team. FishFlix.com is a Christian online movie store offering a wide variety of family-friendly, entertaining, educational, and inspirational movies. Little Boy is a Christian DVD rated PG-13 for some thematic and violent content. There is also racist dialogue. The movie lasts 106 minutes and contains a few actors and actresses you may recognize such as Michael Rapaport, Kevin James, David Henrie, Tom Wilkinson, Ben Chaplin, and Emily Watson. This movie was recently released in August 2015.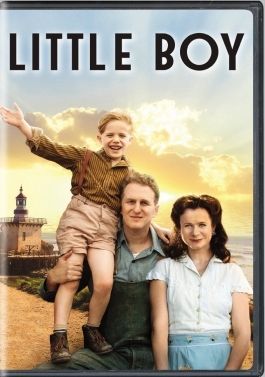 The heartwarming movie tells the story of a little 7-year-old boy named Pepper Busbee, who is teased and bullied, because of his short size and stature hence the title of the DVD. The movie takes place in a small, quiet town called O'Hare in California during the 1940's.
Pepper, the Little Boy, struggles with his faith which is constantly tested throughout the show. His father is fighting the war but suddenly becomes Missing in Action (MIA). His father was sent to fight the war against the Japanese-Americans during World War 2, because London had flat feet and was rejected from duty.
Pepper is determined to bring his father back alive and safe from the war. He is so
persistent
with his efforts that the community takes notice. The main character, with his determination and faith, gave the community hope that a miracle could possibly happen. He believes if his faith is strong enough that he can do anything including bringing him back from war.
In the movie, faith is compared to a mustard seed. Pepper asks how he can get more faith. The priest gives him an old list of deeds or tasks that must be completed including but not limited to feeding the hungry, clothing the naked, sheltering the homeless, and visiting a prison. One major deed was to befriend the local Japanese-American resident, named Hashimoto, who also faces the wrath of prejudice from town locals. After watching Pepper complete his good deeds, my daughter asked me the next day if she could visit a hospital and started brainstorming ways to help others.
The story definitely reveals the never-ending love between a father and his son who have an undeniably strong and unbreakable bond. During their adventures prior to leaving for the war, his father frequently asked him, "Do you believe we (YOU) can do this!" Pepper always yelled "Yes, I believe we can do this!"
There are many individual stories within one larger, more complex story. You'll have to pay close attention to the details and maybe even watch it several times to truly peel away the layers and understand the depth of the movie.
Our Experience
I watched this DVD with my almost 8-year-old daughter in the evening during family movie night. We were so excited about seeing it and spending snuggle time together on the couch especially since we've been so busy with school and the moving process. We truly enjoyed the evening as we watched the story unfold.
during and after
the show. It was a great opportunity for a teachable moment enabling us to tie in a quick history lesson too. I wanted to make sure she understood what was happening and why. The movie content didn't bother her at all and she wasn't scared when viewing any violent war scenes, but she is also very mature for her age.
The plot kept us engaged and flowed smoothly creating a cohesive, dynamic story. The characters' performances were exceptional especially Jakob Salvati, who was nicknamed the Little Boy.
The high-quality DVD contained several powerful, profound messages woven into the plot such as faith, love, friendship, family, prejudice, sacrifice, perseverance, tolerance, and bullying. Faith was explored from two different perspective including viewpoints from individuals who believe and have faith and those who don't believe.
Overall, this was an outstanding family-friendly Christian DVD that captured our hearts! We will definitely watch the movie again and share it with our friends. We were immediately drawn into the story's plot.
The movie really does encourage you to think about what matters
most
to you in your life, to consider who you are, and realize what you can do. It inspires you to believe that miracles can happen with a little faith. The movie teaches you to believe in yourself without doubts no matter what others think about you. It encourages you to stand up for your beliefs and to keep your faith strong in times of distress. You can accomplish anything with faith!
Check out the photographs below capturing several
intense
movie moments! Some of your family members may shed a few tears after watching these scenes. I know I did!
Favorite Uplifting Movie Quotes
"It takes courage to believe."
"Faith won't work if you have even the slightest bit of doubt."
"Faith is powerful."
"If I can get enough faith, nothing is impossible - right?"
"It's up to YOU to achieve the impossible!"
Favorite Movie Scene
The youngest brother, Pepper, yells out that he
CAN
move a mountain during a harsh, emotional argument with his older brother, London. What happens next . . . rattles and shakes the community.
Let's just say this is a MUST see movie!
I don't want to spoil the ending or any other relevant parts
so grab some popcorn or candy if you're anything like me . . . and decide for yourself if its worth viewing.
Price
$18.99
Note:
Prices are subject to change without notice.
Recommendations
I
HIGHLY
recommend this engaging movie to Christian families with mature children ages 12 and up. Viewer discretion is advised prior to showing this movie to younger children. Younger children may not fully understand several of the themes such as bullying, tolerance, magic, violence, and racism.
Social Media
Facebook
Twitter
Pinterest
Google+
You Tube
Watch the official movie trailer for Little Boy below to see if it moves you to watch it.