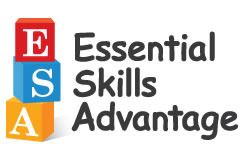 Essential Skills Advantage
(ESA) provided us with a supplementary option for Online Education to review called the
Complete Home Learning Suite
. We received
unlimited
access to the entire K-6th grade elementary program with our
one-year
online subscription allowing usage for
one student.
ESA contains over 14,000 practice activities that actively engage your child's attention with eye-catching colorful graphics and interactive games. Five core areas are covered within the program including Reading, Math, Science, Language & Grammar, and Geography. Each subject is further broken down by grade levels and into conceptual topics except for Science which covers content across K-3 grades. It was easy for me to differentiate Alyssa's learning, because she could work on concepts at several different grade levels. You can select the grade level, subject, or program that you want to use with each child. I was hoping to find a program that I could use this summer to avoid summer learning loss and this one may help.
The Complete Home Learning Suite includes access to the following programs:
Math K-6th

Reading K-6th

Langauge & Grammar K-6th

Science K-3rd

Geography 4th-6th

Marks Manager Reporting
How We Used Essential Skills Advantage
Essential Skills Advantage was used with Alyssa, my 8-year-old daughter, who works at a 3rd-5th grade level with basic technological skills. We used the online learning program 3-5 times throughout the Monday-Friday regular school week. It was utilized as a supplement to her school subjects for approximately 15-45 minutes per session.
Alyssa would
continue
using it for longer periods of time if I allowed it. The preferred browser was Chrome and the program was usually utilized on a Mac OS X 10.9.5 computer.
I
would often asked my daughter to complete certain topics during each session. A session was based on the time spent working on a topic or a

certain

number of activities each day.
We covered 1-3 subjects a day. The number of activities completed depended on the number of subjects reviewed and the time spent using the program.
W

e utilized the program activities for a
variety
of subjects and we jumped around within each grade level addressing concepts related to school work or reviewing previously learned skills when appropriate. M
ost of the lessons she worked through were from the 3rd grade Math, Language & Grammar, and Reading content in addition to the
K-3 Science material.
She
also
explored the 4th Geography content. I didn't really have a set plan or schedule. We took a more relaxed approach when using this program. The supplemental activities were occasionally based on daily assignments.
A student login and

password was provided to access the content areas from the classroom page. However, the program settings did not require a password. It automatically logged her in without a password after a 3 second countdown.
Grammar
Spelling, Grammar, Creative Writing, and Writing Fundamentals were frequently utilized throughout the review period. She was using her core Grammar book twice a week. If we needed a Grammar lesson for the remaining days that week, then a quick ESA Language and Grammar activity was added to the day. After clicking on the 3rd grade tab, the orange Grammar tab was clicked revealing a variety of topics. Each topic consisted of 2-30 activities to complete. Alyssa reviewed common, proper, and abstract nouns. She also reviewed the first three rules for plural nouns. She reviewed the plural spellings for singular nouns that add s to most nouns, the rule for nouns ending in -s, -sh, -ch, -s, -z, -x, -o in addition to spellings with nouns ending in -f, -lf, or -fe. She also explored subject pronouns, contractions, action verbs, adverbs, and completed linking verb activities to reinforced her learning. First, she would click on the "white gavel" in the purple circle on the bottom right-side of the screen to independently read a mini lesson about the topic. The "gavel" lessons were NOT required or read aloud at this grade level.
Two of her favorite Grammar activities were the Gumball and Word Search activities. For the Gumball activity, Alyssa could click on and use any colored circle to mark the common nouns on the screen. For the Word Search activity, she had to click on each letter within a word for it to be highlighted. The words were grayed out once found. The lowercase "i" stands for instructions. You can click on it to hear the directions again. Each correct answer is marked with a gold star at the bottom of the screen. If she responds incorrectly, then a red exclamation point is given.
Spelling
She enjoyed the Fun with Spelling 3 activities. Alyssa focused on and completed three main areas: R-controlled vowels, long vowel patterns, and digraphs and diphthongs. She recently started Consonant Combos and Consonant Blends. She reviewed r-controlled words including ar, er, ir, ur, and or. She also worked through the long vowel patters a-e, ay, ee, ea, o-e, ai, and y as long /e/. Digraphs and diphthongs with oo, ea, ou, and ow were addressed. The Fun with Spelling section consisted of 7-15 activities for each topic. Many of the activities were repeated using different word list. She enjoyed uncovering hidden pictures as she matched words during a Concentration game. The word list was always at the top of the screen as a visual aid and reminder of words learned during the unit.
Another favorite spelling game was Word Wizard. The game reminded her of Hangman. A blank line was given for each letter in an a-e Spelling word and her job was to figure out the word. Colorful dots appeared on the screen. Each time an incorrect letter was chosen, one dot disappeared.
Writing and Poetry
Alyssa's current writing curriculum recently discussed rhyme in poetry, topic sentences, writing good openings and ending with exceptional concluding sentences. The Creative Writing and The Writing Fundamentals programs were my two personal favorites! Writing Fundamentals consisted of 2-10 activities per topic while Creative Writing offered 1-6 activities to complete on each topic. One activity from the Writing Fundamentals asked her to identify the type of opening sentences for a given text. I definitely noticed that Alyssa was writing better opening sentences in her writing samples after she viewed this content. She started writing more opening sentences using dialogue, exclamations, and question.
My daughter and I found an awesome gem within this program. She completed the Poetry Rhyming and Verse activities under the Creative Writing section. She identified rhyming words within a given set of words and matched rhyming words. Furthermore, she learned about and recognized rhyme in quatrains and couplets. I love the activity below, because she was taught rhyming schemes or patterns such as "abab" and "aabb." Her sequencing skills improved as she placed the patterned poems in order.
Geography was her all time favorite subject as she spent time identifying, spelling, and locating states, capitals, and regions. She zipped through the Scrambled Letters activity. This activity reinforced the correct spelling of the state names and identification of their location on a map. The state was highlighted in yellow as a clue to the scrambled word.
Alyssa also explored the 3rd Grade Reading Comprehension area. She read several non-fiction passages about animals. For example, she read a passage about Sea Lions and then answered literal multiple-choice questions found within the text. She was allowed to view the passage again if desired. The book icon let her go back to the passage. More difficult words were highlighted in blue and could be read aloud by the computer when clicked on. Several other fun activities followed such as word scrambles,vocabulary work (antonyms and synonyms), and placing words in alphabetical order. We will be revisiting this section in the summer! It was a great way to practice simple text-based comprehension questions. She also LOVES learning about animals!
One Math unit that corresponded well with Alyssa's mastery-based curricula was the Fraction unit. She practiced identifying equivalent fraction, converted fractions into decimals, and compared decimals. We utilized this unit as both a review of previously learned concepts and a mini introduction to decimals which we'll focus on next year.
Ignore the bracket . . .
Every time we took a screenshot it showed up.
My daughter could check her unit performance scores at any time by clicking the star at the top of the screen. She was able to view the topics and percentages earned on her star chart. She liked seeing and telling me about her progress.
After Alyssa completes her daily work, I can also track and monitor her progress from the classroom page. I have the ability to print out personalized certificates and report cards if needed. This is a wonderful feature, however, I noticed that the dates didn't always match up and it didn't always record her activity. On many occasions, she had to redo the last completed activity in order to move on to the next one.
Certificate of Achievement
Unlimited Access to All Subjects and Grade Levels

Individualized Pace

Immediate Feedback

Auditory, Visual, and Tactile Learning Styles Addressed

Unit Marks Manager
Personalized Certificates and Printable Report Cards

Variety of Activities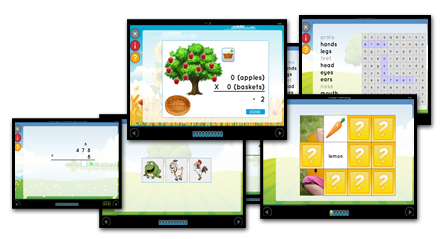 The website was user-friendly and easy to navigate. My daughter said that ESA would be one of her favorite programs to use if there weren't as many errors. She likes how it teaches many different subjects and how she can choose which topics she wants to learn about. She also mentioned that it breaks up the topics into activities that can be done quickly. I would have to agree with Alyssa. The program is well-organized and the meaningful and relevant activities seem to capture her attention.
I recommend this program to parents with

children between the ages of 4-12 in K through 6th grade who enjoy online learning. This is NOT a complete or comprehensive program. However, it will reinforce concepts and skills taught in other content subjects such as Math, Science, Reading, Geography, and Language/Grammar.
This

program

would be best for students who are struggling, having learning difficulties, or just needing additional practice.
My daughter enjoyed using this program most of the time. She'll continue using it over the summer as a way to prevent summer learning loss. We'll probably explore the 3rd and 4th grade Math and Reading sections further. I can't wait to see what other goodies I'll find as activities. It'll also be used as a supplement to our homeschool curricula next year.
Possible Vendor Suggestions
1.) Improve Glitches Throughout the Program - The glitches present caused my daughter a great deal of frustration almost to the point where she didn't want to use the program and she's usually pretty patient with minor issues. She had a love/hate relationship with it. When these issues have an impact on her scores it definitely upsets her more.
I've used ESA in the past. I've noticed that their layout has definitely improved and you can easily navigate the program, but the glitches are still evident. I was hoping my now the issues would have been resolved. I did send in a detailed support ticket, however, they were unable to duplicate the problem so nothing was fixed and the issue still occurred. One problem I noticed was that Alyssa was supposed to click on the correct state announced. She knows where most if not all of the states are on a map. The program wouldn't allow her to choose the correct state and it marked her wrong no matter what state was clicked.
Another error occured during the
Animal Sorting Science activity. She would click and drag any animal to the correct column, but it wouldn't let her. The directions weren't clear enough. She was supposed to drag all the animals into one column before moving on to another column. The Human Body activity also had issues. It wouldn't allow her to click the correct body part and she's known her body parts since she was a toddler. You can see the two red exclamation marks indicating an error was made below.
2.) Saving Work and Noting Progress - I also realized that my daughter would use the program, but it would not always save her work. She had to repeat activities (especially the last one) that were already 100% completed. On the same note, the parental reports did not always show her
usage correctly. I know, because I stood over her during the review period. I was hoping this program could be used more independently, but she wanted me to see correct answers marked wrong and view the glitches as they occurred.
3.) Assumed Background Knowledge - Some activities cover material not taught under the "gavel" lesson. Alyssa would try to remember that she needed to click on the gavel to read the concept lesson prior to completing activities. However, we came across a couple instances when questions were asked about topics that were was NOT taught or introduced. It was assumed that she KNEW the information without any exposure to it. For example, the program expected her to know how to convert Celsius to Fahrenheit when reading thermometers in the Weather unit. She needed to know what type of activity could be done during particular temperatures for both Celsius and Fahrenheit, but Celsius is a fairly new topic.

4.) Requirement - I wish the gavel lessons were required to be read before attempting any activities.
Price
Essential Skills Advantage seems comparable in price to most online educational supplements. You'll have to decide whether or not the price fits your budget and if you want to spend it on a supplemental resource.
$
7.99 per month for 1 student
$69.99 per year for 1 student
$129.99 per year for up to 10 students
Notes:
1.) Prices are subject to change without notice.
2.) They offer discounted pricing plans for multiple students. Visit the website
pricing
for more information.
Visit the
Schoolhouse Review Crew
blog to read many other reviews about the
Complete Home Learning Suite
from
Essential Skills Advantage
.