I wasn't raised in a home where prayer was emphasized or even a priority. In fact, I was never actually taught how to pray. Over the years, I have done my best. Although, I always feel a bit insecure when praying often asking myself if I am doing it the correct way . . . hoping I make sense.
I found a book that will help me become a "powerful praying parent." The book is titled
Carey Scott's Raising Godly Kids: A Book of Prayers
. It is FREE for a limited time! You can snag the Kindle version of this book until Monday, October 7th. If you don't have a Kindle, then download the
FREE Kindle reading app
for your computer. Check out
Carey Scott Talks
for more information about her new book.
The book covers 30 different prayer topics including but not limited to:
Forgiveness
Friendships
Salvation
Strength When Tempted
Respect
Purity
And More
I have another deal I wanted to share with you. Better check this one out ASAP! Have you heard of the
Typing Instructor Platinum 5 for Kids Downloadable Software for Mac
computers? We were able to get this software for
ONLY
40 cents using the discount code. It was on sale for $15.37 and the code took $15 off. My five-year-old daughter paid for it! You can choose from a variety of
digital software titles
. Be sure to check out computer requirements first! This offer is available for a
very limited
time. Please be aware that prices and discounts are always subject to change on Amazon. I originally saw this offer at
Stacie's Motherhood on a Dime
. She also offers a
1-Day FREE Movie Rental Redbox Code
. Head on over to her blog to grab the codes! I have used codes from her website including this one with success.
I will link this up at
Homeschool FreeBee Fridays
and
Frugal Family 2013
.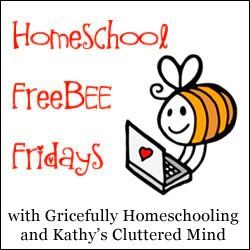 Enjoy! Thank you for visiting A Learning Journey!
Disclaimer:
I am not an affiliate for any companies or products mentioned here today. I just wanted to share some pretty awesome deals with you!