What happened to September? It flew by so fast! I realized that I haven't posted my Random Five in quite some time so I figured I would summarize what's been going on in our life this month in my homeschool mother's journal.
In Our Life This Week . . .
We had a great time on our camping trip. It was extremely HOT outside still so we might schedule next year's trip later in the month.
My hubby invested in a water filtration system for the house to help get rid of the sulphur smell and hardness of the water. I can already feel and smell a difference. We still have to use up the water that was stored in the water heater.
I started planning my daughter's sixth birthday party. The house and yard are definitely NOT ready for guests. We won't be having Alyssa's birthday party at the house this year. We knew we needed to find a different place. Well, we found a place and made a deposit. We will rent a small building that includes three party rooms: Sitting Area, Ultimate Black Light Dance Room, and a Bounce House Room. We are super excited and luckily I knew the owners, which makes it easier because I can trust them. I believe we have decided on a theme, but that's a secret for now.
I arranged for Alyssa to meet a piano instructor. My daughter asked us if she could take lessons. The lessons are more expensive than I thought, but we are going to participate for as long as we possibly can this year. She immediately texted her father and thank you message telling him that her piano lesson was AWESOME!
I also arranged for her to participate in a hip hop dance class this week. We stopped by one place the other day, but I am not sure Jeff was pleased with what he saw. The class tomorrow is much cheaper and may work better with our schedule. I have a feeling Alyssa will like the teacher and LOVE the class.
Random Five on Friday: Places We Went . . .
1.)
Garner State Park
- We attended the Rio River Trash Bash and Banquet held in the park that week. She willing donated her time to clean up the park. The group asked for leader volunteers and Alyssa volunteered. Of course they chose an adult, but she had everyone laughing first thing in the morning. The funny thing was she changed clothes three times that day. She started out in shorts, changed into a bathing suit when cleaning garbage from the river, and then she changed into jeans in the evening. We were trying to teach her about community service. We wanted her to volunteer her time and abilities for free to help keep her environment clean. However, the group sponsors surprised all the participants with gifts for helping. Alyssa won a $50 gift certificate and Jeff won an expensive lasso tray which will look great in his man cave. They insisted that everyone keep their presents. My daughter is holding on to her money until she can decide on something she really wants. I hope to post more Garner State Park photographs soon!
2.)
Grandma Mae's House
- We stopped by for a quick visit on the way home after our vacation.
3.)
Magik Theater
- We went to see Seussical Musical with Rylee, Michele, and Nana.
We were happy that Nana really enjoyed watching the show.
I am not sure why the picture is grainy.
4.)
Local Library
- We watch the movie EPIC at our library as a mother-daughter date. We ran into our friends and met another homeschool family. We played outside for a couple of hours.
5.)
Market Day
- Alyssa made another friend early one morning at the market. Thankfully, it was another homeschooling family so maybe she'll have a playdate soon. Our daughter surprised us by purchasing fresh veggies with her OWN money for dinner. Look what she bought for only $3.75! Of course . . . she made a few deals with the vendor. LOL.
In Our Homeschool This Week . . .
We received several curricula packages in the mail. I ordered late, because I had a hard time making a decision and then we left for vacation once I finally made a decision. It is a good thing we school year-round. I am also waiting on a few giveaway items that we won and plan to use as part of our curricula this year. Her Student Bible Atlas arrived.
One of the items that arrived was her
PreScripts
cursive handwriting book. She was happy to see that it only taught the letters and included drawing and coloring pages. This book is a much better fit for her this year. We immediately started lessons twice a week.
Our
WriteShop
curriculum also arrived. I have a little prep work to do before beginning lessons, but we are working on other writing assignments while I prepare her writing environment. I wish I had known ahead of time, but I can make do until we are ready to begin lessons.
I REALLY wanted to do a timeline in conjunction with her MOH history lessons so I finally broke down and purchased the black and white
timeline figures
from
Confessions of a Homeschooler
. They look awesome! I printed out a few pages and I'm working on organizing Alyssa's history binder. We are reading through the first four chapters in Story of the World while I organize more. I have several Story of the World resources to use while I prepare. Check out my Story of the World Resources post from last year.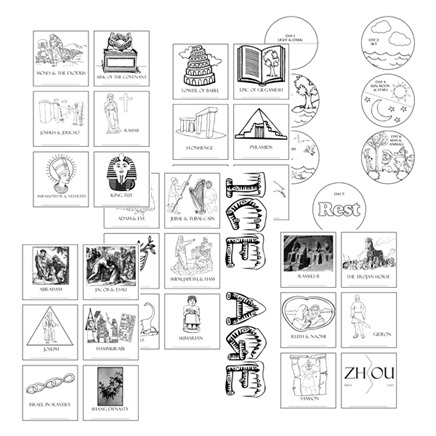 We attended a FREE Founder's Academy class discussing the Constitution. Alyssa enjoyed writing an acrostic poem for the words Liberty and Constitution after class. It was a neat experience! She also attended her first FREE American Girl CurrClick class. They discussed the book Meet Molly and learned a little about World War 2. She plans on participating in the next couple of classes provided that her extracurricular activities aren't on the same day.
She is loving computerized learning! Here is a list of the programs she used this month:
The links above will take you to reviews I have written about the programs in the past, directly to their website if I haven't reviewed the product, or to my
Homeschool Buyers Coop post
.
We are diligently working through Alyssa's Math-U-See Gamma, Horizons, PreScripts, and Flip Flop Spanish lessons while adjusting her schedule. She has completed several copywork pages this week. She took four math tests and one Horizons test making a 100% on each one. She reviewed how to write the letter A (both capital and lowercase) in cursive. I know I am missing something but I will come back and check it later when I have more time.
Read Aloud Books This Month . . .
White Fang - FINISHED
American Girl Meet Molly - FINISHED
American Girl Meet Addy - FINISHED
Tornado - FINISHED
My Father's Dragon - FINISHED first story in book
The Borrowers
You can see a list of a few of the books we want to read this year
here
.
Alyssa's List of Independent Reading Books
American Girl Kit Series Books 1-3
American Girl Meet Josephina
Pollyanna
If You Were There When they Signed the Constitution
I'm Still Praying For . . .
A fellow Schoolhouse Review Crew colleague who recently passed away. The mother had several seizures that led to a stroke. Then, she was in a coma state.
I'm Grateful for . . .
Treasured Moments and Time With Family
Rain
Fresh Veggies
Rewarded My Daughter
I took my daughter out for ice cream (Marble Slab) after she earned a special mother-daughter date with me.
Helpful Homeschool Deals . . .
Hands-On Equations Level 2 App
is FREE today ONLY
Liberty Kids The Complete DVD Series
is also available on Amazon for only $5.99. What?