ArtAchieve
has been one of our favorite homeschool art curriculums to review. We received a
one-year online license
giving us access to the
Entire Level II
bundle consisting of 14 individual drawing lessons for kids.
I have no artistic abilities or background knowledge when it comes to teaching Art. In fact, drawing stick figures is the extend of my experience. On the other hand, my daughter enjoys coloring, drawing, and painting using a variety of art mediums. Over the years she's grown into quite the little artist. I want to make sure she receives a well rounded education based on her interests regardless of my abilities so I try to expose her to the different fine arts.
John Hofland
is the creator and instructor of this online art program. There are five levels ranging from 8-14 lessons available on the website. Each well developed lesson contains a lesson description, bulleted supply list, estimated times to complete the lesson, cross-curricular suggestions, and some lessons have examples of final projects. The website offers an assortment of educational resources and links related to the art project. Hofland encourages children to submit their artwork so that he can post it to his website. Artwork examples give other children ideas for their work. These online art and drawing lessons for kids can be completed by children of
all ages
even adults will enjoy the lessons. Younger children may need adaptations or assistance. Several project lessons offer appropriate age or grade level recommendations based on the techniques implemented and art mediums.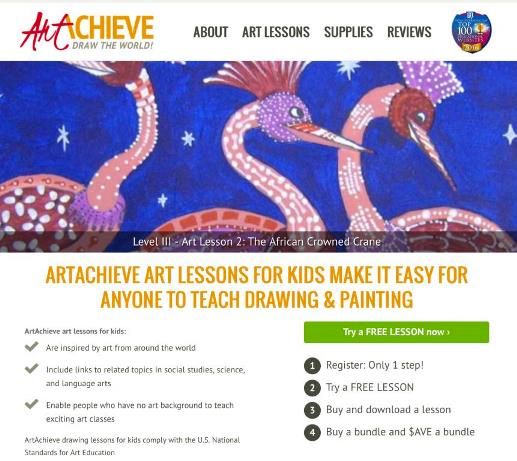 Entire Level II
Art Projects
The Swedish Dala Horse
The Korean Wedding Duck
The Japanese Goldfish
The Elephant from Ghana
The Ukrainian Cat
The German Nutcracker
The Sri Lankan Landscape with an Elephant
Tessellations: Repeating a Pattern to Create Original Art
The Ukrainian Rooster
Hiding Butterflies
The Mexican Mask
The Russian Fortress - Color Value and Analogous Colors
The Polish Szopka
The Mermaid from Denmark
I used ArtAchieve with Alyssa (Age 8) as her core Art curriculum. The art lessons were uploaded to our account after creating a password. The lessons can be done in any order. The lessons were available in two formats. I asked my daughter to check out both the PowerPoint slide presentation and the video format for her first lesson. My daughter preferred watching the video over the slide presentations. She could listen, watch, and work through the lessons. She could also pause the video when she needed more time to draw. Music could be played as a child works on their project. We listened to calming Classical or Instrumental music on our computer as Alyssa created her masterpieces.
We completed at least one lesson project each week. We worked on ArtAchieve lessons approximately 2-3 times per week for 25-90 minute sessions. Some days it was easier and quicker to break each lesson into individual segments. The notes about the approximate time needed to complete each project are helpful when dividing lessons up over several days. Other days artwork required longer drying times. The project was broken up into manageable chunks due to the lesson layout. The video presentation was organized by titles which easily led to the perfect stopping points.
Each video lasted approximately 20-30 minutes. We did not complete the lessons in numerical order. We chose projects based on my daughter's interest level and current studies. Several art projects allowed us to review previously learned concepts such as the El Día de los Muertos (The Day of the Dead) and Hiding Butterflies.
We used this drawing program for kids on a MAC computer OS X 10.9.5 Adobe Reader was needed for the warm-up grid exercises and project printables available in PDF format.
Before receiving our lessons, we completed the
FREE
Simple Lines Art lesson from Level 1 which is the first lesson from this level. I suggest that ALL users complete this FREE lesson first, because it is the foundation of the program and all future lessons. The interior wall design of a Polish church was examined for different types of lines.
We learned about the six different types of lines: Straight lines, dots, curves, ovals, angles, and wavy lines. ArtAchieve provided us with a body movement line exercise which actively solidified learning. Alyssa used her body to create lines. This lesson also included an engaging line scavenger hunt. These two fun activities motivated my daughter to find lines in her surroundings.
Fine point Sharpie markers were utilized during the drawing lesson to help prevent and eliminate erasing. Pencils were occasionally utilized for more difficult drawing lessons. A list of art supplies are mentioned ahead of time so you can pause and prep if needed. Minimal prep time is required and no planning if you follow the lessons as stated. I simply printed out the warm-up exercises and drawing reference sheet of the subject.
Basic Art Supplies Needed
Fine Tipped Black Sharpie Markers
Pencils
Colored Washable Markers
Watercolors
Acrylic or Tempera Paint
Chalk Pastels
Oil Pastels
Round Paint Brushes (Varies Sizes)
Masking Tape
Glossy Photo Paper
Watercolor Paper
Glitter Glaze or Paint (Optional)
Paint Pens (Optional)
Paint/Drawing Board
Paint Palette
Rinse Container
Apron and Table Cover
Glance at the Mermaid from Denmark Lesson
You must first log in at the top-right corner of the screen to view your lessons. You'll need to type in your e-mail and password. A list of lesson titles will be seen. Alyssa chose The Mermaid from Denmark as her first lesson. This particular lesson was meant for children in 3rd grade and up. She clicked on the lesson title or the "+" which opened a drop down menu. This is where she choose which lesson format she wanted to view. I printed the PDF formatted printout of the mermaid drawing and the warm-up. An icon of an arrow pointing downwards represents a downloadable printout.
We watched the entire video presentation beginning with the relaxation lessons. Alyssa would quickly rub her hands together until they felt warm. Then, she placed them over her eyes to relax. Deep breathing exercises were practiced too.
Clear Instructions
Warm-up grid exercises were next on our agenda. Different types of lines and curves were copied into the empty grid boxes below the drawing. These particular lines are parts of the mermaid art project. These exercises help improve fine motor skills.
The project begins with a history lesson centered around a real life object, artifact, image, or piece of art. Historical background information was shared.
The Mermaid from Denmark
art project was centered around a Danish coin as seen below. No inappropriate images are seen because the mermaid faces away from us.
Two more examples of object inspirations from this bundle were the Swedish Dala Horse and the Korean Wedding Duck.
There was a list of national standards and learning objectives for the lesson at the beginning of the video. Furthermore, class rules were stated such as keep silent so you can focus, draw for yourself not others, there are no mistakes, and you shouldn't erase anything.
We continued to work through the guided drawing lesson presented by John Hofland. The first part focused on the subject and the second part of the lesson taught us how to draw the background. Alyssa and I watched the video together. My daughter would often re-watch video sections to refresh her memory.
Throughout the lessons, the instructor offered suggestions such as using planning dots when drawing. He also used line lengths to approximate the lengths of newly drawn lines. Hofland guides the students with clear step-by-step instructions. Alyssa focused on drawing the subject of the lesson. His words were encouraging as he discussed "mistakes" and encouraged users to complete a project before deciding whether they like it or not.
This is the time where Alyssa was able to personalize and add her own unique style to the artwork. She also learned that she could outline the main pencil drawn subject with black glue to make it pop off the page. This technique really brings the subject to a focal point in the artwork. She had to be careful and work slowly so that globs of glue didn't come out.
The last step was to paint her artwork and finalize her color selections. After the glue was dry and hard, she added the final touches such as color and texture details using oil pastels. A watercolor art medium was used to paint the mermaid tail with our favorite colors. The combination of art mediums gives the work an oil resist effect.
Then, she painted her artwork using watercolors. I remember Alyssa's face when she completed this project. She was so excited and proud. She was persistent, determined, and patient until the end. She added a little glitter glaze paint over the top of the entire page to make it sparkle and shine which gave it a magical feel. The reflective questions at the end of the video lesson helped evaluate her work and ignited a great conversation.
Glitter Paint Glaze
Painting and Coloring Other Projects
Our Overall Experiences
ArtAchieve definitely helped my daughter gain confidence with drawing, coloring, and painting. She paid attention to details more and made careful observations to eliminate "mistakes." The additional cross-curricular lessons enriched her learning experience. The lessons made it easier to extend learning. For example, when completing the Mermaid from Denmark art project Alyssa learned about and located Denmark on a map while viewing scenery videos. She also read, The Little Mermaid from a Hans Christian Andersen book in addition to reading other mermaid legends, stories, and poems. She watched The Little Mermaid. Another lesson plan suggestion related to the project was to cook Danish recipes, but we didn't have certain ingredients. She also researched the History behind Columbus's mermaid viewings. This particular lesson provided a link to a helpful watercolor technique video.
Alyssa's favorite art project was the Mermaid from Denmark, because she adores all things mermaid right now. So far this was the most complex or complicated project, because of the skill level needed and variety of art mediums utilized. Her least favorite project was the Japanese Goldfish. She didn't want to add a background to it. Who knows . . . maybe she'll revisit the project at a later time.
ArtAchieve fosters independence, individuality, and creativity. The lessons weren't just about creating individualized masterpieces. Concepts and art elements were taught including but not limited contrasting colors, cool and warm colors, motif patterns, symmetry, and camouflage.
Symmetrical Mask with Motif Pattern Design
Symmetrical Butterflies
Camouflaged Use of Contrasting Colors
What We Liked
Cross-Curricular Lesson Plans
Detailed Instructions
Helpful Teaching Tips
Variety of Art Mediums
Usage Flexibility
Choice of Presentation Formats
Engaging Object-Oriented Lessons
Child-Friendly
Project Creation Success
Historical and Cultural Background Knowledge
Possible Vendor Suggestions
I would make clickable Internet links within the videos giving immediate access to online content.
I wish the program was available in DVD format making the lessons more portable. We could only watch them on our computer.
Please continue to add more projects to each level. It would be great if eventually each level had 32-36 weekly lessons. Then, parents could choose one specific level to use each school year.
I would appreciate leveled grid box drawing exercises for ALL projects allowing for more practice.
Recommendations and Results
I

HIGHLY

recommend the Entire Level II ArtAchieve bundle to ALL homeschooling families. Private or public school art teachers may find this program useful. This is one of the BEST art programs we've tried so far! The cross-curricular lesson plans makes this drawing program for kids appealing to all types of learners.
My daughter gained more confidence with her artwork even when making what she considered "mistakes." Her drawing skills definitely improved. Each project ended as a successful art lesson. I was thoroughly impressed with the results! She was proud of her accomplishments. Personally, I have to say the ArtAchieve program uses an effective method for teaching drawing. I have absolutely no artistic background at all and I was surprised with my results after completing lessons. They didn't look like plain and simple stick figures anymore.
We completed SEVEN projects during the review period and we are currently working on the Elephant from Ghana. Many projects were divided into smaller, more manageable chunks enabling us to do Art more often. We'll continue to use ArtAchieve throughout the summer and into the new school year. We'll redo several art projects since we have a one-year license. Projects can be repeated using different patterned motifs, color selections, or background designs. I hope that I will eventually be able to purchase Level 1 and 3 in the near future. Reviewing the Entire Level II Bundle was a blessing and honor.
Alyssa's Final Art Projects
Price
You can purchase the ArtAchieve Entire Level II bundle at a cost efficient price. A one-year license costs $53.00 (retailing for $70). You'll save 25% which means you are paying ONLY $3.78 for each art lesson. In my opinion, that's definitely worth the price and is affordable. You can also purchase lessons from this level individually to enhance any curriculum for only $5.00 each. Check out the free and on sale sample lessons. Don't forget to try the Simple Lines lesson.
Social Media
Facebook
Twitter @artachieve
Pinterest
Google+
Instagram
Visit the Schoolhouse Review Crew blog to read more ArtAchieve reviews.