Kayaking for Kids 101
It is important to stay cool during the rising summer heat temperatures. Kayaking is one way to stay cool on a hot summer day. Find out how we turned our pretend kayaking into a science lesson.
Kayaking Steps
Make sure temperature outside is extremely HOT on a summer day!

Flip Daddy's kayak down on the ground outside.

Turn on the water and make sure hose is connected and ready for use.

Fill kayak to the brim with water and ICE chunks. Yep, that's what I said ... ICE! It was her idea! First, I asked her to predict what would happen to her ice cubes. Then, she placed several in the kayak. W

e discussed changing states of matter. We talked about how the ice cubes melt and change their form from a solid to a liquid. She also learned that heat can change matter. She saw that the ice melted quickly in extremely hot temperatures. The hotter it is outside; the faster the ice cube will melt. We also placed an ice cube on a plate and waited for it to evaporate. We checked several days later. It would have been more fun to color the ice cubes or to hid tiny objects while freezing the ice. This activity could be easily done with a kid's pool.

Jump or run into the kayak at full speed (safety first).

Splash and play in the cool water like there's no tomorrow.
Note: Do NOT change into bathing suit for added fun! Wear your regular clothing in the kayak. This is usually what happens when Daddy watches Alyssa.
PLEASE DO NOT DO THIS AT HOME!
(NOT)
Although ... parents are responsible for the actions of their own child.
I will link this post to the The Schoolhouse Review Crew Blog Cruise. To read more about how others are beating the summer heat click here. I am sure you'll find some creative ways to keep cool.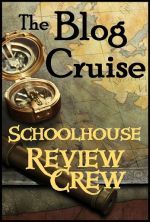 I will also link this post at the following blogs. Please feel free to comment.