My husband worked a rat the other day. A WHAT??? A rat is when he works an extra overnight shift at the fire station. He gets paid to work 24 more hours
after
his last shift. He couldn't pass the offer up! Apparently, rats are few and far between for lieutenants in his area. This particular "rat" will help pay off the countertops we just purchased last week for the house we'll hopefully begin building
soon
.
Well, that has hardly anything to do with today's topic. Alyssa has been a little down lately because he's been so busy and working long hours. I recently posted about his return from a three day work trip
here
. Unfortunately, bless his heart, Jeff missed game night last week
and
this past week. Friday's game night revolved around a few language arts games we own that are thankfully not in storage. We also played MANY games from our
Reading Games in a Bag
and
Math Games in a Bag
e-books published by
Activities in a Bag
. Please follow my blog or check back in a couple days for my review of these two fabulous products. You will be able to view photos of a few games in action and read about our experiences with both game e-books. Alyssa and I played Reading Games in a Bag that reviewed sight words, syllables, and letter sounds. We also played several Math Games in a Bag covering addition, number recognition, and place value. I don't want to spoil this week's review so pictures will
NOT
be posted at this time. I will, however, discuss one of our favorite literacy games.
One of the games we played was
Erudition
and it will be my main focus for this post. Be sure to check out their website soon because I noticed that the game is actually 40% off right now - that means they are currently selling it for $14.99. I am sure this is for a limited time. So ... if you are looking for a great Christmas gift or just an educational game for your child or family this year - you must check out this game. This is the lowest price I have ever seen for this game. This educational game is an outstanding way for your children to learn letter sounds, letter formation, sight words, syllabication and more. I bought this game for Alyssa as a Christmas gift about two years ago. This game was one of the items we used to improve her literacy skills dramatically helping her to become a better and more fluent reader. You can easily adapt the game versions to suit your needs and your child's abilities. That is exactly what I did the other night! I have done this in the past ... I just never got around to posting it.
As many of you know we use and LOVE the All About Spelling (AAS) curriculum. It has been awhile since Alyssa completed AAS Level 1. I have slacked on starting Level 2 even though I purchased it to begin this fall. We will eventually begin Level 2 but first we will do a
very
quick review of all lessons presented in the first level. We are constantly reviewing the leveled words in a variety of ways. One way she practices the words is through the use of several online programs which reinforce the concepts and her learning. We are currently using
Samson's Classroom
and
Vocabulary Spelling City
. She spent time using both programs today (her request). You can read my reviews for those products by clicking on the linked product names above.
Erudition Adaptations
Note: Adaptations are highlighted in yellow.
It was a very simple adaptation. I set aside the Erudition letter cards and pulled out the yellow AAS phonogram cards. We played the game as intended except that before Alyssa could move her game piece, she was required to give all the letter sounds for the card drawn.
You could also use their letter cards. The letter cards that come with the game show both lowercase and uppercase letters. There are a few extra consonant team cards provided if you use the AAS phonogram cards with this game. This proved to be an effective way to review the letter sounds presented in AAS Level 1 which in turn is being used in conjunction with Excellence in Writing's Primary Arts of Language (PAL) curricula. I will be posting my review for PAL at the beginning of November so PLEASE CHECK BACK soon. You won't regret it!
We also used the sight word cards and I required her to spell each word before moving her marker. I have been known to replace the Erudition sight words cards with the green AAS word cards.
She has been able to read many if not all sight words for years now so our focus has shifted to spelling the sight words. She can fluently read all of the words provided with the game hence the reason why we stepped it up a notch. This gameboard can be used in
many
educational and creative ways. I will try to post about ways to use this board in December, but there's no guarantee since we are pretty busy during the holidays.
You can even make your own sight word board game. Click
here
for directions. You can also read about activities that develop sight word fluency and word recognition
here
. The website contains some pretty amazing resources. There are a variety of blank gameboard choices online if you google it. I know
Donna Young
has a small collection of printable gameboards available too.
I love this colorful enticing gameboard!
One of the sounds for "CH"
We spent a few hours together enjoying our mother-daughter Friday game night!
I will link this post at
Marcy's Ben and Me blog under her Friday Fun School
linky. Come join in on the blogging fun - what you post doesn't have to happen on Friday. This linky will only be open until Monday night.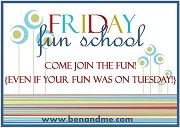 Disclaimer: I purchased this game with my own funds. I paid for it myself and LOVE it so much I wanted to tell you about it and share how we use it in our homeschool day. I am not an affiliate or employee nor do I benefit in any way by posting about this game. These are my opinions and experiences that have NOT been influenced in any way by the company.