The Schoolhouse Review Crew is hosting a "Preparing for the Holidays" Blog Hop. This is
FIVE DAY
long blog hop event that begins the first week in November. This is a special treat for me because it begins on my birthday. I can't wait to read everyone's blog post topics - I just hope I don't get too distracted because I have an out-of-this-world curriculum review due that week too. Everyone can participate and join in on the fun even if you are NOT a member of the crew. Every single day that week we'll blog about a specific topic and link it up. You can participate in one day, a few days, or every day. Check out the timely topics below! You know you have
something
to write about that week
.
We hope to see you participate in this blog hop! I will be posting on the topics for November 6th and 9th (if not more). You'll want to check my blog on November 6th for an outstanding recipe!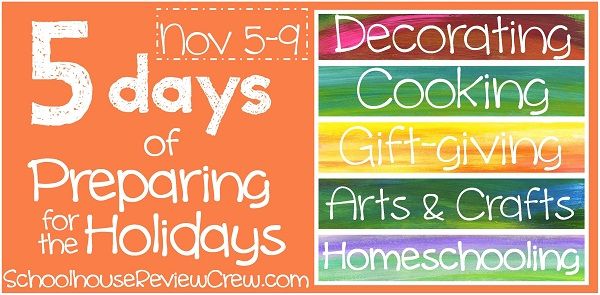 Steps to Help You Begin (I am definitely not an expert so add or delete steps if necessary.)
Pull out your calendar and jot down the date so you won't forget.
Start brainstorming possible ideas for each topic.
Choose a final topic for each day.
Write or type your post in draft form.
Edit and revise your content until you are happy with it.
Link up your post for that specific topic on that particular day.
Read and try to comment on other posts during your free time.
Our Rules
Yes, there are a few simple rules (please follow them or your post will be deleted):
There will be a new linky each day. Add your post by clicking the "Add your link" tab at the bottom of the screen.
Link to the URL for the specific post and not to your blog's home page.
You must include the button as seen above within the post and/or on your sidebar.
Let me know if you will be participating. I will try to stop by and read your post.
Thank you and God bless,
Tracey