Everyday Cooking
from
Everyday Homemaking
arrived in the mail for us to review. I also received the digital downloadable file while I waited for the book's arrival. I immediately started baking and cooking after downloading a few recipes in PDF format.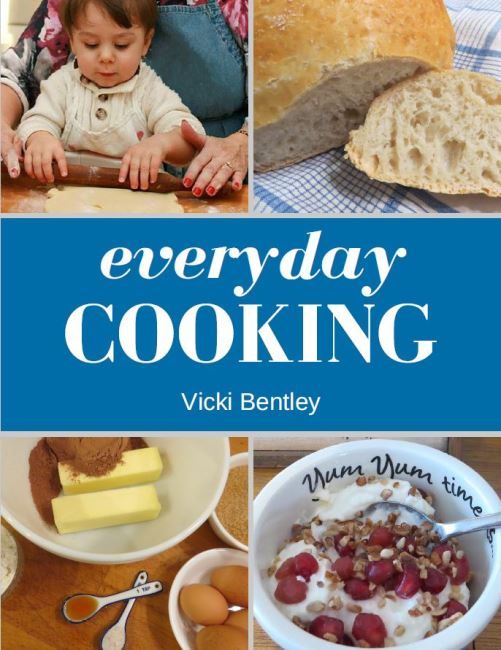 About the Author
Everyday Cooking was written by
Vicki Bentley
who is a homeschool mother to eight daughters. Mrs. Bentley also fostered over 50 children. She is the author of My Homeschool Planner, The Everyday Family Chore System, Home Education 101: A Mentoring Program for New Homeschoolers, and several other helpful homeschool and homemaking resources. Everyday Cooking is an expansion from the cooking chapter in the Home Education 101 book.
The newly revised and expanded Everyday Cooking cookbook edition contains a whopping 198-pages. I couldn't wait to dig into this resource! As a busy single homeschool mother, I was also looking for recipes that fit my budget and schedule. I also wanted Alyssa to learn basic kitchen and cooking skills. We are both cookbook junkies addicted to cooking and baking. My goal is for my creative aspiring chef to be self-sufficient when she is older and has her own place. I also wanted us to eat more family meals at the dinner table rather than quick, convenient, unhealthy foods.
The paperback cookbook is coiled-bound which makes it convenient to use allowing it to be opened flat. It has a laminated glossy full-color cover with very few black and white recipe photos throughout the text. It contains a collection of tried and true family-friendly recipes including Instant Pot recipes. The author states that the book contains more tips, hints, and recipes than the previous version.
Recipe Categories
The recipes are organized into typical grouped categories.
Breakfast Ideas
Appetizers, Dressings, and Drinks (Including buffet tips)
Breads and Grains
Main Dishes, Soups, and Sides
Desserts and Snacks
Instant Pot or Pressure Cooker Favorites (at the end of the book)
The cookbook begins with a
Dear Friend
letter and a
Table of Contents
. Blooper stories are scattered throughout the book and indicated with a broken egg image. I could relate to several of the stories mentioned. Time-saving budget-friendly tips are found in the gray boxes. Blank "Note" pages follow each recipe category for you to jot down your thoughts about the recipe section. Some ingredients are italicized indicating that there is a recipe matching the ingredient in the book. For example, under the Stuffed Shells recipe the
Spaghetti Sauce
recipe is italicized.
There is an emphasis on cooking with whole foods and for healthy living yet the author isn't a strict purist she still included many delicious desserts. Sugar and white flour substitutes were sprinkled throughout the book. I was pleasantly surprised by the number of chocolate recipes in this book. She must have several chocoholics like me in her family. The
Dessert
section contains helpful
Cocoa and Baking Equivalents
which were useful to me, because it makes it easy to switch out different types of chocolate ingredients.
I really like that the recipes are easy-to-prepare with a common ingredient list and simple step-by-step directions. The recipe titles are in bold print and a decent amount of space exists between the recipes. The cookbook layout is straightforward and user-friendly.
A
Homemade Vanilla Extract
recipe comes after the
Dessert and Snacks
section. The recipe contains alcohol so it was placed separately from the rest of the collection so that you can remove it if desired.
Low-Carb and Gluten Free Pantry Helpers
are towards the middle of the book. The author offers a book recommendation at the top of the page. In this section, she reveals sugar substitutes and provides the reader with a
Baking Blend
and
Chocolate Syrup/Sauce
recipe. She also discusses
Egg White Substitutes or Equivalents
.
Basic Measurements and Helps
can also be found in the middle of the cookbook. The author further discusses her use of specific types of sweeteners, oil, and flour in addition to offering other baking and cooking tips.
Furthermore, Vicki Bentley includes a section about
Meal Planning with Shopping Hints
. She describes three main factors for food selection as part of our diets. She explains the importance of shopping with a grocery list and shopping within a tracked estimated budget. She discusses what the Bible says regarding healthy food choices. The author also provides the cook with two sample monthly menu plans in grid and chart format in addition to two blank templates to fill in with your own meal choices. The second meal plan has a special note section for prep ahead suggestions.
Monthly Menu Sample
A helpful two-page
Checklist of Basic Cooking Skills
that could be utilized as part of a basic home economics course is also included. Students can choose recipes from each category to make from scratch. I plan on having Alyssa do this beginning in the fall. I want her to be armed with meals she can cook independently as she gets older. A one-page section of the author's
Food and Nutrition Mini-Unit
is included in the book. It is a one to two-week unit with a numbered list of activities to complete. It is suitable for students in junior high and high school, but it can be easily adapted for younger children with adult supervision. The unit allows the student to earn a full home economics credit at their own individualized pace.
The checklist and mini-unit are followed by a one-page list of Basic Kitchen Accessories and 7-pages of Kitchen Equipment descriptions and black and white photos including tools such as the grain mill, mixer, cookware, and non-stick skillets. She offers great shopping advice.
Furthermore, there is a two-page
Tortoise and the Hare
comparison of slow cookers versus modernized pressure cookers. The author contrasts the similarities and differences of the two pieces of kitchen equipment. The cookbook also contains an Instant Pot and slow cooker recipe for Chill-Chasing Brunswick Stew showing you how they differ. Many other applicable pressure cooker tips exist in the book.
A list of Instant Pot parts are mentioned followed by a glossary description of each Instant Pot function. One tip that I appreciated was that time is the same whether you cook a little or a lot in the pressure cooker, but that food still cooks in approximately 1/3 of the time it would in a conventional oven. This is a good rule of thumb to consider when cooking. The book also indicates the common times and functions necessary for a list of specific predetermined foods. Website links and 6 qt DUO Instant Pot recipes are provided. Chicken and Bow-Ties in Sauce and Yogurt are first on my list of recipes to try in the Instant Pot! Making homemade yogurt from scratch sounds like fun. I am just not sure what to do with the whey.
A useful
Index of Alphabetized Recipes
and
Time-Saving Tips
is found at the end of the book making it easy to find recipes or tips you are interested in reading.
Our Experiences with Everyday Cooking
The Everyday Cooking cookbook was utilized with Alyssa (Age 9) as a homeschool home economics class that teaches basic kitchen skills over the summer. Utilizing the cookbook over the summer made life easier, because our schedule wasn't as hectic and busy with school. My daughter loves cooking and baking. She's always been a great helper and constantly asks for more time in the kitchen. She has some experience cooking in the kitchen with me. My hope is that I will gradually release control and after modeling cooking methods I will allow her the opportunity to take control with supervision. I also used the book while she was gone to add more variety to my meals. I read through the contents of the book and glanced at the recipes first. I marked pages of recipes I wanted to try from a variety of recipe categories with Post-It Notes based on the ingredient lists and my taste buds. When my daughter came home, she used a different color Post-It Note to pick and choose the recipes she was interested in making. We shopped together for the ingredients needed on our meal plan as part of the learning process.
The cookbook was propped up in a book stand while we made the recipes. We planned out a few economical meals together. Most of the meals were made together to increase bonding time and for modeling purposes. Family time is of great importance to me and we enjoyed working together. We utilized several of the cooking, prepping, and storage tips offered throughout the book. In the end, Alyssa and I found many new family favorites that we plan on putting in her recipe binder for the future.
We attempted to try a recipe from each category, but we leaned more towards the Desserts, Main Dishes, Soups, and Breads. The first recipe I made was the
Stuffed Shells
with homemade
Spaghetti Sauce
. I also made the
Cheese-Garlic Biscuits
. Stuffing each shell took a lot of time, but it was worth it in the long run. The meal was absolutely delicious! I added some extra spices to the sauce and ricotta mixture to suit my family's taste buds. I also added a little more fresh spinach and Parmesan cheese (by accident) to the ricotta. I forgot to divide the amount of Parmesan cheese, but it still tasted great. We might be making homemade spaghetti sauce more often which will save money. It gave the meal a more authentic taste. I ended up putting the canned tomatoes in the food processor and then later adding a half of a 15 oz can of petite diced tomatoes. I baked it in a 13x9 aluminum foil cake pan. I didn't use all of the shells, because they wouldn't fit in my container. Crushed red pepper was added to individual dishes for adults wanting to make it a little spicier. The only thing needed to make this meal perfect was a green vegetable so I added a spinach salad with Tuscan Balsamic Dressing. My friend also thought the meal was really good. Remember when making the Cheese-Garlic Biscuits the herb butter goes on AFTER they cook not before. I accidentally put it on before and they turned out fine. Next time I will use less parsley and more garlic. These biscuits were soft and moist. They tasted a little like Red Lobster Biscuits. The recipe made 11 biscuits.
The next recipe I tried while my daughter was gone thanks to my lovely little sweet tooth were the
Chocolate Chip Treasure Cookies
. The ingredient lists caught my attention . . . coconut, nuts, chocolate chips, graham cracker crumbs . . . oh my. I had to try this recipe! The ingredients immediately reminded me of the Magic Cookie Bars on the back of the Keebler Graham Cracker crumb box. The ingredients and amounts are very similar. I made a batch and shared the cookies with friends. They were very popular especially individuals with sweet cravings. The cookie batter was extremely thick and required no eggs. If you are using this recipe with younger children, then they may need help stirring it. I might add a little peanut butter, peanut butter chips, or PB2 peanut butter powder to the mixture next time. I feel like it might need a little more butter too. The recipe made 40 cookies.
I made the Farmer's Frittata for dinner one night. The layering process was simple. The frittata was layered with veggies, potatoes, meat, and sprinkled with cheese. I added an extra egg (x-large), more meat (turkey sausage and bacon), and additional spices for more flavor. I was surprised by how fast it cooked in the broiler. It tasted pretty good. I was just hoping it would have all mixed together.
I knew when I saw the Apple Crisp recipe that we had to make it. The flavor was on target, but it seemed a little too dry for my taste buds. It might be helpful to add more fresh apples, less oatmeal, or less dark brown sugar in hopes to decrease dryness.
Hamburger Stroganoff
The recipe was made with ground beef as indicated in the ingredient list. Onions were eliminated and we chose to use fresh chopped mushrooms. This added so much flavor to the meal. We didn't make the CreamO Chicken Soup recipe from her book. Canned Cream of Chicken Condensed Soup was added as a replacement. The cookbook offered two pasta suggestions. We chose brown rice over hot noodles. This was another successful meal made in a short amount of time.
Russian Teacakes
This was our first time making Russian Teacakes. I always thought it would be too complicated, but it was a simple process. They were super sweet and delicious. We plan on making them again around Christmas time. We used smaller Pecan Cookie Pieces instead of finely chopped nuts. This recipe only called for a few ingredients. I'm surprised that it took us this long to actually make them. My daughter frequently requests these cookies.
Making Russian Teacakes
Chicken and Dumplings
This is a wonderful chicken and dumpling recipe! I didn't have any canned chicken broth so I made it using bouillon cubes and water. The recipe was made using celery and baby carrots as the vegetables. I will let you know that we always add more seasonings to most of the meals we make, because we crave more flavor and spice than most people. The recipe will definitely go in Alyssa's recipe binder. One thing I appreciated about this recipe was that my daughter was able to make the Dumplings from scratch instead of using processed or canned biscuits.
Baked Oatmeal
We made this recipe twice. The first time we made it with apples, but I was distracted and completely forgot to add the milk. That was a big mistake! Don't make the same mistake I made. The recipe ended up being more like a damp granola. My daughter ate it with milk. I was so upset with myself for forgetting it that I didn't eat it after sampling a bite. The second time I made the recipe I remembered the milk, but when I cut the apples they were moldy around the core. Thankfully, instead of apples I added extra raisins and added cranberries as a dried fruit replacement. My daughter said that it tasted great and ate leftovers for several mornings. We both prefer the apples and will make the recipe with apples and milk in the future. We ended up adding 3 teaspoons of cinnamon instead of 1 teaspoon to the oatmeal. I also soaked the raisins in warm orange juice. The author's tip was to soak the raisins in warm water to prevent the raisins from clumping or sinking to the bottom. Pecans were chosen as our preferred nut. I might try walnuts next time. We couldn't find Sucanat so we used dark brown sugar and granulated sugar. We did substitute unsweetened applesauce for the olive oil. I learned that tip years ago even though Vicki mentioned it in her book. I tend to like the recipe more when I use the applesauce. I also always use extra large eggs in all of my recipes regardless of the ingredient list or recipe directions.
First Baked Oatmeal Attempt
Second Attempt

Chicken Schnitzel
We cooked the Chicken Schnitzel two different ways. We pan-fried the chicken as indicated in the cookbook. Unfortunately, my daughter was placed on a strict diet because the ENT doctor believes that she has acid reflux instead of asthma and allergies. This occurred shortly after we received this cookbook. The diet stated that she couldn't have fried foods so we decided to bake several pieces for her to try. I allowed her to try a small bite of mine and she preferred the baked version. It was served with roasted asparagus and seasoned buttered egg noodles. This recipe was a hit! Alyssa asked me when I could make it again and if it would be sooner than later.
First Photo: Baked Chicken Schnitzel
Second Photo: Pan-Fried Chicken Schnitzel
Zuppa Toscana
I made this recipe on top of the stove instead of in my Instant Pot. I haven't yet learned how to use it and didn't want to chance it with a new recipe even though Vicki offers useful tips. We used kale and ground Italian sausage. I also eliminated the onions since we aren't fans of them. This was an excellent soup recipe and is a keeper for our recipe collection!
No-Knead Crusty Bread
This is the one recipe that just didn't work out for us. We followed the exact directions, but the bread after rising for more than 12 hours would not even, with extra flour, form a ball in order to bake. It was like slime. I am not sure if it had to do with humidity or the temperature in my home. We ended up giving up and tossing the batch out.
The Everyday Cooking cookbook is a valuable resource choked full of practical time-saving tips for busy families. For example, we learned tips for making your own self-rising flour and buttermilk. Did you know that to make self-rising flour you only need all-purpose flour, salt, and baking powder? Not to mention, the handy step-by-step instructions and black and white photos showing the process and dough consistency of baking bread were awesome.

Everyday Cooking simplifies cooking for all ages with common easy-to-find ingredients. The nutritious budget-friendly recipes will help you plan out your weekly or monthly meal plans. My daughter ate all of the recipes without complaining. The family-friendly meal suggestions were outstanding and could easily be modified for your family preferences.


Our favorite recipes were the Cheese-Garlic Biscuits, Chicken Schnitzel, Russian Teacakes, and Zuppa Toscana. Our least favorite recipes were the No-Knead Crusty Bread for obvious reasons and I wasn't a huge fan of the Apple Crisp. It was a bit too dry for my taste buds. On the other hand, my daughter said it was perfect just the way it was and no changes were needed. It's your choice so give it a try when you buy the book and let me know what you think.
We will definitely make more recipes from this cookbook this year. In fact, we already have several Post-It Notes in the margins for recipes we want to try. I hope to give Alyssa the checklist and to schedule more cooking lessons as part of her schooling. She's very eager to cook independently.
Recommendations
I
HIGHLY
recommend Everyday Cooking to new, budding chefs, and experienced cooks. This would be an excellent gift for a new bride, preteens, or for your teenagers. I recommend this book for homeschool families as a basic cooking course. It can be used with both girl and boys. Kids of any age are bound to find recipes that appeal to them. They will most likely find recipes that they want to try making on their own. Some basic cooking experience may be beneficial. If your child has no experience with cooking, then they would need a parent is modeling, supervising, and involved in the process. This cookbook has encouraged my daughter to cook and bake more often.
Vendor Suggestions
I wish the author would add more color photos to the recipes to draw in the reader's attention. There are no colorful photos included in the actual cookbook. There are a couple of black and white images in the cookbook of kitchen equipment and the process of baking bread. Photos are NOT included for ALL recipes.
A Whey recipe section or additional tips could be added giving more specific suggestions on how to use it after making the homemade yogurt.
Several recipes are missing relevant information such as measurement amounts or sizes. For example, what kind of apple and what size is needed for the dessert? I know this allows for personalization, but information helps first timers. This was especially true for the Baked Oatmeal add-ins and other apple-based recipes.
Prices
Vicki's books including Everyday Cooking are available through their
Everyday Homemaking online store
.
Print Version $19.99
Digital E-book Format $15.99 (pdf format)
The cookbook is offered in 2 colored cover options: Red or Blue.
You can use the coupon code
TOS10books
at checkout to receive a 10% discount through Labor Day.
Social Media
Facebook
Tag: @everydayhomemaking
Visit the
Homeschool Review Crew blog
to read other Everyday Cooking and The Everyday Family Chore System reviews. You can also find reviews for The Everyday Family Chore System written by crew members on the team.