One of my absolute favorite holidays is Christmas! I strive to create MANY special traditions that will bring our family together while creating positive memories that can be cherished forever. I started this tradition three years ago and will continue doing it every year ... as long as my family will let me. This is done as one of our advent activities to help us countdown the days until Christmas. We also try to do an activity with each piece of literature read.
Last year the first twenty-four books were wrapped in gold and the last book was wrapped in purple wrapping paper.
After wrapping all of the books, I
placed them in a large festively wrapped basket in the living room
under the front part of the tree.
The year before that they were inside a large festive box.
E
ach night Alyssa selects one numbered book that will be read together as a family.
I number the books so that I can organize the literature activities in bags or file folders which might contain craft supplies, recipes, counters, ingredients, blackline templates, and more. I usually write a small number on the wrapping paper itself because it is easiest and less work for me.
This year will be different due to limited space - after the house sold we moved into an apartment. The first thing I did was decide which books to wrap. This is the most difficult part of the job. Then, I w
rapped twenty-five different Christmas books.
This year I stacked the books in the shape of a Christmas tree. I used green, red, and white wrapping paper to wrap each book. Alyssa said that the red on the wrapping paper looked like ornaments and the white looks kind of like tinsel.
I only used one roll of wrapping paper (90 square feet) and one roll of tape ... with paper and tape leftover.
We used a large silver star cookie cutter stuffed with yellow tissue paper as the tree topper.
Alyssa will start at the top of the tree removing one book a day to be read aloud until all the books have been opened. Yes, we even slow things down by opening and reading a book on Christmas morning.
These are the precious moments that I remember and treasure most each year.
You may choose not to do this depending on your schedule that day or you can open the last book and save it for that night's bedtime story. The last book is usually one of her Christmas gift books, but this year between library loans and my personal collection we had plenty of book choices for this activity.
The Book Tree
This tradition spreads the holiday cheer throughout the entire month. This could also be done as a 12 Days of Christmas activity if you don't own or want to borrow 25 books but would like to still use it as an advent countdown activity.
Most but not all of these books are very special stories that celebrate what we feel is the "true" meaning of Christmas focusing on the birth of Jesus yet including nativity stories, bible stories, gift giving, love, kindness, and other Godly character trait stories.
Note: Be sure to save your wider books for the bottom of the tree. Creating a book tree really changed the order of the books we usually read aloud. Many books that we usually read in the beginning were actually moved to the bottom of the tree due to their size.
Guessing which book was wrapped
She was right!
This Year's Book Selections (starting at the top of our tree)
Room for a Little One: A Christmas Tale by Martin Waddell
Christmas in the Manger by Nola Buck
A Special Place for Santa: A Legend of Our Time by Jeanne Pieper
The Littlest Shepherd by Ron Mehl, Jr.
The Little Drummer Boy by Ezra Jack Keats
My First Story of Christmas by Tim Dowley AND
The Christmas Story by Patricia Pingry
Bright Star, Bright Star What Do You See? by Cassandre Maxwell
The Gift of the Magi by Robert Sauber
J is for Jesus: The Sweetest Story Ever Told by Crystal Bowman
AND
The Candymaker's Gift by David and Helen Haidle
The Tale of Three Trees by Angela Hunt AND
The Legend of the Three Trees by Dahl Taylor
The Prayer Chain: A Christmas Story about Prayer by Kimberly Williams Shaw
Penny's Christmas Jar Miracle by Jason F. Wright
The Gingerbread Girl by Lisa Campbell Ernst
The Night Before Christmas by Clement C. Moore
One Wintry Night by Richard Jesse Watson
I will often wrap two books with the same theme or story line together as a set to be read aloud on the same night.
So you ask me ... which book did I purchase as a Christmas gift this year? I tried so hard to buy only one new book but I ended up purchasing these two books for Alyssa:
The Crippled Lamb written by Max Lucado
The Last Straw written by Fredrick H. Thury
The list suggestions above should get you started. I have more suggestions so please pin this post, follow my blog, and check back next year to see what books I will choose next Christmas. I recommend using the books you already have or to borrow from the local library until you can collect the books that are most meaningful to you and your family.
Here are a few links to other bloggers that have used this idea in their home:
Bella Dia - Blog where I originally found the book countdown activity
A Day of Wonders uses a different approach for the same idea
My Little Bookcase Great blog
Make and Takes
Reading Confetti - Just found this gem ... I will be returning!!!
Here Come the Girls - More Linked Christmas activities
Sarah Jane
Following the Trails to Heaven
Shower of Roses
Are you overwhelmed? I was when I first saw it posted.
I love collecting Christmas books! As a teacher, I collected a variety of books to read aloud to my students. However, over the years after having my own child and beginning my homeschool journey, I notice that I search more for unique religious Christmas books to share with Alyssa. This year I kept my eyes open and found many, many Christian Christmas books for a dollar or less.
Extra Christmas books are placed in another basket or on tables nearby to be read at bedtime or throughout the day during free time or independent reading time.
I hope you'll give this activity a try and see the joy and happiness it will bring to your family. The wrapping of the books is worth the memories and smiles. If the wrapping paper is too expensive - be creative and use whatever you have on hand or don't wrap the books. Do whatever works for your family. If it is too late this year, then save the idea for next year.
What are your favorite Christmas books? What book do you think I should buy next year?
If you have ever done this activity before please leave a link to your blog in the comment section so that we can read about your experience too.
Thank you for visiting! I hope you enjoyed this post.
This post will be linked up to the Schoolhouse Review Crew "Sharing Christmas" blog cruise. The blog cruise link will go LIVE on Saturday, December 15th. Make sure you check back to read about more holiday fun posts. I look forward to reading as many posts as possible that day!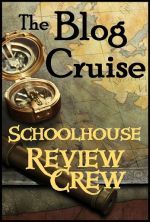 Please check out the Linky below to read about other
Books for the Holidays
suggestions from the Homeschool Review Crew members.
P.S.
I can't figure out why the book titles, blogs, and some text is highlighted white so please ignore it.
Thank you and God Bless,
Tracey