Christmas is coming! It's right around the corner ... can you believe how fast this year has gone by?
I want to tell you about another one of our family Christmas traditions. This is a tradition that we decided to start after Alyssa's birth. I love to give family and friends personalized ornaments. I was given several treasured keepsake ornaments from students of mine when I taught second grade. My mother-in-law also purchases an ornament for each of us. These ornaments usually go on a separate tree but this year the tree is hidden in our cluttered storage shed.
The ornaments I buy have special meaning behind them. They may represent a yearly accomplishment or achievement, a family memory, a hobby, an interest, a career and so forth. I almost always try to get at least the name of the person and possibly the year on the ornament. If I can't find the ornament that I want for each individual, then a special ornament will still be chosen for Alyssa and Jeffry either online or from local stores. I secretly choose each ornament and surprise my family members, but I may invite Alyssa to choose her own ornament in the future. My hope and plan is that my daughter will take her ornament collection with her when she gets married and has her own family.
I placed my order for personalized ornaments about a month ago. I try to order them in advance in case there is a problem with my order or any damages during shipment. I always read the product reviews before making a purchase. Years ago, I also signed up to receive e-mail offers which include special coupon codes and discounts. I have received up to 30% off purchases by doing this.
I mainly shop from two companies for ornament purchases. I have used both companies for years on several different occasions. I often buy other personalized gifts from them for Easter or birthdays. They are great places to find unique gifts, ornaments, or stocking stuffers.
The first company is
Personalization Mall
. Personalization Mall currently offers a $5.00 off coupon if you join their mailing list. They are currently offering
Christmas delivery with no rush fee until midnight tonight
! The customer service is great at Personalization Mall however this is based on my experiences only. After receiving my package this year, I noticed that one of the ornaments was not up to par. It did not meet the professionalism I usually get from this particular company. I contacted a rep who immediately handled the situation. I e-mailed a photo of the item and it was replaced without hassle based on the description and photo. You can read about their guarantee and return policy
here
. The quality of the products is GREAT and personalization is FREE.
This year's ornaments from Personalization Mall (shhhhh).
Every year we exchange gifts with our good friends Pam and Andrea. This was an ornament I purchased for them.
The second company I order from is
Personal Creations
. If you sign up to receive e-mail offers they are currently offering subscribers 20% off at checkout. This won't last long. Please be aware that there is usually an extra personalization charge or care and handling charge up to $12.99 in addition to shipping costs depending on what you buy. This is one of the reasons why I tend to buy from the other company more often. I always look for discounts that include a high percentage off and FREE shipping if and when I purchase from this company. I have noticed that Personal Creations has some pretty bad reviews out there. My experiences haven't ever been bad or horrible if that helps. You'll have to decide whether or not you want try the company.
This is Alyssa's 2008 Christmas ornament from Personal Creations. It was the mark of her first birthday and several special memories. She adored Elmo so we threw her an Elmo birthday party that year. We also attended a live Elmo show in San Antonio two years in a row.
These are the Christmas ornaments I bought in 2009 for my husband and daughter. My husband received the firefighting ornament because of his career. Alyssa received the little blonde girl sitting on the potty chair because she was officially potty trained that year. There were so many times that she sat at the potty with a book so the ornament was especially appropriate for her at the time. I loved the fact that I was able to choose hair color for both ornaments.
Other Places You Can Find Ornaments
Malls
Gift Shops
Bazaars
Market Days
Ebay or Amazon
Craft Shows
*You may want to consider crafting the ornaments yourself to help save on cost (maybe ... sometimes craft supplies cost more).
Are you
Blogging Through the Alphabet with Marcy at Ben and Me
? I will be linking up this post. We are focusing on the "Letter O" this week. The linky will be up all week so head on over to link up your "Letter O" blog post. We would love to read your post! What will you blog about?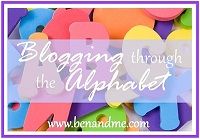 Disclaimer: I am not an affiliate for either company. I am just sharing one of our traditions and where I like to shop. All discounts and offers mentioned are subject to change. You are responsible for any purchases you make through the companies mentioned above. Tracey, at A Learning Journey, can't be held responsible in any way for your purchases or experiences. All experiences will differ or vary for each individual.