The next blog cruise topic for
The Schoolhouse Review Crew
is
Summer Reading for Girls
. One of the things we enjoy doing every summer is participating in summer reading programs in our area. My little bookworm of a daughter tends to get lost in books more often during this time period. Alyssa is an avid reader. She will read her favorite chapter books just about anywhere . . . in her closet, at the beach, in the car, at the store, on top of the dryer, on the countertops, to Bailey (the dog) at the library, at the table, on her bed, outside, and even upside-down on the couch. I wanted to feature a list of her favorite chapter book titles.
Reading to her father on the countertops in the laundry room .
My little cowgirl reading on the bean bag.
We already read several of the books mentioned in the list. There's no way we'll get through all of the books during the summer months, because several series contain numerous books. I believe this list is a great place for us to start! I hope you will also find this list of chapter books useful. A handful of these books were popular when I taught second and third grade in the public school system. May your summer be full of reading enjoyment and entertainment!
Lamplighter Books
Here is a list of the books we own and love.
I wish I could purchase a few more of these books. They are truly wonderful! Do you have children ages 6-11? Click on the link that takes you straight to the
Best Books for Young Boys and Girls
.
2.) The
Animal Tales Poppy Book Series by
Avi
Ragweed
Poppy
Poppy and Rye
Ereth's Birthday
Poppy's Return
Poppy and Ereth
There are
teaching guides
available for each book. Would you like to listen to Avi read
track samples
from the first three books? Click on the word track samples above. Alyssa recently finished reading Poppy as part of her Moving Beyond the Page curriculum. You can read
my review for the Poppy Language Arts and the Life Cycles Science units
if you are curious about our learning adventures. We just checked out Ereth's birthday yesterday, because she finished Poppy and Rye last week as well.
Sonrise Stable Horse Book Series
We loved reading
Rosie and Scamper
! My daughter enjoyed this book and we hope our library will soon carry the entire series. We received our e-book copy free through Educents. The
Educents free e-book
deal is over
but you can read about the beginning of our experience with the book
here
.
limited-time
if you post a review on Amazon for any Sonrise Stable book. Do you have any of the books? If so, read the book aloud and post your review so you can read another this summer. They offer is only available until 50 reviews are posted per book. Good luck! Click on the link to read about this
Free Book Offer
.
4.)
Circle C Adventures: Wholesome Books for Kids
by Susan K. Marlow
The Schoolhouse Review Crew is reviewing two of the recently released Goldtown Adventures books. You can read the reviews
here
when they are posted.
Circle C Beginnings: The Adventures of Andi and Taffy
series for children ages 6-9. My daughter has read and LOVED all of the books! Check out the
coloring pages
,
lapbooks
,
paper dolls
, and
free activities
to go with this series.
The Little House of the Prairie Book Series
I hope to start reading this series aloud this summer. Alyssa developed an interest in reading them after we reviewed
Diana Waring's Experience History Through Music
set. You can find a complete Little House on the Prairie lapbook set at
Marine Corps Nomads
created by an amazing blogger named Heather. What an awesome blessing to us all.
16.)
The Secret Garden
by Frances Hodgson Burnett
Alice in Wonderland
by Lewis Carroll
Anne of Green Gables
by L.M. Montgomery
The Little Princess
by Frances Hodgson Burnett
Pollyanna
by Eleanor H. Porter
21.)
Black Beauty
by Anna Sewell
Please Note:
Boys may enjoy several of the books mentioned.
Click on the button below or visit the Schoolhouse Review Crew blog to read many other suggestions for
Summer Reading for Girls
.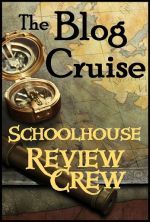 I will link this post up at Montessori Monday, Teach Beside Me: Share it Saturday, Three Boys and a Dog: Homeschool on the Cheap, Hearts for Home Blog Hop, Titus 2 Tuesdays, 123 Homeschool 4 Me TGIF Linky Party (on Saturday), Mama to 4 Blessings: Link and Learn, Blogging Through the Alphabet, and I Can Teach My Child: Show-and-Share Saturday.