My daughter recently learned about the French painter, George Seurat. He used a painting technique called pointillism. Pointillism consists of a bunch of tiny dots that form an image.
What We Did
Step 1
We went outside to observe the trees and any fall changes we saw in nature. Unfortunately, we live in Texas so we don't really have the opportunity to observe many leaves changing colors. So, I showed her pictures from our Arkansas trip years ago.

Step 2
We read several online biographies about George Seurat. Alyssa also watched several You Tube museum videos.

Step 3
We viewed images of his artwork and other pointillism projects found online. This project was inspired by the many masterpieces seen online. The following images came from
Wikipedia
.
Step 4
What You Need:
Acrylic Paints - Red, yellow, orange, brown, and possibly green
Thick White Paper
Art Palette
Unused Pencil Erasers


Note:
Alyssa was given a variety of painting tools to try. You can use a clean pencil eraser, q-tip, or dot brush to create fall trees.
Step 5
Remind your children to lightly dip the pencil in the paint and to gently dab the paper. They can also add background scenes using the pointillism painting technique if desired. Alyssa didn't want to paint the sky, because she was eager to create another painting.
Note:
You may find it easier to give children an outline, template, or to lightly sketch the drawing to fill in when first attempting this project. I did not provide Alyssa with a template. I asked her to create a fall tree using pointillism after discussing and completing online research.
Check out her artwork!
I played classical music in the background.

Other Helpful Resources
Please view all images to check for appropriateness before showing them to your child.
Crafty Classroom
- One of my favorite blogs!
ThinkQuest
Hucksters
Pete's PowerPoint Station
Abrakadoodle
Vimeo Video
ArtSmarts4Kids
Wikipedia
George Seurat Images
The Art Institute of Chicago
Getting To Know the World's Greatest Artists: George Seurat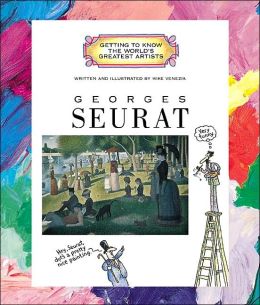 Have you ever used this painting technique?
If so please leave a link to family centered painting in the comment section below. We would love to see your artwork!
I hope you enjoyed visiting A Learning Journey. Have a great day!