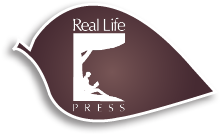 Being part of The Schoolhouse Review Crew Team has placed products in our lives that truly are a blessing and one product we've been reviewing that has changed our homeschool day is The Firmly Planted, Books of Moses, Part 2 Family Study Guide and Student Book published by Real Life Press.
I received a digital downloadable PDF e-book copy of both books. The full-color companion student workbook contains 232 pages with a plethora of age-appropriate reproducible activities. An answer key is provided at the back of the book. The Family Bible Study Guide contains 118 pages most of which are black and white with a tint of color added.
You'll need an updated version of Adobe Reader to open the PDF files, a printer, and a computer with Internet to download the books if you choose to purchase the digital copy.
One of my main jobs is to disciple Alyssa to learn and discover God's Word aiming to place Christ at the center of her life. I am always in search of good quality Bible studies that will help us deepen our relationship with God and grow closer together.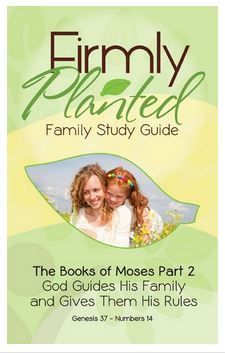 Product Description
The Books of Moses Part 2 e-book is the second book in the "Firmly Planted" Bible study series which is a series created by authors, Jay and Heidi St. John (The Busy Mom). This book is organized as a 10-week family study. The subtitle of the study is "God Guides His Family and Gives Them His Rules."
Many underlying messages are included in this study such as topics about love, hope, trust, compassion, obedience, jealousy, forgiveness, anger, truth, promises, faith, and many more meaningful messages.
The content covers Bible scripture from Genesis 37 through Numbers 14. This Bible study is suitable for all ages and was designed to be used with the entire family. The Books of Moses, Part 2 study guide was designed for parents to learn alongside their children and meant for them to grow together in Christ and walk in God's amazing Word.
Topics Addressed
Joseph Sold Into Slavery
Joseph Saves His Family
Moses and the Burning Bush
The Plagues
Crossing the Read Sea
The Ten Commandments
The Tabernacle
The Golden Calf
Choosing Levites
Exploring the Promised Land
Each Lesson Contains
Central Idea
Short, Engaging Bible Narrative
Memory Verses (Leveled by Age Groups)
Thought-Provoking Discussion Questions
Helpful Icons

The Seed -This icon indicates the beginning of a new lesson and reveals a key concept or idea that should be discovered. For example, the seed in the first lesson was "God sometimes uses pain to advance his plan."
Planting the Seed - You'll find two leveled Bible memory verses suitable for children. One is for younger children ages 4-11 and the other verse is for older children 12 and up.
Watering the Seedling - This is a short 5-6 minute story that can be read aloud providing a deeper understanding of the lesson content.
How We Used It
Books of Moses (Part 2) was used on a daily basis as a mother-daughter Bible study 5 times per week. If we had a busy week we might double up two days or eliminate worksheet pages and just do the daily readings. I used the Family Study Guide in conjunction with the companion Student Book. The family guide is the core and is definitely REQUIRED to complete the study. We tried to complete the components each morning before starting our homeschool day, but honestly some days we completed activities in the afternoon or evening. I used this study with my daughter, Alyssa (Age 7).
The study requires some parent prep. You'll need to plan out your week and print out the activities ahead of time. You may need to gather a few items around the house for the nature study projects such as ingredients for making Matzo bread, playdough or clay for a valley diorama, spices, a periodic table, almonds as a snack, etc.
It allowed us to have an open conversation about our life circumstances. The profound message of trusting in our loving God and his plan for us stood out. Our conversations have become more meaningful allowing my daughter to open up more and share her true feelings with me.
We skipped the Upper Class pages for older children found at the end of the study and we also eliminated the older Journal pages because the lines were too small. I did verbally asked any questions and listened to her responses.
A Weekly Glance
I tried following the schedule below but of course life always happens so I gave myself some wiggle room allowing for adjustments to the schedule and worksheet changes. One thing I told myself every week was that we did NOT have to complete EVERY page provided in the student book.
When creating the following schedule, I tried to add writing work to each day. We also attempted to memorize the provided verses for children ages 4-11. I would encourage you to play memory verse games or utilize a scripture memory system to assist with this process.
There are four Daily Study devotional read alouds including reflective discussion questions provided in the guide followed by the Digging Deeper and Taste the Fruit sections. We read one Daily Study each day for four days in addition to the Digging Deeper and Taste the Fruit sections. The Digging Deeper section helps further expand the discussion. The Taste the Fruit section engages the learner and offers questions that promote thinking and enables the child to apply the key concepts to their life.
Monday
Bible Narrative
We read the summarized the Bible narrative or introductory lesson on the couch from the iPad or on our computer screen. Alyssa would usually Color the Bible Verse Page after the story. I was going to have her color it during the reading, but she wanted to take turns reading passages. She enjoyed reading and following along with me. We usually complete the Vocabulary page in which she defined words using a dictionary. I always supplied her with more than one dictionary including a Bible dictionary. Our last resort for finding dictionary definitions was to utilize an online dictionary via the iPhone or computer.
Tuesday
Watering the Seedling + Daily Study: Day 1 Reading
We read the next section titled, "Watering the Seedling" where more depth material is added to the story. I printed the primary-lined Copywork page which focused on a particular verse to practice penmanship skills. A 1-2 sentence blurb summarizing the events in the verse followed several of the scripture references. We always read the verse and discussed how it applied to our lives. Alyssa will eventually write these verses in cursive after we finish her cursive handwriting workbook.
Copywork
She also completed the "What Do You Remember" worksheet. She used her Holman Christian Standard Bible to look up referenced verses that were suggested helps for finding answers to the questions asked. The worksheet below referred her to Genesis 37:12-36 to answer questions. She did a great job with these exercises and thoroughly impressed me with the knowledge she gained from the study. I checked her work and clarified any misunderstandings by rereading and discussing the Scripture together.
Wednesday
Daily Study:
Day 2 Reading
This is our busiest day so I decided to make it our easy Puzzle Fun Day which frequently includes the crosswords, coded messages, word searches, and the maze activities. The maze and word search were done in the car when traveling to extracurricular activities. The crosswords and word searches were differentiated for older and younger children. We used the more advanced crossword puzzles and she worked on the word searches for younger children.
The crosswords and coded messages were her favorite pages. We both appreciated that the crossword required students to go to their Bible to seek out answers if unknown. Alyssa would locate the referenced Scripture passage in her children's Bible related to the key words, read it aloud, and quickly figure out the correct word for the crossword puzzle. At one point the reference was incorrect, but I wonder if that has to do with the fact that we were using a different version of the Bible. The Scriptures referenced were taken from the English Standard Version (ESV) of The Holy Bible.
The "Responding to God's Word" was occasionally added to Wednesday assignments. Alyssa would read Bible verse and respond to questions using complete sentences. One of the pages I liked had her fill out a chart differentiating between valid, real reasons for not doing something and then excuses. The example was for not doing homework. I gave her an example and modeled the activity beforehand.
Thursday
Daily Study:
Day 3 Reading
Alyssa worked on the "Exploring the Bible" sheets on this day. These sheets varied and weren't always related to the study. They often taught doctrines or information about the Bible. The photo below shows a word scramble, but several sheets offered questions to research. The lesson definitely familiarized my daughter with her Bible. She's more comfortable using it as a resource when confronted with unknown information. Alyssa decided to open her Bible to the list of Bible books for help with the following worksheet. Her task was to unscramble the Bible books written by Moses and Joshua.
She also completed a "Write About It" sheet which focused on one of the fruits of the spirit. The page below defines, describes, and explains the fruit of the spirit, patience. Then, she was given the chance to write about her experiences related to that particular fruit of the spirit. I praised her each time she demonstrated patience especially when she was reading to a child at the library. Other fruits of the spirit discussed so far were gentleness, self-control, and love.
Picture It illustrations were done on this day too. She drew a picture of us together because I made her feel loved. She also drew a picture of her best friend (Rylee). On another day, Alyssa read and illustrated the meaning of Exodus 3:3.
Friday
Daily Study:
Day 4 Reading
Fridays are a little more relaxed so I added in the weekly Nature Studies if we had the supplies on hand. I was surprised to find out that many of the activities were actually indoor activities. I was hoping for more outdoor nature study activities, because I wanted us to get out more with a guided lesson in hand. We did use her telescope to search for spring constellations and took a nature creation walk to relieve stress. Alyssa created a mini Exodus/Passover poster to remind her that the Israelites moved out of Egypt and crossed the Red Sea in the spring.
The family study also integrates geography into the day. On Fridays, we studied the Map It Knowledge Quest Maps from the study guide. Map work consisted of studying and discussing the places on the map and how they relate to the lesson. Leveled map work was provided for younger and older children. Alyssa chose to do all the activities for both age groups, because she wanted to label the entire map. She copied and studied the locations on the map once labeled correctly.
There were Acrostic pages included in the guide which were the most difficult and time-consuming pages for us to finish. She added a lot of personal information to these pages so I won't add a photo. For example, in chapter 2 the word FAITHFUL was written vertically down a page within a boxed chart. Alyssa was asked to, "Consider something that she experienced that has been hard" and she needed to fill in the chart discussing how God used it for good. She chose divorce as her topic. Each sentence started with a letter from the provided word. A couple other acrostic words were PASSOVER and HOLINESS.
Overall Thoughts and Experiences
Jay and Heidi St. John's wisdom and knowledge seeped through the pages of this comprehensive study. We immediately addressed relevant issues we've been dealing with right off the bat (confronting anger and forgiveness) during the first week. This study has given my daughter and I the chance to open up and discuss what is truly heavy on our hearts. She can easily apply the truths and principles taught to real life situations.
There were so many valuable activities that reinforced the lesson for children. The wide variety of engaging and fun activities including word searches, mazes, crosswords, journaling, copywork, nature studies, and more motivated my daughter to learn and encouraged her to research more. My daughter enjoyed many of the worksheets, but Alyssa's favorites were by far the crosswords and coded messages. The flexibility of the program appeals to me. I was able to pick and choose worksheets and activities for each week and didn't feel obligated to complete them all. I was able to work through the study at our pace and print only the pages I wanted.
Books of Moses Part 2 is an integrated study that effectively encourages children to "think" about God's Word and apply it to their lives. It helps children understand and apply the Biblical truths to their circumstances in life which may possibly lead them towards a change in attitude or lead them on a path to a new way of living which focuses on God.
This Bible study has encouraged personal, sweet conversations with my daughter which in turn has allowed us to explore the Bible in new ways enabling us to not only grow closer together but closer to God. Our bond and relationship is getting stronger every day. This study gave me a way to help her work through our difficult life circumstances. The content helped us make sense of what we're going through and learning in the midst of change and through examples found in the Bible. It's helped us put our trust in God's plan for our lives.
Price
Family Study Guide $9.95
Student Book $24.95
Note: All prices are subject to change. The books can be purchased separately, but the family study guide is REQUIRED to complete the study. These prices are for PDF digital files.
Recommendations
Yes, I

absolutely

recommend Firmly Planted, Books of Moses, Part 2 Family Study Guide and Student Book published by Real Life Press. Most Christian families can use the family Bible study in their homes. Homeschool families notice that some activities take on a Charlotte Mason approach. Children's church ministries or teachers will also benefit from utilizing this resource with their Sunday school class.
Vendor Suggestions
Offer flexible lesson plan suggestions for parents and educators to choose from for ease of use.
Add a Bible story reading list offering book suggestions related to this particular study.
Create Bible memory verse games or activities to help children hide God's Word in our hearts and learn the verses better.
The verses may need to be further divided into more age groups. We focused on the verses meant for children ages 4-11 and we had a difficult time memorizing several of them due to their length and complexity (difficulty) level. It may be easier if children ages 4-7 had a separate verse to memorize.
Can you provide a Bible timeline and figures in the family study guide which would give younger children a visual of the events that occurred in this study?
Social Media
Facebook The Busy Mom
Twitter @heidistjohn
Pinterest
The Schoolhouse Review Crew blog contains reviews for several other products offered by Heidi St. John's company besides Books of Moses (Part 2) Bible study. Visit the website to read about their experiences with their other products such as Lapbooking Made Simple, The Busy Homeschool Mom's Guide to Daylight, The Busy Homeschool Mom's Guide to Romance, and the Firmly Planted, Gospels (Part 1 and 2).