I've been reviewing a digital PDF copy of the Once-a-Week unit study titled,
Revolutionary Ideas: The Story of the American Revolution
from
Homeschool Legacy
for several weeks. I love this company and the products created by
Sharon Gibson
, a homeschool mom and author. In the past, I've reviewed her Birds of a Feather and Christmas Comes to America unit studies. Both experiences were positive so of course I didn't want to turn down the chance to review a historically-based unit study. I chose
Revolutionary Ideas
because I wanted to cover more American History this year and focus on a topic we hadn't yet explored.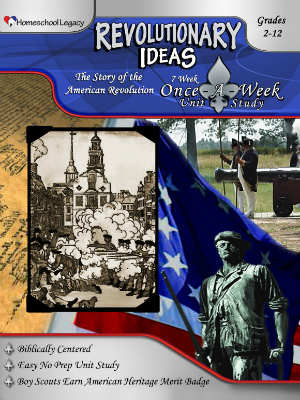 Revolutionary Ideas: The Story of the American Revolution
is a 7-week
unit study
containing 62 pages. It is suitable for children in grades 2-12. You'll need Adobe Reader to view the document. There's a "Getting the Most Out of Your Once-a-Week Unit Study" section at the back of the unit which I suggest reading
before
beginning ANY of their units. You can easily adapt or modify the activities for younger and older children which means you can use this resource with the
entire
family. It integrates many different subjects into the study.
Academic Subjects Addressed
Bible
History
Geography and Mapping
Math
Public Speaking
Drama
Language Arts: Literature and Writing
Research
Science
Arts and Crafts
Music Appreciation
Life Skills
Field Trips
Family Movie Night Suggestions
Family Games and Trivia Questions
One of the following topics were taught each week.
Significant Pre-Revolution World Events
*French and Indian War
*Magna Charta
*Age of Explorations and Discovery
*The Great Awakening
The Life and Times of Colonial Americans and their Taxing King
The Firebrands
Early Battles and the Shot Heard Around the World
American Declared Her Independence
The Turning Point
March to Victory
Revolutionary Ideas
was used with my daughter, Alyssa (Age 7 1/2) at least 3-5 times a week. The idea is to set aside one day a week to complete unit study activities. The company suggests taking a break from current studies. I felt like there was a lot to complete in one sitting so we divided the unit study activities up into several sessions throughout the week. We continued using our core curricula and just added this unit study to our day. We did take a break from using our World History curriculum as we focused our attention on the American Revolution.
We also didn't complete all of the activities mentioned in the unit study. I chose activities based on my daughter's interest and abilities. Many research projects and writing assignments were completed verbally and discussed rather than in written format since she is already writing several times a day in other subjects.
We read from a family read aloud book every day and Alyssa spent at least 20-30 minutes independently reading about the weekly topics on a daily basis. Larger chapter books often took longer to read aloud than expected. If we didn't finish the activities in the amount of time scheduled, then we dedicated Thursday as a completion day. We tried to read the family devotionals at the beginning of each week on Mondays preferably in the morning.
Fridays were reserved for Field Trips, but unfortunately we didn't take any related to the study because there weren't any locations nearby (Texas). We ended up watching related movies on Mondays and Fridays.
Felicity
is an outstanding movie to watch. It helps children understand and bring meaning to the concepts addressed in this study.
Our Experiences
This history unit study begins with a brief overview discussing significant pre-revolutionary concepts and events. Alyssa created a timeline in her notebook binder to document relevant battles, important people, profound acts, and other major events in history. She decorated the cover page of her timeline. She participated more in the timeline activities since she was involved in the process of setting up the timeline notebook. The timeline gave her a visual, chronological view of the historical events.
We probably should have drawn or found smaller pictures for the timeline, because the pages dedicated to the 1700's were crowded since that was the time period we were studying. Each mark on our timeline represented ten years. We could space these marks out to represent 2 or 5 years instead of 10.
My daughter learned about King George III and how the colonial people lived. The discussion deepened when we were introduced to major firebrands including Samuel Adams, Patrick Henry, and Thomas Paine. These well-known men utilized their talents to ignite a fire in the hearts and minds of the people towards revolution against the King and Britain. The unit study addresses the desire to be united and free. It emphasized the fact that the patriots and colonists needed to fight for their God-given rights.
The unit study weeks begin with a booklist with Dewey decimal numbers included. Required book titles have an asterick next to them and are needed to complete the study. Suggested classic history books include a variety of genres including but not limited to biographies, nonfiction, and historical fiction. There are recommended picture and chapter books listed. For the most part, we found those specific titles through our interlibrary loan system or we used several replacement titles that covered the topics. In the past when reviewing Homeschool Legacy Once-a-Week unit studies I had access to two libraries to gather the necessary books. This year was different. I needed to use only our local library and the interlibrary loan system to find books which means I needed to wait longer for the arrival of some book titles. We read books late in the game or needed to substitute titles. However, I used the alphabetical Dewey decimal call numbers to locate replacements.
We found several of the documentaries and movies on either gMovies, Amazon Prime, Discovery Education, or You Tube. There were great substitute titles available online. We also owned and watched
Felicity
and a handful of related
Liberty Kids
DVD videos. We added in
Pups of Liberty
and
Colonial Chaos
(PE) to our list of supplements.
This particular unit study is writing and research intensive. Alyssa researched the five parts of the Declaration of Independence using a variety of resources including books, encyclopedias, and online websites. She found out the relevance for each part and implications of signing the actual document. She researched several topics from the first week using an encyclopedia and wrote a few short paragraphs about them (seen in the photos below).
I made adaptations to several writing assignments. Instead of having Alyssa write part two of the Declaration of Independence in a different voice. I kept things simple and asked her to write a short paragraph about the Declaration of Independence (as seen below) using the information attained through this unit study and techniques from her current writing curriculum. She did verbally read aloud part two of it using a Chipmunk's voice. There are many creative writing assignments included in this study. I hope to go back and complete a few more as summer approaches as a way to solidify her learning.
She was introduced to new vocabulary words and searched dictionaries for the meanings of words such as tyranny, tyrant, tax, intolerable, firebrands, and so forth. It is important for children to understand the words they are reading in order to comprehend what they are learning. I appreciate the exposure and inclusion of vocabulary activities.
The five pages of Revolutionary Trivia questions were utilized at the dinner table and during game time. We had to answer a history question before moving forward on the game board. I also asked Alyssa the 33 questions and gave her a mini treat for correct responses. Alyssa liked challenging her father with the "Stump Your Dad" trivia questions. We don't own the game RISK and couldn't purchase it during the review period, but Alyssa seemed quite interested in playing it so we'll keep our eyes open for thrift store deals. Whist, Hoop Rolling, and Quoits were fun "time period" games we played. We used the instructions in the study to create the quoits game which served as a perfect, active break in the middle of the day. I recommend using a thicker, more solid rope than ours.
The popular, "Yankee Doodle," song lyrics and tune were heard quite often echoing in my home. She had a blast creating a lyrical song about Paul Revere to the tune of "Yankee Doodle." She researched information about him and read many books prior to writing the song. She did a magnificent job singing facts and choosing key points! I LOVED my daughter's dramatization of Patrick Henry's speech "Give me liberty or give me death!" She cracked me up because she sounded like a pirate.
I had a difficult time getting her to continue the rest of her studies after she played on her "glass armonica." She listened to the different sounds and pitches when lightly tapping glasses with varying levels of water. I should have planned this one for an end-of-the-day activity! She watched a few videos online about Ben Franklin's invention and read a few books prior to this hands-on activity.
She was intrigued with the art activities. Alyssa enjoyed learning about Copley, who was an American artist, during the Revolutionary time period. Viewing his Revolutionary portraits inspired Alyssa to research more paintings similar to his work. Trumbull's Signing of the Declaration of Independence masterpiece was the perfect, complementary tie-in to the study. Alyssa eventually found a $2 bill so she spent a few minutes examining the painting on the back several days after researching Trumbull's biography. I love how these unit studies integrate art into the day making it more fun for us. My daughter identified many more of the signers after visiting the website links provided.
Overall Opinion and Thoughts
Teaching history has never been my cup of tea, but using Homeschool Legacy's Once-a-Week Revolutionary Ideas Unit Study has enabled me to gain confidence when teaching about the American Revolution and has created some fun-filled memories in my home. I am learning information about the Revolution that was NEVER taught the schools I attended.
This resource definitely sparked an interest in learning about the American Revolution. My favorite features of this study are the recommended reading lists and the embedded educational links. I love having access to high quality living books that help bring history concepts to life. The Dewey decimal call numbers enabled me to find related material for all topics addressed. Having links already embedded within the study saved me a lot of prep and planning time.
The wide variety of educational activities included makes it easy to quickly and thoroughly study the American Revolution. It also gave me the flexibility I desired in a unit study enabling me to pick and choose activities that suit my daughter's interest and abilities. We enjoyed many of the activities! We skipped a few and took a few rabbit trails. I really liked beginning our weekly study on a positive note with a family devotional geared towards the topic. We are really looking forward to the "Revolutionary War" party planning activity at the end of the study where Alyssa can present her projects once again.
My daughter's absolute favorite art project in the entire unit study was painting an American flag on a pillowcase. We read many books about the American flag and how it changed over the years. She learned that America started with 13 original colonies and about the growth of our country.
The unit study was used as a way to expose Alyssa to the American Revolution. She ended up diving deeper into the subject than I expected and she remembered more than I ever imagined she would. I was impressed by the amount of information she retained. Her interests expanded and she fascinated me with factoids she learned. We are almost done with the unit, but I plan on going back to complete a few skipped activities when we have more time and can add in more writing assignments.
Homeschool Legacy's Once-a-Week Revolutionary Ideas Unit Study is jam packed with hands-on, multi-sensory activities and research projects. This well-organized unit is sure to bring history alive. It can be used as a stand alone unit or as a supplement to any history curriculum.
American Heritage Girls
and
Boy Scouts of America
merit badges can be earned upon completion of particular unit studies. Furthermore, if you complete four units studies then you'll cover a full year of history or science.
What We Liked
Embedded Educational Links
Literature Rich Study
Print What You Need
Flexibility
Integrated Subjects
Hands-On, Interactive Activities
Biblically-Centered
Whole Family
Limited Amount of Prep Work
Available in Digital or Hard Copy (Print) Format
Geography Incorporated
Vendor Suggestions
The 13 Colonies Map seemed fuzzy or blurry. We had a difficult time seeing distinct border lines between each colony when utilizing this map. I suggest finding a clearer and larger copy of this map to include in the study. I loved the idea of starring the colony location to indicate where battles took place.
The embedded educational links provided were wonderful and we absolutely loved this feature, but we would appreciate more age-appropriate links included in the study especially for all research topics. There weren't as many as I expected and it would make research easier for younger children.
Integrate more science, math, and recipes into the study.
Add research forms and artist notebooking pages
Organize all book titles by age groups and indicate movie ratings.
I would add timeline figures for younger children or for children who dislike drawing. This was the one thing I wished we had during this study.
Recommendations
I
highly
recommend
Revolutionary Ideas
for all homeschool families. Obviously, if you homeschool using a Unit Study or an Eclectic approach you'll appreciate their unit studies. The Homeschool Legacy Once-a-Week Unit Studies may also appeal to individuals utilizing a Charlotte Mason or Literature-Based approach.
Honestly, if you are a homeschool family looking for a break in the routine and want to focus on a particular topic while integrating other subjects . . . take a few moments to visit Homeschool Legacy and browse their unit study options. Anyone can benefit from using these hands-on unit studies!
Visit the website to view a
Sample Week
and see a
suggested schedule
. We would like to eventually purchase the Native American Unit Study.
Price
Grab-N-Go $17.00
Paperback $21.95
Check out the available unit studies in their
shop
! I hope to see more Science titles available in the future.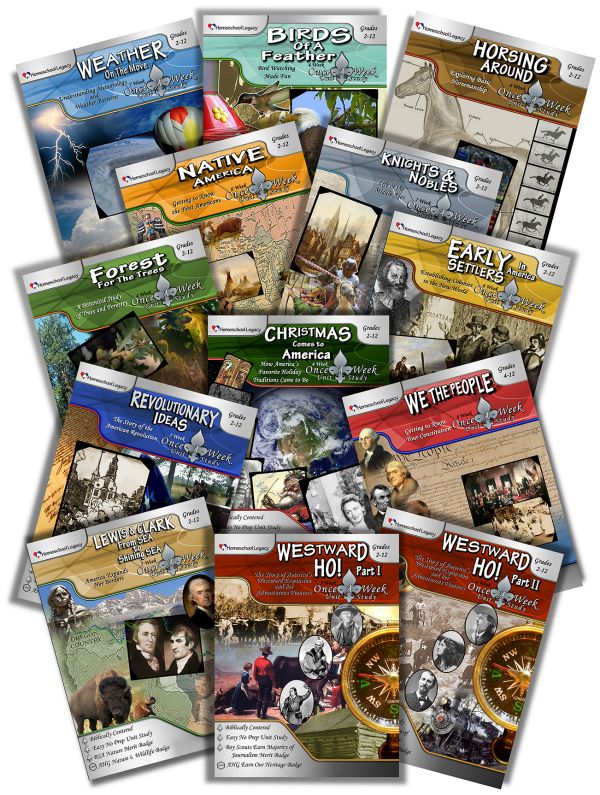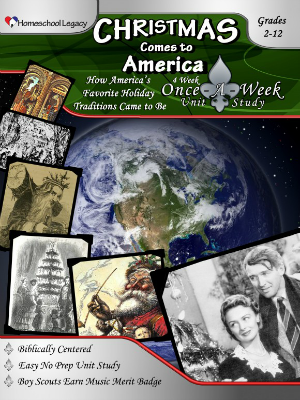 Social Media
Facebook
Pinterest
Twitter
Head on over to
The Schoolhouse Review Crew Blog
to read about many other
Homeschool Legacy
Once-a-Week Unit Studies reviewed by my friends on the Crew. I am headed that way to read about the Native America and Knight and Nobles reviews.