A+ Interactive Math

has recently released a brand new product called the

Adaptive Placement Test and Individualized Lesson Plan in which t
he Schoolhouse Review Crew team members each received up to 10 online 3-month student subscriptions to review.
This math assessment and intervention product will help you pinpoint your child's problems areas and weaknesses in their math education.
Are you wondering if your child has any math learning gaps?
Are you looking for a way to assess, identify, and close those gaps in math?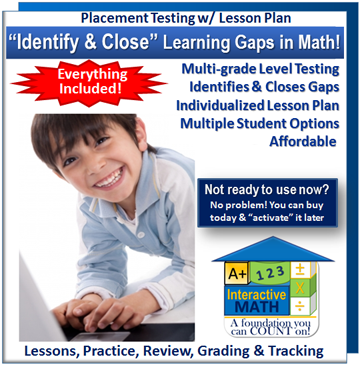 My daughter, Alyssa (Age 7 1/2) is working above grade level when it comes to certain math topics. We've used a mastery-based math curriculum with her since she was a wee little one. Additionally, I supplement with online math programs.

This is NOT our first time utilizing A+ Interactive Math's multi-sensory math programs. I am currently using the 3rd grade Family Math Package so I am familiar with the program and how it works. In the past, we have used their First and Second Grade Homeschool Edition of A+ Interactive Math Online.
I often wonder if Alyssa has any learning gaps. We both love math. She's a quick learner so she's never really struggled with any particular math concept yet. She learned her addition, subtraction, multiplication, and division facts with ease at an early age. However, I ask myself quite often, "Is she working above and beyond her grade level and the public school standards? Which concepts does she struggle with the most?" How can we improve those weaknesses?"
The solution to these burning questions was the Adaptive Placement Test and Individualized Lesson Plans.
Product Description
The
Adaptive Placement Test and Individualized Lesson Plan
is a comprehensive and complete math program or assessment tool for grades K1-Algebra 1 offering multi-grade level "adaptive" testing that enables an educator to identify current skill levels and weaknesses. The interactive lesson plans target those problem areas.
I needed to choose a "home" grade level which is a grade level that my daughter either recently completed or will complete soon. I chose 3rd grade as her "home" grade level. The third grade curriculum is divided into 14 concepts or mini test categories.
Concept Areas Covered
Number Sense

Addition

Subtraction

Multiplication

Division

Rounding and Estimating

Decimal Numbers

Fractions

Graphs

Time

Money

Measurement

Geometry

Elementary Algebra
Each grade level placement test consist of approximately 10-15 different concepts. The fourth grade curriculum has 17 core concepts. Each test had 10-25 questions given in multiple choice or type-in-your-answer format. On an average, there were 12 questions to complete.
The longest 3rd grade placement test was the Geometry test. I wish that this test was divided into two parts which would be consistent with the other test lengths and reduce the amount of time she worked on the concept in one sitting.
My daughter was given 1-6 minutes per question depending on the difficulty of the problem which gave her plenty of time to solve the problem on paper.
How It Works?
The student logs in at the website. Each student has their own username and password.

The child completes a mini unit placement test for EACH major concept or specific area for her home grade level in order to identify current skill level and weaknesses.

The child submits the test and receives immediate feedback with automatic scoring information and identified gaps are noted.

An individualized, "personalized" lesson plan is generated for you to view targeting trouble areas if learning gaps are found within a concept.

Your child will follow the online lesson plan to close learning gaps. Te

sts are retaken to show which skills have been mastered and which gaps have closed.

You can view and print various progress reports.
Individualized Lesson Plan Includes:
Colorful, Step-by-Step Multimedia Video Lessons with Thorough Explanations
Interactive Questions that Reteach Concepts When Student Answers Incorrectly
Online Practice Worksheets with Automatic Grading and Tracking
Summary Report
Reports Show
Home Grade Level

Incorrect and Correct Problems

Total Number of Questions

Skipped Problems Not Attempted

Status At or Below Grade Level
There are two types of reports. The summary report as seen above reveals a pie chart with percentages. You'll also see a chart listing the number correct and incorrect from a total number of questions. The progress report shows an animated man that walks across the screen to a particular goal. For each test, children must reach the goal (make a certain score) in order to pass. This is indicated by a vertical purple line. You'll see the examples later in the review.
What You'll Receive
Engaging and Interactive Video Lessons with Audio, Visuals, and Text

Interactive Review Questions and Practice

Online Practice Worksheets

Automatic Grading and Feedback

Easy to Read and Follow Progress Reports

Multi-Grade Level Testing

Reinforcing Lesson Plans
The Adaptive Placement Test was utilized 3-5 times a week during the review period on our MAC OSX 10.6.8 computer using Safari or Chrome as our main browsers and a high speed Internet connection. As previously stated,
I chose 3rd grade as Alyssa's "home" grade level. She
took 1-2 tests during each session.
She wanted to complete three

placement

tests in one day when we first logged in which I allowed, because the previously studied topics were easy.
The FAQ states that it may be better to spread out the tests
completing
3-4 in a week, but you have the
flexibility and choice to decide how you want to use the program.
Alyssa worked on the tests for 10-40 minutes which varied a great deal depending on the number of tests she took, the number of questions on a test, the difficulty of the material, and the amount of time allotted for each test. The average amount of time she spent on a test was approximately 10-15 minutes.
Paper and pencil
should
definitely be nearby to show work. I clipped extra lined paper to a clipboard for easy access so that she could show her work for each problem. I would often use this "show your work" paper when discussing and reviewing the solutions after a test was taken. It helped me figure out
why
she missed particular problems.
Special Note: When using paper and pencil to solve problems, make sure the child copies the problem correctly.
To my surprise, the score for the first test that I thought she would excel on wasn't as high as I anticipated
but she still passed and was able to move forward. After completing the test, she said that she wanted to go back and relearn the material because she forgot it and personally felt like she didn't do that well. A lesson plan was NOT created for this concept, but luckily she still has the option to review the material because we also use the Family Math Package as a supplement.
She made a 75% and the program announced that "no further action is needed."
I found out that Alyssa did have some gaps in her 3rd grade math education. An individualized lesson plan was created for Alyssa covering Geometry concepts, because she did not meet or exceed the mastery goal required for that concept.
After reviewing her test, I pinpointed the specific skills troubling my daughter by looking at her incorrect answers. She went to the multimedia video lessons under her plan. We saw a list of all skills for that particular concept.

I only asked Alyssa to watch the videos addressing the concepts that were areas of concern.

The videos she watched covered the following concepts and skills: Measuring line segments, quadrilaterals, and polygons. I didn't have her complete all the other video lessons since she didn't miss any of those problems or skills on the test.
Next, she completed the corresponding interactive questions and printed out her reports indicating the number correct.
After she obtained a 100% on the interactive questions, the next item on Alyssa's agenda was to complete the online worksheets to practice problems for the same concepts. In the screenshot below, you can view a problem Alyssa was given on the "Quadrilateral" worksheet.
Worksheet Problem:
"Measuring Line Segments"
Once she finished the online worksheets, I asked her to RETAKE the 3rd grade Geometry placement test. She passed the test and her grade improved. Please understand that once your child retakes the test and if they pass the test demonstrating mastery, then the individualized lesson plans for that particular concept disappear!
However, I noticed that the Geometry questions that were incorrect this time were different than those previously missed. This let me know that even though she passed the test, she may have guessed on certain problems and I will need to reteach and review several more Geometry topics. I will also have her complete the concepts using the Family Math Package I purchased. The Family Math Package complements the Placement Tests and Individualized Lesson Plans perfectly.
3rd Grade Placement Test List
Alyssa quickly passed and completed ALL of the third grade tests closing any gaps. I had the option of changing her grade level, but I didn't want to lose specific reports and information during the review period since her original "home" grade level was 3rd.
I decided to begin testing Alyssa on the 4th grade placement test concepts,
but under a different student name for the
purpose of this review.
The program identified the gaps she had with 4th grade Fraction concepts.
Her scores
improved and she passed
the 4th grade Fraction test after following the same procedures mentioned above. Even though she passed, we'll continue reviewing concepts for the time being. W
e'll tackle 4th grade number line and number comparisons next week which was a difficult concept. She was asked to compare fractions and decimal numbers on a number line.
Before
The little man stopped before meeting goal expectations.
After


The little man walked passed the goal!
Features We Liked
Individualized Multi-Sensory Lesson Plans Target the Issues

Short Assessments and Lessons Requiring Minimal Time on the Computer

Complete and Comprehensive - Everything You Need is Included

Program is Easy for Both Parents and Children to Navigate

Adaptive Testing Starts at "Home" Grade Level but Covers Multiple Grade Levels

Hide the Timer - Tests and questions were timed-bound. Some children are intimated or become frustrated when they see that they are being timed. I love that this program allows the user to hide the timer. I noticed that Alyssa worked at a much faster pace and rushed through problems missing them when focusing on the timer. I also noticed that when problems became more difficult the timer became an issue.

Relevant Math Examples Utilized in the Video Lessons

Smiley Face Praise Giving her a Thumbs Up Saying, "That is correct. Good job!"

Step-by-Step Solutions to Incorrect Responses. Click on the graphics below for solution examples.
Possible Cons
Some children may not respond well to time-bound tests. I do feel that, for the most part, the program gives plenty of time for the test based on the number of questions (no more than 25).
Vendor Possible Suggestions
I was hoping this program would provide "individualized" lesson plans based on and specific to her specific incorrect test answers. Once a lesson plan was generated, ALL the skills for that concept were retaught. This program could be improved by truly "individualizing" the lesson plans so that a child is only relearning misunderstood topics they struggled with and not necessarily having to learn all of them from the concept. I went through the topics to figure out which video lessons she needed to watch in order to retake the test and not focus on topics already mastered or understood.
Offer multiple student discounts that can be started at different times instead of one bundle all beginning and ending at the same time.
My daughter realized after submitting an answer that she made a mistake and wanted to go back to correct it but wasn't able to. She was frustrated when she couldn't fix it before the test was graded. Mistakes are bound to happen and some children will want to correct those errors before being graded. I think a back button should be added.
Is it possible to provide a read aloud feature for test questions to be read aloud for non-readers or struggling readers so that they focus can be on mathematical skills and not reading? I've worked with children that excel in math yet struggle with reading.
There were spelling and solution errors. For example, the number words under the "Money" placement test such as "thirty" and "twenty" were misspelled. We also came across an error in the program that needs to be fixed. The error had an impact on her test grade. In the problem below, the program stated that "Choice D: 24" was the answer to a LCM problem which was incorrect. Alyssa's score dropped and the problem was marked wrong even though she indicated the correct answer which was "C:12." The detailed solution actually shows the correct answer. Click on the picture for a larger view.
Price
The Adaptive Placement Test and Individualized Lesson Plans will only cost you $29.99 for the 1st child's 3-month subscription and $10 for each additional child added to the package.
This is a limited-time special promotion offer.
The retail price is $49.99 for one student.
You can add 1-10 children to your package. Discounts are given for purchasing the program for multiple children - you'll receive a 67% off discount. Check out the DEMO at their website. I love their "Buy Today, Activate Later" motto.
Heads Up!
A+ Interactive Math is offering a 2-week 40% to 50% off sale on their "Family Math Packages" and "Adaptive Placement Testing w/ Lessons" program starting on Monday, May 4th. The deal is available from 5/4/2015 and ending on 5/18/2015.
Note: Prices are subject to change without notice.
Other Products
Family Math Packages offer flexibility and functionality. Several crew members reviewed this product.
Recommendations
I highly
recommend
the Adaptive Placement Test with Individualized Lesson Plans from A+ Interactive Math for homeschool families and schools needing a short term intervention or assessment tool to utilize any time of the year. This would also be a great comprehensive math resource for tutors, summer school programs, and after school care facilities. Furthermore, this math tool can be used with
ANY
math curriculum you are using to help identify and close learning gaps.
It will effectively assess your child in every skill under a particular concept in
30 minutes or less.
I believe your child can also improve their math skills if they utilize the placement test in conjunction with the lesson plans. I would consider utilizing this tool over the summer to reduce summer learning loss, to fill in learning gaps, to encourage advanced children to challenge themselves and get ahead, or to assess grade levels prior to the beginning of a new year.
Read the following article titled,
Top 12 Reasons To Do Adaptive Placement Test with Lessons
for more information about the product and why you might want to use it.
Future Plans and Usage
I intend on using the 4th grade Adaptive Placement Test and Individualized Lesson Plans at least until the end of this school year when our subscription expires in June to further assess and identify my daughter's current grade level. I hope to print out all reports for her assessment binder. Then, I will change her home grade level to 5th. I will have her complete placements tests and lesson plans concurrently for both 4th and 5th grade until I can pinpoint a possible grade level while allowing her to learn advanced concepts.
Social Media
Facebook
Twitter
Pinterest
Visit the Schoolhouse Review Crew blog to read other reviews for the Adaptive Placement Test and Individualized Lesson Plans. Several other crew colleagues reviewed the Family Math Package.