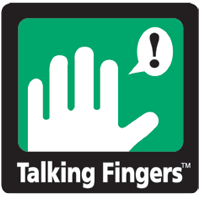 My daughter zipped through the
Read, Write & Type
program developed by
Talking Fingers Inc.
which was graciously given to us as a review product as part of the TOS Review Crew. We received a one-year online subscription to
Read, Write & Type
for one student. It was developed by Jeannine Herron who wanted to "make speech visible" using her new learning software.
This reading computer software addresses spelling, phonics, word processing, and touch typing. It contains 40 structured and systematically taught lessons in a fun-filled game format. Each lesson covers 4 letters and their corresponding sounds. The software is suitable for K-3rd grade elementary-aged children ages 6 to 9. Slightly younger and older children may also appreciate using this program.
The program emphasizes typing individual letter
sounds
heard. Then, they are taught the appropriate keystrokes for each letter. The program gradually progresses to digraphs and blends, short words, and finally ended with simple sentences. Alyssa was learning using her eyes, ears, mouth, and fingers.
My daughter couldn't move forward until she mastered the previous lesson skill set. Short vowel sounds were taught prior to long vowels. The D and the K are the main keys used to identify the home row. Alyssa noticed that the two letters were enlarged on the keyboard. The letters are not taught beginning with the "normal" home row sequence. Check out the sequence below!
Lesson Sequence
f
short a
t
c
j
h
short i
s
k
th
d
n
r
short e
long e
long a
long i
sh
ch
short o
long o
l
p
short u
g
long u
m
b
w
wh
v
q
y
z
short oo
long oo
aw
ou
ng
x
The letter storytellers all live in two houses (the two halves of the keyboard). There are two colored hands on the screen which demonstrate finger placement and letter positions. Lefty (yellow) is housed on the left-side and Rightway (blue) is on the right-side. Each letter on the keyboard is represented by a character ready to tell their story. Vexor, the green blob virus villain, steals the letters which prevents them from writing their stories. Alyssa has the task of completing exercises and assessments to free or rescue them.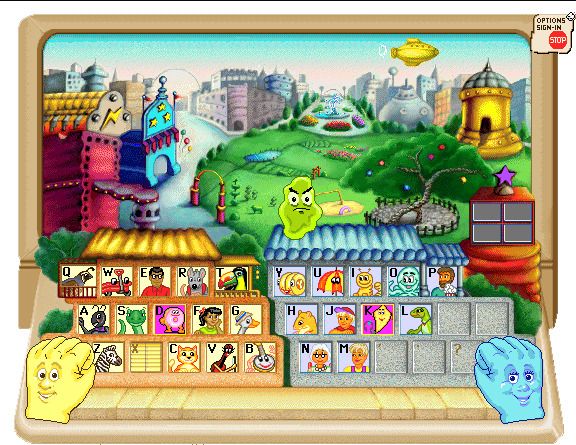 She visits several practice stations. At the movie theater, the current letter being worked on is presented in the red theater curtain at the corner of the screen. A picture is revealed. Alyssa must decide if the picture begins with the indicated letter sound or not. For example, when a picture of "feet" are shown she would practice by typing an "f" as the beginning sound. If the picture did not begin with the /f/ letter sound, then she would press her space bar. After completing several exercises correctly, the letter was exited out of the building to the right.
She practiced middle sounds at the Video Store and ending sounds at the Carnival or Fair Booth. She practiced typing speed and accuracy when at the Power Fountain station. You can click on the hour glass when you a re ready to be timed. If she made a typing mistake at the fountain, then the water spurt went down. She could send and receive e-mails while improving her word processing skills at the E-mail Tower. Typing skills for individual sounds or blended sounds were practiced at the Playground or Park. Alyssa's visited the Story Tree station which gave her the opportunity to type dictated stories using the letter sounds learned. They even required her to type individual sounds as stories. The Hall of Fame stored her certificates. Extra practice was provided at the Bonus Blimp station. Alyssa wanted you to know that, "You can click on the picture for the program to tell you what it is and if you click on the lips you can hear the word."
Story Tree Station
Every 4 letters she was sucked up into
Vexor's Spaceship
to be challenged and tested. It assessed phonemic awareness, reading comprehension, and spelling. Alyssa never knew she was being assessed. She just thought she was playing a game against the mischievous Vexor. You'll see a scoreboard on the right-hand side of the screen.
One game required the child to read a sentence and identify the matching picture. For example, "A quail has a blue vest." Alyssa clicked on the picture revealing a quail in a blue vest and it was highlighted green. This activity is great for logical thinking and reinforces reading comprehension skills.
Another activity asked her to look at a picture and identify the sentence that matched it. For example as seen below she is given a picture of a queen in a green van. She clicks on the sentence that states, "The queen rides in the van."
A third game reveals a picture. Alyssa's job is to type and spell the word. With her fingers in place, she uses the on-screen keyboard to guide her as she types. When the assessment is complete, she automatically receives her score as a percentage. If she passed then she could move onto the next level. As she played the games, Vexor attempted to steal her points. He even tried switching their names on the scoreboard so it looked like he was winning. He's such a poor sport. This part always made Alyssa laugh.
My daughter was awarded a
Certificate of Merit
and a blue ribbon for every 4 letters that were rescued. If she completed all the exercises related to the letter she would receive one. These certificates are printable if desired. The 40 lessons were organized into groups of four which means she could earn a total of 10 certificates. The certificates eventually included specific information about her speed, score, and number of bonus points earned.
How We Used It
I used the
Read, Write & Type
software with my 8-year-old daughter, Alyssa, as an
introductory typing course
3-5 times per week, because she already knows how to read. We used it on our MAC OS X 10.9.5 computer using Chrome as our preferred browser. We occasionally used Safari as a browser. Adobe Reader is necessary if you want to print any PDF files. I didn't have to download anything on my computer using the Online Subscription which was one feature that I appreciated.
She worked through the program for a minimum of 30 minutes or more a day. I had an extremely difficult time trying to get her off the computer prior to completing the program. I usually scheduled the sessions after most of her schoolwork was completed. However, if you want to use Read, Write & Type for more than a couple weeks, I suggest you limit the amount of time your child spends completing the lessons because they'll finish it early. The website suggests a minimum of
15 minutes
usage per day. I would aim to complete
only 1-2 letters
during each session to make the lessons last longer.
The parent has the ability to adjust the passing score. I logged into my teacher or parent account and changed the passing score to 80% for my daughter. The default score was set to 70%. You can also set a time limit on usage. The program will automatically remember your child's stopping point for you. There are no starting or stopping points. You must figure out a plan based on time usage or number of letters rescued. Otherwise, my daughter would be able to work on the program for as long as she wanted. The parent account is where you can track your child's progress using the student reports.
Upon completion of the program, Alyssa asked me, "What now?" I told her she could go back and practice her keyboarding skills. I told her to set goals such as keeping her eyes on the screen at all times, increasing her typing speed, or possibly learning the locations for each letter on the keyboard better. I also told her she could focus on improving her writing skills when using the E-mail Tower. In the screen below, you can view a sample letter generated by the computer.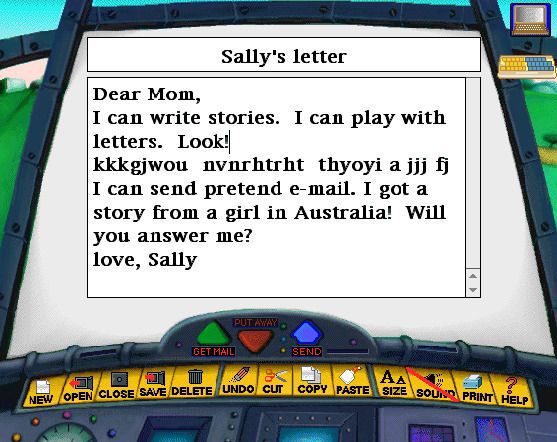 My Thoughts
Alyssa was ecstatic about the program so much so that she completed the
ENTIRE
scope and sequence within a few weeks. I was shocked! I searched the website several times to see if I was missing something. She was 100% interested in the story plot. The fun activities or games were engaging. She was never bored when using Read, Write & Type and she didn't think it was babyish. This program effectively and efficiently taught her touch-typing skills. The directions were clearly given for each activity when she
first
attempted them. They'll need to remember what to do after being given the instructions. This program was a huge success in our home!
Overall, she loved the program and was highly motivated to play the games. The price was affordable and comparable to most typing programs which do not usually reinforce additional language arts skills as this one does.
Alyssa's Thoughts
She really liked singing the catchy theme song at the beginning. Her favorite character was Vexor. She thought he was funny especially when he threw fits about not winning the games or not getting his own way. One of her favorite stations to visit was the E-mail Tower. She anxiously awaited the messages that were immediately sent back in response to her e-mails. Here is a letter she typed
after
she completed the program.
One thing she didn't like was when the letter storyteller was crossing the playground (park) as she typed - it was much slower so she had to wait even though she finished typing. It wasn't a big deal, but it bothered her enough to point it out to me.
Alyssa's Results
Our purpose for using this program was to improve her touch typing skills. Her keyboarding skills definitely improved in a short amount of time. In the beginning, her eyes were fixated on the keyboard. She now types faster than I do using two hands while looking at the screen! I am thoroughly impressed with this accomplishment. The more she uses the program, the more confidence she gains with regards to typing skills. I wish I had my own subscription . . . maybe that would help me not depend on the "hunt and peck" method.
The last couple weeks, I noticed she was slipping back into the old "hunt and peck" method
after
she completed the program. I'll encourage her to continue using and practicing with the program to create positive, lasting habits. I am thinking I might have her to start the program all over if possible. Her reading, spelling, and writing skills didn't really improve, but that's because her reading and language arts skills are so advanced. However, I did appreciate that it reinforced those skills in addition to vocabulary and punctuation skills.
What We Liked
Engaging and Colorful Game Interface
Animated Characters
Variety of Activities
Reinforces Basic Phonics, Spelling, and Writing
Multi-Sensory Approach: Multiple Learning Styles Addressed
Research-Based Methods
Immediate Feedback Given
Individualized Pace
Encouraged Independence
Built-In Practice and Assessments
Mastery-Based Program
Provides Plenty of Repetition
Reasonable Price
Online Edition Required No Computer Downloads
Special Features for Learning Disabilities, Reading Disabilities, and ESL
Voice Over Available for Nine Languages
Possible Vendor Suggestions
1.) As soon as I received the password and username information via e-mail, I visited the teacher account which at first glance seemed very busy and overwhelming. The page could be arranged differently or include less information to make it more inviting to the user. A different font or size may help.
2.) The reports weren't very helpful, because I couldn't access the specific details about the areas needing improvement in the teacher account. The lower scores didn't indicate what she did wrong or why it was wrong. I wasn't able to sit with her during every session to jot down problem areas.
Click to Enlarge Report
Price
Visit the website for more information about different options. The company offers different prices based on the number of users. The price for the
Online Subscription
giving
one user
access to the program for
5 years
was
$35
. Don't forget to try the Demo lessons!
Note
: All prices are subject to change without notice.
I would
definitely
recommend
Read, Write & Type
from
Talking Fingers Inc.
for new readers, English as a Second Language (ESL) learners, and readers who are struggling with phonics. I highly recommend the program to elementary private and public schools. This would be a great tool to use at rotated computer stations or in the technology computer lab. Home educators will appreciate this program and children could definitely benefit from using it on an individual basis.
However, with that in mind, I must say that Read, Write & Type is not a complete reading program. It does not teach specific spelling or phonics rules. If I had younger children learning to read, then I would use it more as a
supplemental reinforcement
to a core reading curriculum especially since early writing, spelling, and vocabulary skills are also reinforced.
On the other hand, if you have children within the age range wanting to learn how to type using a uniquely interactive approach . . . I would say this program is the one you should try first! It benefited our homeschool, because my daughter was learning how to type without having to complete boring drill and kill exercises. Her attention and interest was captured. She was learning how to type while playing games and reinforcing other skills.
Wordy Qwerty
is the next level intended for children in grades 2-4. I plan on researching more about this program and possibly using it in the near future to continue practicing keyboarding skills in hopes that it'll be more challenging. Until then, Alyssa will continue practicing using Read, Write & Type to further improve her touch-typing skills.
Social Media
Facebook
You Tube
Twitter
@ReadWriteType
Visit the
Schoolhouse Review Crew blog
to read more Read, Write & Type reviews.