Do your children like to read books about horses?
Have you heard of the new christian horse series called Sonrise Stable?
I haven't ever heard of the author until now, but I know for sure this set of books will be on our list of books to read aloud. I read several reviews about their books and always wondered if Alyssa would enjoy them. Well, we finally got our chance.
Educents
is company that offers educational services and products at a discounted price. They also offer freebies. I recently purchased part of Alyssa's math curriculum from their website. The transaction was smooth and the deal was definitely a steal!
No, I am not an affiliate for this company (at least not yet) just in case you're wondering. I wanted to let you know about a special gift. They are currently offering the book titled, "
Rosie and Scamper
" written by Vicki Watson for a
limited time for FREE
on their website. Did you hear me? It is the first book in the series. The focus is on the author's love of horses and God. The central themes are friendship and family.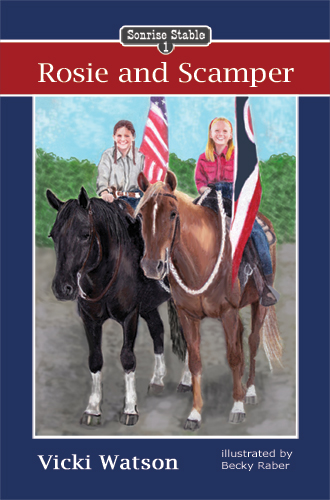 I downloaded the e-book today and read the first chapter to my daughter as soon as she woke up. I was right - she
LOVED
it! She even asked me to read a second chapter to her, but I insisted on us eating breakfast first. The story is quite captivating for both adults and children.
Be sure to check out the other sales on
Educents
when you stop by to pick up this freebie! Enjoy! Then, come back and let me know if you grabbed it and what you think of the story.
P.S. I will tell you that you will want to use a browser other than Safari when downloading this product. I ran into issues more than once. Furthermore, make sure that you actually download and save the product from the link they send you before it expires.
Who will you read this book to or will your child read it independently?
Disclaimer:
This is not a review. I am not an affiliate for the company. I just wanted to pass on this offer before it was
too
late. This deal ends soon.