I started a curricula series last year, but never finished it due to the lack of time and the fact that we were in the process of moving.
We are slowly getting settled into our new house. My hope this time around is to share with you my eclectic curricula choices for the year - covering one subject at a time.
I also saw several other bloggers posting their curricula choices in this manner so I decided to follow in their footsteps.
At the end of the curricula series, I will provide a post that will include links to all of our subjects and curricula choices. You will have the option of picking and choosing which subjects are of interest to you. My brain seems to work better when planning in this fashion.
Please keep in mind that subjects or curricula may change throughout the year. I am currently a reviewer for the The Old Schoolhouse Review Crew which blesses me with a variety of curricula and products to use with my daughter. I hope to continue writing for the crew next year. Many of our curricula choices below were review products that worked well for my daughter.
Our Math Curricula Choices
Morning Work
Calendar Time
Core Math Curriculum
We reviewed
Math-U-See Beta
this year. Alyssa quickly completed the book. We decided to continue using the same curriculum. Why change something if it is working well? My plan is to use this curriculum at least three times a week. We will focus on only one lesson per week completing 2-3 pages per day. I want to
slow down
the pace this year so that we can cover additional mathematical concepts not covered in the core and use other supplemental materials. We will also use the block manipulatives to demonstrate concepts for each lesson. Alyssa watches the DVD presentation with me. Then, I will give her a quick mini lesson using the teacher's manual and manipulatives. We'll proceed to the student pages after she explores the concept and uses the blocks making her own discoveries.
Online Math Programs
Online math supplements are used on a daily basis. I like to alternate the use of our subscriptions. I enjoy providing my daughter with variety when it comes to approaches and concept presentations. She'll spend a minimum of 20-30 minutes using one of the online math programs listed below.
A+ Interactive Math Online Curriculum (Finish 1st and Start 2nd grade) - Here is a link to my A+ Interactive Math Online First Grade Homeschool Edition review. She is working through the 1st grade program over the summer and will continue using it this fall. We'll proceed with second grade material after the completion of this grade level.
DreamBox Math (Finish 2nd and Start 3rd Grade) - We have been using this program for years and we both LOVE it! It is currently available through the Homeschool Buyers Co-op. You can read more about the co-op here. Several other popular math programs are offered at a discounted price. Check it out! If you join the Homeschool Buyers Co-op through my link, then I will receive SmartPoints. Joining is FREE! I use these SmartPoints to purchase curricula for Alyssa. Please consider joining or purchasing through my links. Thank you!
Essential Skills Advantage (3rd Grade Math) - We won an All-Access Student Plan which includes the Math program. JAVA doesn't work properly on our old computer, but I hope to upgrade sometime this year.
Problem Solving and Critical Thinking Skills
Target the Question
Grade 1 by
Lonestar Learning
- Here is a link to
my review
for this product. We will be using this program until the digital subscription expires. Unfortunately, we won't be able to renew it after it expires. Alyssa may record her answers in a math journal as seen in my review.
Get Your Hands on Problem Solving Grade 1
- I found this book at a library book sale and paid 25 cents for it. We'll give it a try this year and see how it goes. She'll learn about different problem-solving strategies and develop a plan for solving problems. This resource will most likely become part of our calendar time. We'll look at one problem a day.
Supplements
Times Tales DVD and Mini Flip - Alyssa's goal will be to learn the upper times table facts.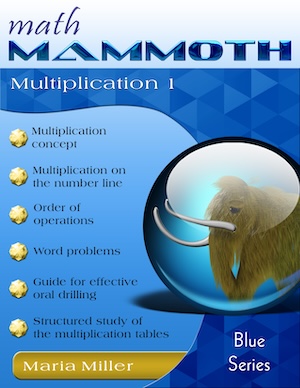 MathTacular 1 DVD - Alyssa chooses to watch this DVD during her free time. I usually provide her with the necessary manipulatives and allow her time to explore the concepts being discussed. I usually have to put a time limit on this activity, because she'll try to watch the entire thing.
Math Tub Exploration and Discovery - My math manipulatives are in tubs or storage containers. On light days, Alyssa will choose a tub and "play" with the manipulatives. This is a great time to observe a child's discoveries and to see their creativity. She'll often choose this activity during her free time too.
Math Centers - I will also organize several math centers covering concepts she's previously learning or those I want her to review. She chooses the ones that appeal to her most to complete. This usually happens on light days too. A light math day may happen if I have a horrible migraine, over the weekend, on Fridays, if either one of us is sick, if we were gone most for the day, or if we need a brain break from her current studies.
*We have other supplemental materials that will be utilized when I see fit.
Our Math Games
Roll It Tic-Tac-Toe
Speed
Racko
Out of Sight
Rolling in the Money
Double Shutter: Shut the Super Box
Fraction Formula
Jumpin' Chips Addition
Math iPad Apps
*We won the Squeebles math apps last year. Speed was the only app I paid for and in my opinion - it is definitely worth the price. Speed and Hands-on Equations both have FREE lite versions available in case you want to try them before buying the full versions. The rest of the apps listed were
at some point
available as free downloads this year unless indicated otherwise. We have several other math apps, but these are the ones my daughter uses most often.
Math Assessment
I purchased a
DOMA Math Assessment
years ago from Let's Go Learn through the
Homeschool Buyers Co-op
. I plan on finally giving this assessment to Alyssa before the new school year begins for us. I look forward to seeing the results!
Well, that's it for now! I hope you enjoyed hearing about our math curricula choices for this year. I am super excited and can't wait to see what God has planned for us!
What Math curricula did you choose this year?
Please leave a link to your blog post or comment below. Your suggestions may help others. I also love hearing about new products! Math is one of my
favorite subjects to teach
!
This post will eventually be linked up at the
Not-Back-To School Blog Hop for 2013-2014
hosted by iHomeschool Network. It's a great place to read about curriculum choices for ALL subjects and for ALL ages for homeschoolers using a variety of methods.
I will also link up at
Teach Them Diligently Curriculum Choices for 2013-2014
. I need to complete the curricula series first.