It's that time again - time to post my
Random Five on Friday
for the week at
The Pebble Pond
hosted by Miranda. Our amazing week was busy but we had loads of fun. We are still trying to unpack and get organized before the new school year begins. It has been a very slow process.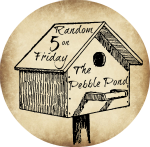 In Our Life This Week . . .
1.) I finally had a mother-daughter date on Wednesday. We started off the day visiting the Friends of a Library bookstore at our local library. An hour later, we drove into town to another library bookstore. We purchased several books at both stores. I am glad that we share this common interest and love of books. A sweet gentleman paid for Alyssa's books at the first location. While shopping he asked her what books she planned to buy. She mentioned the titles and told him she picked two books that were on sale, but that the other two were not on sale. She pulled out a $2 bill to pay the cashier, but he wanted her to keep it for good luck because apparently there weren't many 2 dollar bills around these days. He bought her a crocodile book, the butterfly book, and two chapter books from the Chronicles of Narnia series. He gave us no choice even though I pulled out a $5 bill to pay. It was very kind of him. I spoke with her about paying it forward when the moment arrived. Later that day, Alyssa noticed that an older lady needed some more change to pay for her books. My daughter reached in her backpack and gave her the necessary change! I was so happy!
Super Excited to Find a Painted Lady Book!
Checking Out the Chapter Books
She Insisted on Buying This Fairy Tale Book
She did a great job counting out the money.
We ate lunch at IHOP which is one of Alyssa's favorite restaurants. I was hopping to take her to a new quaint restaurant, but she preferred sticking with a more familiar restaurant. We had a few minutes to pet rabbits, play with the kittens, and talk to the birds. Then, we went to see Smurfs 2 at the movie theater. She sucked on her lollipop and we shared a box of Raisinets. I couldn't believe the price of the candy, but at least we went to an earlier show so admission was cheaper. We did a little shopping in the area. We went to Hastings (looking at more books), Bling, and Tuesday Morning. I bought Alyssa a discovery kit for her Ancient Egypt unit this year. We had a blast and the day was full of laughter!
Lunch at IHOP
This is one of the rabbits she wanted.
Walking to Show
Sorry About the Glare
2.) We found out that the hog on our property is getting extremely close to the house. He is leaving his scat behind and the ground is all torn up around the bird feeder which is right outside the dining room table off the back porch. We hope to capture it and get rid of it.
Places We Went and People We Saw . . .
3.) Alyssa caught a cold from somewhere. She was so sick we had to cancel our plans with good friends this weekend. She won't be swimming with her father or going anywhere until she feels better. She went to several stores and to the pool this week with her father in addition to our date.
In Our Homeschool This Week . . .
4.) I attended an awesome
MommyTime
Facebook party on Thursday. I love chatting with other parents and finding out about new products on the market. The homeschool community is blessed to have such variety to choose from. Speaking of great products . . . I recently posted my review for ONE of our favorite curriculum called
Bible Study Guide For All Ages
. It is awesome!
Alyssa will complete the
Reading Kingdom
program soon. I hope to post the review in a few days. She is currently working through the last level and only has one book left to read and the progress check. I always supplement her core reading curriculum with online programs. I better start looking for a new online reading program!
Alyssa has been using our
Simple Schooling Classroom
interactive online subscription to learn about sharks this week. It's a little detour from our science studies this summer, but with Shark Week I couldn't help myself. She is fascinated by the facts. You can access the
Simple Days Unit Study Shark Week
on sale this week at CurrClick.
She is also using her
Hands-On Equations
app to learn algebra. It is a great critical thinking supplement to her online math lessons. The full Level 1 app was free on August 9th along with some other
unbelievably cool freebies
I found so we upgraded our
lite version
. I never thought a five-year old would be interested in algebra, but the app makes learning fun! You can still get the lite version of the app for free and today is the last day to grab several of the freebies mentioned in my post. Enjoy!
5.) Jeff planted our sweet potato plant for us. We are hoping it will continue to flourish. It started to wilt after the move having less sunlight and water. It was a little neglected on the shelf - we often forgot to change and fill the jar with water. He also bought and planted two pomegranate trees in the front yard.
It has grown so much the last couple months!
Sweet Potato Planted
Pomegranate Trees