My daughter and I are ecstatic about the one-year online subscription or license for the
Entire Level I
Bundle from
ArtAchieve
we received to review. It gave us access to 10 core homeschool Art lessons. In addition to those paid lessons, you will find a few
FREE Level I art projects
on their website such as Czech Cat, Simple Lines, Shading Rounded Objects, Shading Objects That Have Corners, and an Introduction to Painting. The Czech Cat project is a lot of fun!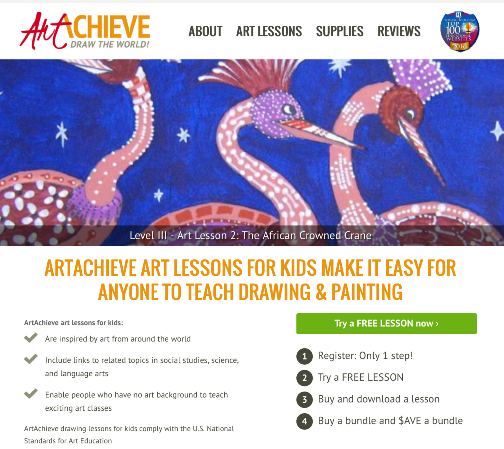 ArtAchieve is a K-8th grade Art curriculum or program. The step-by-step art lessons were created by John Hofland who is also the instructor for this curriculum. Level I is suitable for individuals ages 5 and up. However, people of ALL ages will definitely enjoy this drawing program. Not to mention only basic art supplies are needed and you do NOT need any background knowledge teaching Art to use this program. The Art lessons are inspired from art or objects from around the world. For example, the nightlight in the second photo below was the inspiration for the Dragonfly from Ecuador. Ecuadorian artisans made the night lights from recycled glass. Some lessons include a "Time for Reflection." These thought-provoking questions will get you thinking about your art work and if you applied the skills learned from the video to the project.
Night Light Inspirational Object
There are numerous
Cross Curricular Connections
covering a variety of subjects such as Literature, Reading, Writing, Science, Math, Geography, Social Studies, Art, Music, Drama, and more. The cross curricular connections included educational websites to explore specific topics for EACH art lesson. We always glanced at the literature suggestions to see if we wanted to check out any of the recommended books from our library. Alyssa learned about Welsh author, Roald Dahl, through one of their links and later added several of his books including
James and the Giant Peach
to her independent reading list after completing the Sheep from Wales project. We also looked at the maps and globes in order to identify locations mentioned during the art lesson such as Ecuador, Haiti, Nepal, Mount Everest, Bali, China, Hungary, Tanzania, etc. Furthermore, there were several links to music around the world. My daughter was fascinated with the relaxing music from Ecuador and the beautiful Welsh folk music.
Entire Level I Art Projects
Simple Lines (FREE)
Shading Objects That Have Corners (FREE)
Shading Rounded Objects (FREE)
An Introduction to Painting (FREE)
The Czech Cat (FREE)
The Hungarian Insects
The Haitian Gecko
The Dragonfly from Ecuador
The Chinese Dragon
The Owl from Bali
The Kitenge Tree Wall Hanging from Tanzania
The Plate from Nepal
Four Suns with Four Faces
The Sheep from Wales
The Umbrella from Thailand
Simple Lines Art Lesson Activity
How We Used ArtAchieve
I used ArtAchieve with my daughter, Alyssa (Age 9) as her core Art curriculum. All of the art lessons were added to an account we had last year. After logging in, expiration dates were indicated for each art project. Navigation was easy. I simply clicked on the project title or the plus sign for more details. We used the program on our MAC OS X 10.11.6 and Chrome was our preferred browser. Adobe Reader was utilized to open, read, and print PDF-formatted files such as the warm-up exercises and project printables.
The lessons do NOT need to be done in numerical order. We chose the Art projects we wanted to complete from the level based on Alyssa's level of interest or current studies. Most of the time she chose an animal or nature related scene to draw and paint.
We usually completed 1-2 art projects each week working 1-4 days a week. Occasionally we split the lesson into two sessions. We worked on art projects for approximately 25-90 minutes a session. The first day was dedicated to the warm-up grid drawing activity, relation exercises, and step-by-step drawing lesson. The painting or coloring session was held on the second day. Depending on the activities completed, the related cross curricular connections were explored each session or on the first day. During the warm-up exercises, Alyssa named the lines being drawn.
The last time we reviewed ArtAchieve we listened to music while working as suggested, but this time Alyssa preferred no music in the background. It distracted her and she wanted it to be quiet so she could focus better. It wasn't always silent when we were drawing, coloring, or painting. We used this experience or time to bond. I completed many of the art projects with my daughter. We also discussed the art elements we were using in our drawings.
Lessons were available in two different formats. My daughter preferred the video lessons over the PowerPoint presentation format. The short video lessons were watched on an older 2008 MAC computer. The videos were approximately 25-30 minutes long, but we also needed more time because we frequently paused the video to draw the sections. We gathered basic art materials and printed out the grid drawing and drawing images before each lesson. Minimal preparation was necessary.
A Glance at The Plate from Nepal
First, we watched a short video presentation. An example of the final project was revealed. The instructor always listed and showed us the supplies needed at the beginning of the video. The goals or objectives were also provided. The video often contained Science or Geography factoids about Art lesson animals or locations. A mini cultural component was usually presented.
Then, she did the relaxation exercises and warm-up drawing. The student copies the same lines drawn in the top box in the box directly underneath it. The project rules are also stated visibly on the screen each time a new project is started. At this time you can listen to music. You can see the project printable in the third photo. She used a Sharpie fine tipped black marker to draw. The instructor presents the lesson in a step-by-step manner and teaches everyone how to use planning dots in their drawings. The video was paused periodically so that we could catch up.
Next, Alyssa drew the background using motifs. She also added details to her drawing to make it more personalized. The planning dot photo can be seen in the image below.
Motif Definition from
Video Presentation
Finally, the bird drawing was painted using Acrylic Paints beginning with the bird and its feathers and ending with the background design. Alyssa learned how to draw motifs and about using a complementary color scheme.
Basic Supplies to Gather and Store in One Spot
Sharpie Fine Tipped Black Markers
Crayola Washable Colored Markers
2H Lead Pencils
Epson Glossy Photo Printer Paper
Watercolor Paper
Sketch Paper
Acrylic Paints
Prang Watercolor Paints
Pentel Oil Pastels
Masking or Paint Tape
Paint Brushes (Varies)
Paint Board
Paint Palette
Crayons
Glitter Paint and Paint Pens (Optional)
Note: You do not need to buy these specific brands. We used art supplies we already had on hand and I wanted the list to be specific in case you wanted to try them at home.
Recommendations and Results
I
HIGHLY
recommend ArtAchieve to all homeschool families. Art and classroom teachers in public and/or private school will find these art lessons for kids appealing as well. I also recommend it to families looking for art programs to use after school for their artistic child. This is an excellent Art program if you have a child who loves to draw, color, or paint.
We completed almost ALL of the Entire Level I art projects during the review period. We'll start a new lesson this week called Kitenge Tree Wall Hanging from Tanzania. Our plans are to revisit the art lessons from the Entire Level I using different colors, techniques, and art mediums. The art projects will be given as gifts after each one is photographed for my daughter's art portfolio.
All Completed ArtAchieve
Entire Level I Art Projects
Overall Experiences
My daughter and I appreciate the variety of subjects offered as art projects. The explanations were clear and concise. The drawing steps were simplified and given in a step-by-step manner. My daughter could easily understand the directions and could work independently on a project if desired. She learned about types of lines and designs she could use during the Czech Cat Art lesson.
The program leaves encouraging remarks for your child during the video presentation. They also included art terminology for your child to learn. The presentation also taught using maps and how to change mediums or techniques.
Her favorite projects were the Four Suns With Four Faces, Dragonfly from Ecuador, and the Haitian Gecko. She created three separate Sun projects, because she felt like it was a quick and easy project to do in her free time. She also liked learning about patterning with the use of warm and cool colors. Her favorite part of the Dragonfly project was brushing acrylic glitter glaze over the top of the insect painting making it sparkle and shine. Furthermore, she learned that oil pastels resist watercolors during the Dragonfly from Ecuador art lesson.
Warm and Cool Color Diagram
Differences Between Oil Pastels (Opaque)
and Watercolors (Transparent)

Alyssa's Review
The drawing section is easy, because the teacher tells you exactly what to do step-by-step. If you know basic shapes like lines, circles, curves, dots, and others then you can use the program. Maybe a toddler could with help. I also liked that maps were added and that he talked about the culture of a place. I wish that the rules for drawing weren't at the beginning of each project. I ended up skipping that part after hearing it several times. The teacher was also too fast at times so I needed to pause the video.
Possible Vendor Suggestions
1.) I wish a DVD-format was available so that Art projects could be more portable.
2.) I would offer two-year licenses for individuals wanting to spread out lessons over a longer period of time.
3.) Create at least 32-36 weekly art lessons per leveled set to last an entire school year.
4.) A printable PDF-formatted booklist for each lesson would be more helpful for us rather than having links to books at Amazon to purchase. You could search You Tube for specific read aloud of books in the cross curricular connections.
5.) I would separate the rules from the videos. Have one short introductory video with each lesson but make it optional for current ArtAchieve users. Alyssa kept asking me to forward passed it, because she had heard it so often. We both felt like a separate video for this feature would be best.
Price
A one-year license retails for $40 when you purchase all lessons individually. Each individual lesson is $4 if purchased separately. The price is currently 25% off which saves you money. The cost for this bundle is now on sale for
ONLY $30
making each individual lesson only $3. This price is affordable when compared to other Art curricula on the market.
Note
: All prices are subject to change without notice.
Social Media
Facebook
@ArtAchieve
Twitter
@ArtAchieve
Pinterest
artachieve
Google+
ArtAchieve
Instagram
@johnahofland
Grab a beverage and head over to the
Homeschool Review Crew blog
so that you can read many more
ArtAchieve
reviews and experiences with the different levels. You can also check out my review for the
Entire Level II Bundle from ArtAchieve
from last year on my blog.